OREM — The softball field at Orem High School woke up with a fresh coat of paint Saturday morning, but it wasn't with the school's official blue and gold colors.
Alpine School District officials confirmed that the Tigers' softball field was tagged with graffiti sometime in the overnight hours of Friday night and Saturday morning.
An investigation into the incident is ongoing in combination between the school's resource officer, other members of the Orem police department, and the school's administration, Alpine spokesperson Kimberly Bird told KSL.com.
"We are disappointed that this happened and are hopeful that the investigation will lead to an arrest," Bird said.
She added that the district's physical facilities team began to remove the graffiti in question after police finished gathering the information they needed.
Photos from the tagging reveal racist and homophobic language spraypainted on the walls of the dugout, as well as a banner along the backstop of the field.
Orem softball coach Pablo Barker-Valdez was one of the first people on the field after the incident. He arrived at 6:45 a.m., hoping to finish cutting grass and cleaning up the field for practice before the Tigers' senior sendoff games Monday against a handful of region opponents.
What he saw made him emotional, disappointed and even ill. The backstop banner had the "T" in "Tigers" scribbled out, replaced with a spraypainted "V" or "N" to depict foul language. One racist word was scrawled across the back of the third-base dugout, another on the inside of the dugout referred to a homophobic slur, and another message alludes to an administrator at the school performing sex acts on students.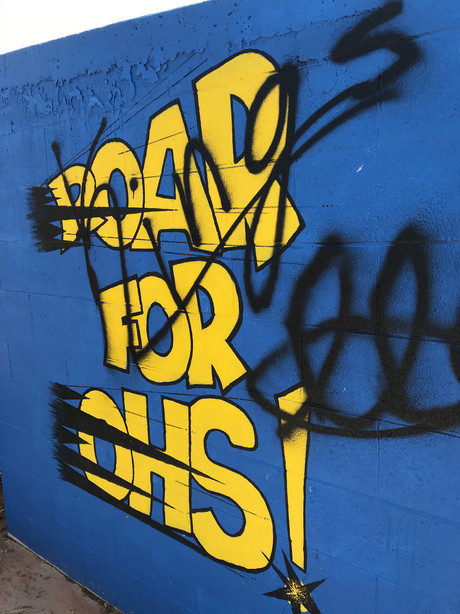 "The only word I can feel is heartbreaking. It's heartbreaking on a lot of levels; it's heartbreaking that we spend so much time here — blood, sweat, tears — and it's almost a second home," said an emotional Barker-Valdez, who has one assistant coach who is African American. "This place is a safe place for kids to come, and they can forget about school problems, problems at home, whatever.
"They come here, work hard, have fun, be with the softball family and forget everything else. This is a safe place for us. To have someone come in here and hurt our home is painful, more than anything."
Once a pothole-ridden field that has been beautified by Barker-Valdez and his staff of assistants, the Orem High softball field also recently received a welcome fresh coat of paint, with a mural depicting the Tigers' logo on the home dugout. The mural, which was painted by an aunt of the team's second baseman, was estimated to have taken around 300 hours to design, sketch and paint, coaches said.
Beyond the cleanup that is underway, Barker-Valdez said he hopes this act of vandalism can help erase the destructive thoughts and feelings in today's society, as well.
"It hurts because this is our home," he said. "But the ignorance, the hate, the homophobia, the racism put on the walls — it's a sign that we're not where we should be here. There's some work to do.
"When people see these pictures, these markings on the wall, they need to tell their kids that this is not language we use. If somebody uses this kind of language, we need to stand up and get uncomfortable with people saying things like this. When people say hurtful things like that, we need to have the courage to stand up and say, 'That's not how we do it.'"
The investigation is ongoing. Any witnesses or people with tips are urged to call the Orem Police Department, or contact Orem Police Lt. Shane Frederickson, who is coordinating the investigation.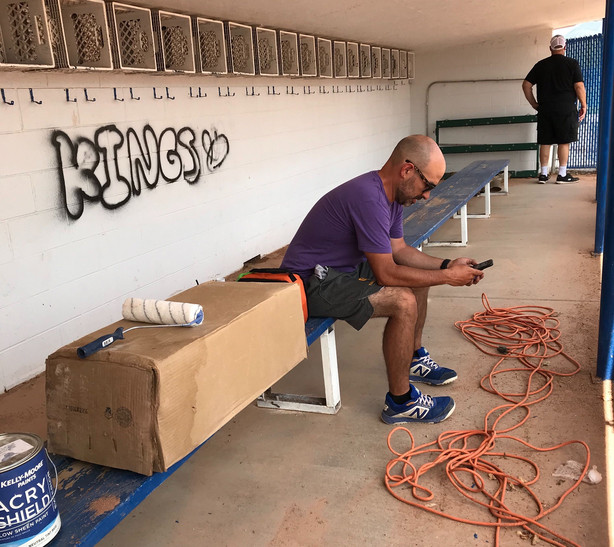 There are no school cameras near the softball field, which was the only targeted venue on campus. One neighbor of the school has offered a recording from their Ring doorbell service that may show video of the field overnight.
But for now, the Tigers turn to cleaning and rebuilding. Between the time he found the field before 7 a.m. and the noon hour, Barker-Valdez said five students approached him and his staff to help strip the graffiti from the walls, including one while he was speaking with KSL.com. That doesn't include student leadership from rival Mountain View, who were told by district officials that cleanup was successfully underway.
"When anything happens like this, you always see good people come," Barker-Valdez said. "Any sort of tragedy, there are always good people who stand up. Like here: some random guy who I had never seen in my life, offering to help. They just want to say, 'what can I do?'"
Others have reached out asking to donate to the program. Donations for all Alpine School District programs are handled through the Alpine Foundation. All donations are tax-deductible, and can be made with a credit or debit card, or PayPal, according to the district.
Barker-Valdez hopes the graffiti can be removed, new paint can be applied, and the field can be ready for Monday's games. With the senior Class of 2020 having their seasons canceled due to the COVID-19 pandemic, hosting a few sendoff games has been his top priority for several weeks.
"It's mainly for our seniors so they can have a last sendoff," the coach said. "They were robbed of their season with all the stuff that has gone done. It's definitely hard for them, and we wanted to give them a couple of games, one last hurrah."
×
Photos