SYRACUSE — Were they not twins, one could be forgiven for forgetting Gabe and Hyrum Edwards were even brothers.
Gabe stands a full head taller, Hyrum's hair is several shades darker, and the two have been attending separate high schools — Syracuse and Clearfield, respectively — since re-emerging from home school in ninth grade.
It's been a healthy relationship for the two; Hyrum says it allowed them to "develop our own paths" and become their own people. And while thousands of seniors graduated from Davis School District this week, having a sibling among the masses — even one that went to another school — has been a unifying experience.
Add in the COVID-19 pandemic, social distancing and self-isolation, not to mention the soft closure of all Utah schools for the past two months, and it's made for unforgettable experiences for these two members of the Class of 2020.
"There's a loss for all of these kids," said their mother Becky, shortly after planning a wedding for her daughter during the pandemic. "But especially for Hyrum, who planned graduation as a senior class officer. He was looking forward to graduation. There was definitely a mourning for all the things they missed."
At first, in lieu of happy feelings, frustration reigned over the loss of part of their senior year.
"It's been very hard and challenging," said Gabe, who has options to enlist in the Navy, serve a two-year mission for The Church of Jesus Christ of Latter-day Saints, or attend Utah State after high school. "This is the time of our lives when we can fly, but we feel like that wingspan has been restricted."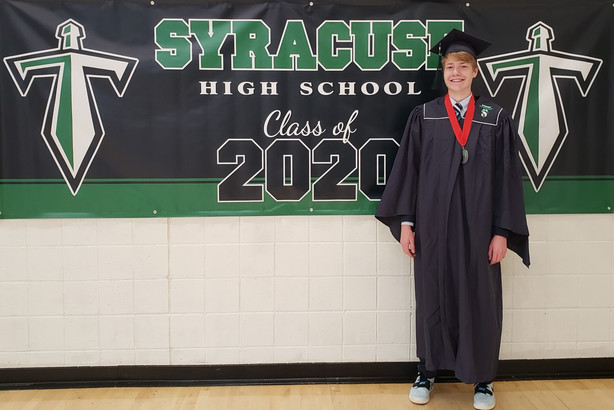 Both brothers walked in social distance-approved graduation ceremonies Wednesday afternoon, a day after virtual commencement ceremonies were streamed live on KSL.com.
They both put on their cap and gown, with Gabe dressed in the Titans' blue robes and Hyrum adorned in the Falcons' green robes and honors that included his academic achievements, including an international baccalaureate earned through Clearfield and recognized in close to 150 countries worldwide.
The twins attended school together from preschool through fourth grade, when their parents felt inspired to homeschool them.
Hyrum was the first to return to the public school system, doing so in the middle of his ninth-grade year at Syracuse Junior High. Gabe followed at the start of 10th grade, enrolling at Syracuse High when Hyrum was accepted into what he calls the IB path at Clearfield. To this day, he's one of just seven candidates from the school on track to earn the degree, a distinction that he maintains helped him get accepted to Cal-Berkley, where he will attend this fall.
"It was very healthy for me," Hyrum said of attending a different school from his brother. "I just wanted to be my own person.
"When I got to Clearfield, I didn't tell anybody about him for a few months. I wanted to see what it was like to be my own person. We're autonomous human beings, and high school — while it was weird to not be in the same school as him — allowed us to develop our own paths."
As for the pandemic? It wasn't so bad at first, at least not for Hyrum.
Many students didn't view the initial two-week break from school as a bad thing; what high schooler wouldn't like more time away from school? And for Hyrum, it was even more appreciated.
After coming out as gay following his junior year of high school, the Clearfield senior admits to feeling lonely after a large portion of his support group departed with the Class of 2019. Hyrum doesn't blame any of his classmates for doing anything to make him feel ostracized, but he admits school was "socially challenging" for a myriad of reasons.
Then about a month into the pandemic, and with the soft closure extended through the end of the school year, he started realizing what he was missing.
"I realized I wasn't going to walk across the stage or have a cotillion or celebrate the fact that I had made it through such a difficult year in the way that I had planned for so long," Hyrum said. "I would've loved to have my last two weeks of high school."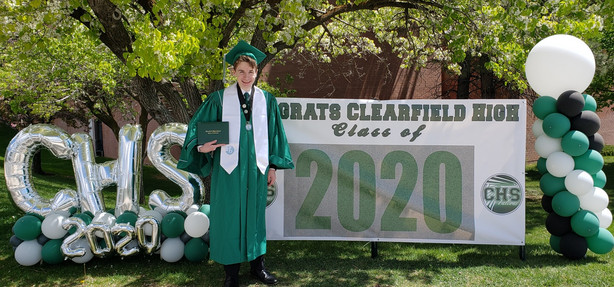 Staying home for a large chunk of the school year brought the Edwards family — including both twin brothers — closer together.
"We've definitely grown closer as a family," Gabe said. "We've had our own tussles, like every family. But my sister got married, and it was really cool — and that has taught me a lot. It reminds me that we will always have our own differences, those things that really annoy us, but we can still work with each other.
"It's been cool to band together, no matter who or where we are; we're all family. I think that relates to the Class of 2020 and beyond. You've got to be a lighthouse in a dark storm."
But the unique graduation isn't without its benefits, either. Gabe was at work Tuesday night during commencement exercises, allowing the family to celebrate Hyrum's graduation from Clearfield exclusively. They then swapped roles Wednesday, able to relive Syracuse's commencement through the video-on-demand.
And that wedding Becky Edwards was planning? The one for her daughter, Grace?
It turned out to be a memorable occasion, with a small ceremony in the canyon, presided over by her husband — a sitting judge — and with only a handful of close family members, a photographer and a videographer.
"We didn't even bring chairs; it was so different," Becky said. "It was different, but also really sweet."
Each of the Edwards' five children have graduated in a little bit different way: one through a normal graduation, another from an online high school, and yet another from the Davis Applied Technology Center, where she received her CNA upon graduating.
Then came the twins, perhaps the most unique ceremony of them all.
In more ways than one, variety turned out to be the spice of life.
"There's so much color in diversity, so much flavor and variety," Becky Edwards said. "The world would be so boring without it. I've really come to appreciate diversity more."
×
Photos
Related Stories