Estimated read time: 4-5 minutes
This archived news story is available only for your personal, non-commercial use. Information in the story may be outdated or superseded by additional information. Reading or replaying the story in its archived form does not constitute a republication of the story.
SALT LAKE CITY — The four Republican candidates for Utah governor on the June primary ballot shared their support for the state's LGBTQ community in what was described as an historic Equality Utah forum that debuted online Thursday.
"Ten years ago, even five years ago, we would never have seen a moment when Republican candidates vying to be governor would join a forum hosted by Equality Utah," the group's executive director, Troy Williams, said at the start of the prerecorded event. "But the world is changing. And in red states, Utah is leading the way."
Before Williams sat down for one-on-one interviews with the GOP gubernatorial contenders — Lt. Gov. Spencer Cox, former Gov. Jon Huntsman Jr., former Utah House Speaker Greg Hughes and former Utah GOP Chairman Thomas Wright — he cited the progress made by working with the state's dominant political party.
Despite previous clashes such as the lawsuit that overturned Utah's prohibition of same-sex marriage, Williams said there has been successes, including this year's ban on "conversion therapy" for minors in an attempt to change their sexual orientation, first proposed by GOP Gov. Gary Herbert.
Cox spoke of how his views on LGBTQ issues have evolved, referring to his widely viewed emotional speech at a vigil for victims of a deadly Orlando nightclub shooting in 2016 where he apologized for having bullied gay people in the past, as well as the "stunning moment" four years earlier when a friend came out to him.
He said he is "grateful for that arc" of legislation important to the LGBTQ community signed into law by Herbert and, as a result, "we're in a much better place, a much more inclusive place. I think that's good for the state of Utah" and for Utahns themselves.
But the lieutenant governor said Republicans "haven't done a great job of being inclusive and broadening the tent but some of us are trying really hard," because "the party of Lincoln stands for lifting the individual, giving opportunity for everyone, protecting those who are the most vulnerable."
Related:
Huntsman, asked about his willingness to support LGBTQ initiatives as governor as well as his early backing of the "incremental step" of civil unions, said he "felt that was the right thing to do. ... It bothered me. Until we got to full equality, particularly on marriage, we were deficient."
The former U.S. ambassador to China and Russia said he was alone in his stand then, and recalled feeling the "fury" of those who disagreed with him.
However, Huntsman said he isn't surprised Utahns are now among the strongest supporters of anti-LGBTQ discrimination efforts because "once there is a thorough discussion, people have big hearts and they're embracing and tolerant and accepting in this state."
Hughes said he is "just not into identity politics" but has friends from all walks of life, citing the group of supporters who turned out when he announced he was running for governor that included "cowboy hats and people who grew up in Compton," as well as university students from China.
He said he's surprised more states haven't followed Utah's lead and enacted legislation similar to the "Utah Compromise" that balanced LGBTQ rights and religious freedom passed by the Legislature during his first year as speaker in 2015, an accomplishment that resulted from bringing people together.
Bullies, he said, often target those who feel like they don't fit in and must be stopped. Hughes did not agree with Williams that President Donald Trump is often seen that way, instead describing the GOP president as looking out for "the little guy and gal."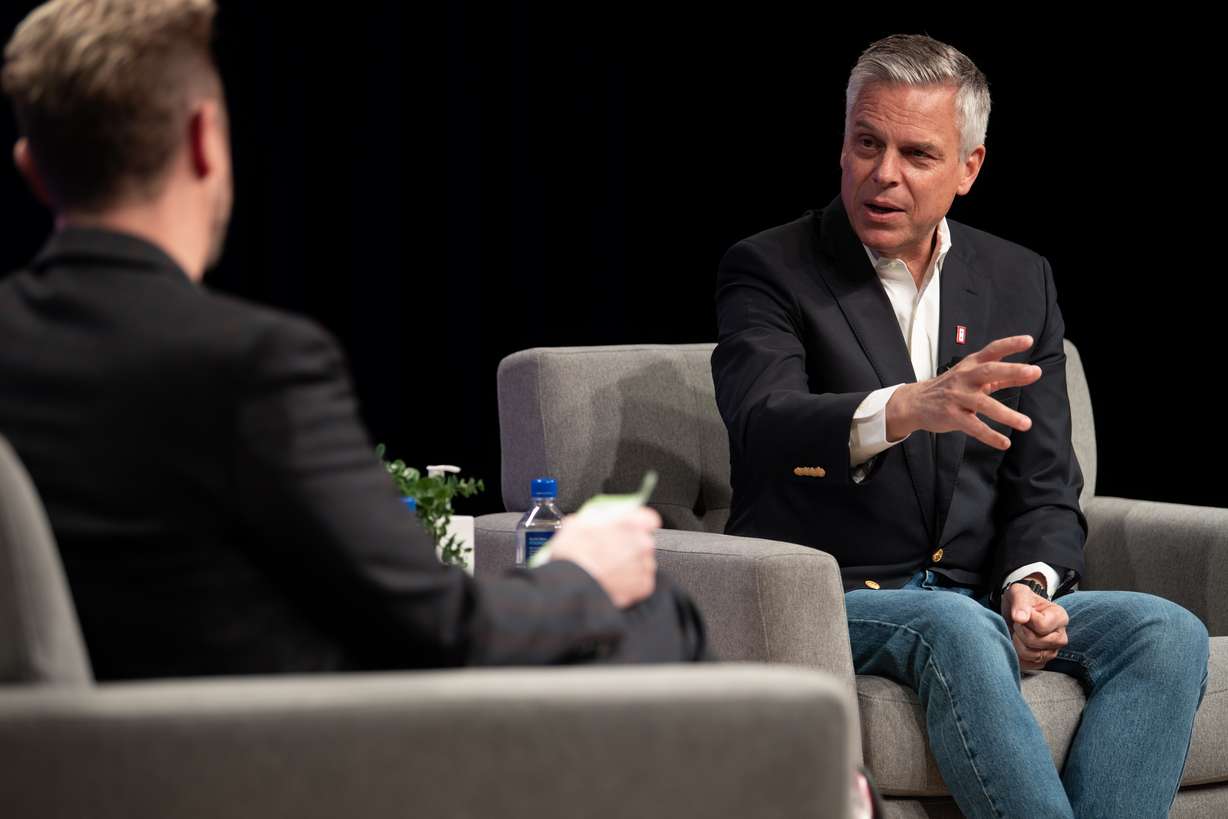 Wright, the first GOP party chairman to attend an Equality Utah fundraiser, said Jim Dabakis, an openly gay former Utah Democratic Party chairman, is one of his best friends and even though they disagree on policy, they've never had an awkward moment "because we're very respectful of each other. We need more of that."
Love and kindness, not political ideologies, are what's needed to help deal with Utah's high teenage suicide rate, Wright said. "During this pandemic, haven't we learned what should be our priorities?" he said. "Let's treat each other civilly. Let's love each other."
Wright suggested some of the Utahns who have lost jobs because of COVID-19 could be retrained as mental health counselors and said his message to troubled LGBTQ youth is that they are welcome in Utah.
During the 1½-hour forum that can be viewed on Equality Utah's social media, Williams said each candidate "gives more than just lip service. Each of them have something substantial to advance the LGBTQ community in Utah. We don't agree on everything of course, but we are discovering that there is plenty of common ground we can walk."
Equality Utah will hold a similar forum next week with the Democratic nominee for governor, University of Utah law professor Chris Peterson, Williams said. The events were originally anticipated to be held in front of an audience, but became virtual because of the coronavirus outbreak.
×
Photos
Related stories
Most recent Politics stories