SALT LAKE CITY — The Church of Jesus Christ of Latter-day Saints is preparing to return to weekly services.
The church, in a letter to local leaders on Tuesday, announced some meetings may resume on a limited basis. All church public gatherings — including sacrament meetings and stake conferences — have been suspended since March 12 due to the coronavirus pandemic.
Weekly Sunday services can begin as soon as this weekend, depending on local government guidelines and authority from the area authority. Area authorities will work with members of the Quorum of the Twelve Apostles and the Presidency of the Seventy in deciding when meetings can begin in their areas.
The church informed leaders they should use "an abundance of caution in protecting the health and safety of members" as congregations begin meeting again.
The church will use a two-phase approach to returning to full meetings. The first phase will consist of shortened Sunday worship services with up to 99 people. All other meetings, including weddings and funerals, will also be shortened and follow local government regulations. Baptismal services may be held with as few as four people, or more where allowed.
After receiving approval, each stake president will decide on when to start ward and stake meetings again. Stake presidents can adjust meeting schedules in churches with more than one congregation to avoid schedules overlapping. Wards with more than 99 people in attendance can hold multiple meetings or invite members to attend on alternate weeks. They also may have to wait until the second phase, when more than 100 people can attend meetings again.
Under Utah's orange (moderate risk) and yellow (low risk) heath risk guidelines, faiths are able to hold in-person services of any size as long as a 6-foot distance can be maintained between household groups.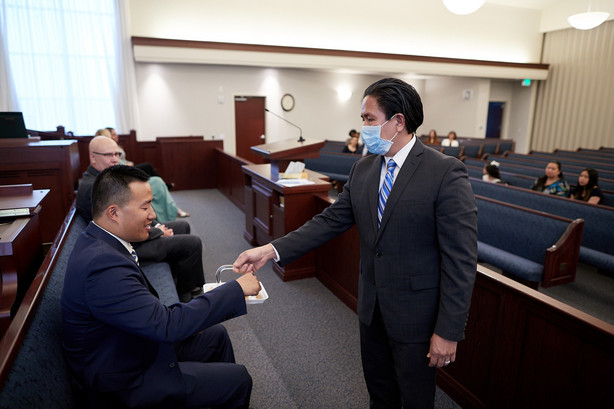 The state recommends wearing a face mask when a 6-foot distance can't be maintained and not shaking hands with or touching anyone who is not a member of their same household. The state has also encouraged church leaders to find ways to prevent gathering in lobbies or foyers.
"Individuals from the same household may sit together, but others should sit with appropriate distance," the church's guidelines read. "It is recommended that choirs be temporarily suspended."
The state has recommended high-risk individuals to limit religious services.
Local Latter-day Saint leaders will have the authority to make adjustments to how the sacrament is passed to their congregations as well. For example, bishops may have members sit in every other bench or space out individual chairs to avoid having worshippers pass the tray down a row.
When it comes to preparing the sacrament, the church said it must be done only after proper handwashing or hand sanitizing and with a mask on, if available. Surfaces on sacrament trays, including handles, should be cleaned and disinfected frequently, the guidelines said.
Leaders are told to thoroughly clean the building after each set of meetings, including doorknobs, light switches, water fountains, microphones, and pulpits.
×
Related Links
Related Stories