SALT LAKE CITY — As Utah's colleges and universities digest how to restart operations and bring students back to campus following the COVID-19 pandemic in the fall, many presidents and chancellors are rightfully determining how to keep students safe from the virus.
That's probably the wrong approach, though.
"Our plan is not to prohibit the virus," Dixie State president Richard Williams said Friday during a conference call with the Utah State Higher Education Board of Regents. "It's going to happen on our campuses. I think our plan is about how we respond."
Williams is approaching the pandemic not just from an educational perspective, but also a medical one. Before receiving his Ph.D. in curriculum and instruction from New Mexico State University, he earned a master's in athletic training from Indiana State. The Weber State alum who grew up in Brigham City still maintains his certification in athletic training, and has held various positions with the National Athletic Trainers Association.
And the majority opinion in the medical field is that, without a vaccine in place, there's no guarantee of stopping the novel coronavirus.
With that in mind, Dixie State — which is also in the process of transitioning from NCAA Division II to Division I in athletics this summer — is working to determine protocols for dealing with a potential coronavirus outbreak when students return to in-person classes.
While no one hopes for an outbreak of the virus, the more pressing question in dealing with the pandemic without a vaccine is "when," not "if."
"If we think we are doing all this and expecting not a single case on campus, that's probably not going to happen. We're doing everything possible to protect our students," Williams told KSL.com. "But we need to make sure the public knows we're going to do everything we can to create safe spaces. It's just impossible to create a campus that doesn't have a case or two."
Like the rest of Utah's colleges and universities, Dixie State courses remain online through the summer term.
No one has formally decided if they will conduct classes online or in-person during the pandemic in the fall, though many are nearing such a decision. Utah Valley president Astrid S. Tuminez, who leads the largest public university in the state, said her college will likely make a formal decision in the next two weeks.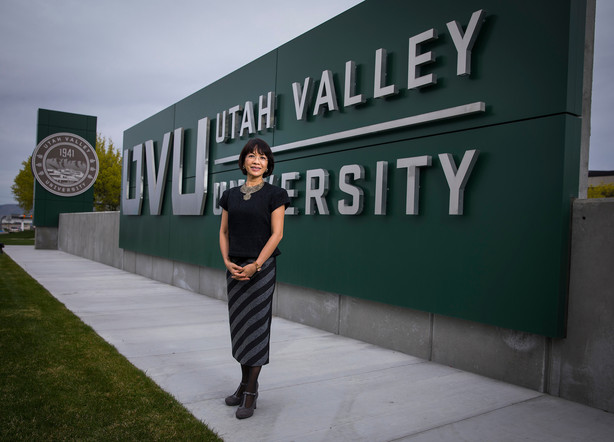 Utah State president Noelle Crockett announced Friday that the Aggies will begin a phased plan to bring employees back to campus over the next few weeks. She added during the higher education board meeting that "some form of in-person delivery" is needed to draw students back to campus.
That's why Williams' group of faculty and administrators in St. George is making plans now. And one case of COVID-19 shouldn't scrap those plans on campus, he said, even if it modifies how subjects are taught.
"Guidelines are fantastic, and every university is working diligently," Williams said. "But if we get a case or two, that can't be a metric for failure. That's not what this virus is."
The suggestion struck a note across the state's public colleges and universities.
"We will have a plan in place to deal with those cases when they do come up," Utah interim commissioner of higher education David Woolstenhulme said, "because we know they're going to come up."
It's the same feeling on a national level, as institutions of higher education wrestle with the question of resuming in-person classes. The Cal State system made headlines this week when it announced that all classes this fall would be conducted online.
The announcement led to several schools, most in the Division II California Collegiate Athletic Association, to shutter fall sports, as well. The three system schools in the Mountain West Conference — Fresno State, San Jose State and San Diego State — said in a joint statement with the conference that they haven't decided if they will hold athletic events this fall.
But even as they make that determination, national leaders urge caution for schools to not aim to prevent a coronavirus outbreak on campus. Simply plan for one, and how to best contain the spread to limit risk and exposure.
"We have literally a half-million student-athletes," NCAA president Mark Emmert said in an interview with CNN. "We've got 1,100 different schools that participate in NCAA sports — 19,000 teams, not 32 (like in the NFL). So, to me, it's not if a student comes down with the virus, it's when. I think it's almost inevitable with those kinds of numbers.
"And so you have to have in place the protocols for testing, for tracking symptoms, for tracking contact and the ability to quarantine individuals and those they've come in contact with when this occurs. Same thing with regular students. It's impossible to believe that you can bring 40,000 students back to campus and all the faculty and staff and not have somebody sooner or later contract the virus. So it's how you react to it that's going to be critical."
The Utah legislature, from which public colleges draw a significant portion of their funding, is already looking at a $2 billion shortfall due to the economic pressures of COVID-19, and that number could increase if colleges and athletic departments shut down in part or as a whole in the fall.
Tuminez said UVU is currently projecting a 5-6% enrollment decrease this fall compared to previous years, and Crockett alluded to similar numbers at Utah State as well. Tuminez added that enrollment for the summer term increased by 4.6%.
Williams said that, while it's too early to predict the exact impact on enrollment, Dixie State's student population has been "trending up." Much of the trend is tied to the school's move to Division I, where it will compete as an FCS independent in football and join UVU in the Western Athletic Conference in most other sports.
It also belies the university's strong freshman class of 2019, and Williams doesn't expect it to be the last large group of newly enrolled college students in St. George.
"I believe that once these guidelines come out and the institutions can say they're face-to-face, then a lot of students will realize they can register," he said. "A lot of them are just waiting to see if they'll be face-to-face."
×
Related Stories