PROVO — About five years ago, Andy Toolson took a job with an investment firm in the Pacific Northwest and moved his family to Vancouver, Washington.
It wasn't an easy decision. The former BYU star who was inducted into the school's Hall of Fame in 2001 had recently watched one son, Conner, help Lone Peak to win a mythical national championship by MaxPreps in 2013. That son was matriculating to Salt Lake Community College, where he would be part of an NJCAA national title-winning team before finishing his career at Utah Valley University.
But there was one more boy who would be most affected by the move: his younger son, Tanner.
Five years later, Tanner Toolson gave his dad a reason to move back to Utah.
The 6-foot-5, 185-pound guard from Washington's Union High School committed to BYU on Thursday night in an Instagram Live video filmed at his sister's house in Provo, and his letter of intent was received by the Cougars by Friday morning.
A family that has meant so much to BYU basketball — including a cousin Jake, who helped guide the 2019-20 team to a No. 18 national ranking — was returning to Provo.
But Andy Toolson had very little to do with it.
"If you had asked me a month ago, I would've said he was leaning towards going somewhere else," Andy Toolson told 97.5 and 1280 The Zone radio of his son, who also counted Utah, Utah State and Boise State among his scholarship offers. "Once they (BYU) offered a month ago, they were in close contact for the last few weeks. I tried to stay pretty neutral. It's his life … but my wife and his siblings didn't feel the same way. They definitely let him know."
Tanner Toolson's improvement from average high school basketball player to Division I product has been a journey.
Two years ago, he had yet to make a start on his high school's varsity team. By his father's own admission, he was a "6-foot, slow-footed, not very strong" point guard with good handles.
But work was never an issue with Tanner Toolson, just like his father.
Andy Toolson came to BYU in 1984 as a 6-foot-6, 215-pound first-team all-state wing from Twin Falls, Idaho. He left as the program's all-time leader in career 3-pointers (141), most threes in a season (74), and single-game free-throw percentage (14-14, 1.000)
In three seasons under Ladell Andersen and one under Roger Reid, Andy Toolson developed into a 10-year professional basketball player that included two separate stints with the Utah Jazz — first in 1990-91 and second in 1995-96.
The Toolsons are different players, but Andy Toolson believes his son could be better than his own legendary BYU career, at least in one regard.
"He's a better athlete than I ever was," he said. "He had more dunks in his senior year that I had in my career. Once he figured out he could dunk, he loved to do it.
"If he gets a little bit stronger and improves his quickness, I think he can be a pretty good player."
Tanner Toolson averaged 23.0 points, 8.5 rebounds and 3.0 assists per game as a senior en route to Washington Interscholastic Basketball Association Mr. Basketball honors. He led Union to a school-record 27 wins and a third-place finish in Washington's Class 4A state tournament, and earned All-Region Player of the Year by the Columbian and 4A Greater St. Helen's League MVP.
"His trajectory over the last two years has been incredible," BYU head coach Mark Pope said of Tanner Toolson, whom he started recruiting at Utah Valley. "He's got a silky-smooth jumper and has a fire, competitiveness and physicality that will endear him to Cougar fans."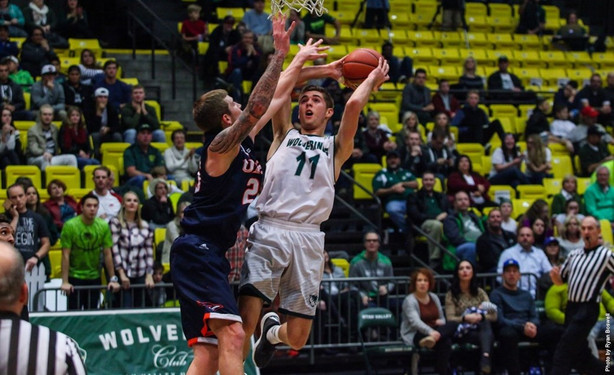 The Toolsons have been a part of BYU basketball lore, both from Andy's Hall-of-Fame career to cousin Jake's most recent season as a graduate transfer, when he won West Coast Conference Newcomer of the Year honors after earning WAC Player of the Year honors at UVU.
Conner, too, had his own "Marriott Center magic" in his own college days. The 6-foot-4 shooting guard poured in 21 points on 4-of-8 3-point shooting in Utah Valley's 114-101 win over BYU back in 2016 — the Wolverines' only win in the crosstown rivalry series, which set a venue record for most points and 3-pointers (18) in front of a capacity crowd of 16,003 fans.
"Tanner comes from a great basketball family," Pope said. "His father, Andy, was a BYU legend and played for the Jazz, and his brother, Conner, was a junior college national champ and a star at UVU. They both had great moments in the Marriott Center … and knowing Tanner as we do, he's going to come in and be the best of the three."
Tanner Toolson will join the Cougars as part of the Class of 2020, after serving a two-year mission in Jacksonville, Florida, for The Church of Jesus Christ of Latter-day Saints. He's one of three sharpshooters from Pope's first official recruiting class at BYU headed into the mission field, alongside Fremont star Dallin Hall and Wasatch Academy's Richie Saunders.
"Hopefully his mission president is a basketball fan," Andy Toolson joked.
×
Related Stories