PROVO — There's a lot to like about Purdue center Matt Haarms, the 7-foot-3 shotblocker who signed with BYU as a graduate transfer Thursday morning.
His defensive capabilities, long wingspan and 2.0 blocks per game in just 20 minutes of Big Ten play last year certainly stand out. So, too, does his 52.4% field-goal shooting, and the ability to make threes — a staple of the BYU offense — on 10-of-32 occasions a year ago; not a bad rate for a big man.
But mostly, the Boilermakers' backup center's most eye-popping stat is a lot more simple than that.
He's big.
With the addition of the 7-footer — the first at BYU since walk-on Alan Hamson departed after the 2015-16 season — the Cougars now have five players that stand 6-foot-9 or taller in Richard Harward, the 6-foot-11 transfer from Utah Valley; Wyatt Lowell, the stretch forward who measures 6-foot-10; and returning posts Kolby Lee and Gavin Baxter, who each measure 6-foot-9.
That's a lot of length, enough to consider some zone defense or just simply the ability to outrebound teams every night — a consistent Achilles' heel of the 2019-20 squad, for all its honors, accolades and regular-season highlights.
The Cougars were great from 3-point range, could score with anyone in the country, and featured likely NBA player Yoeli Childs at power forward, to say nothing of future professionals like Jake Toolson, TJ Haws and Zac Seljaas. But the No. 9-rated team in the NCAA's final NET rankings averaged just 33.2 rebounds per game, tied for 22nd nationally with Arkansas State.
They made up for it in other ways. But rebounding was always a battle, even when Childs, fellow senior Dalton Nixon and the injury-hampered Baxter were at (mostly) full strength.
"We were scratching and clawing all year to stay on the glass," BYU coach Mark Pope told reporters Friday during a conference call. "I think we have a chance to be a massive force on the offensive glass, which is not something we had a ton of depth last year.
"Our three and four can be really big, and we have candidates at the three who are really long and really skilled."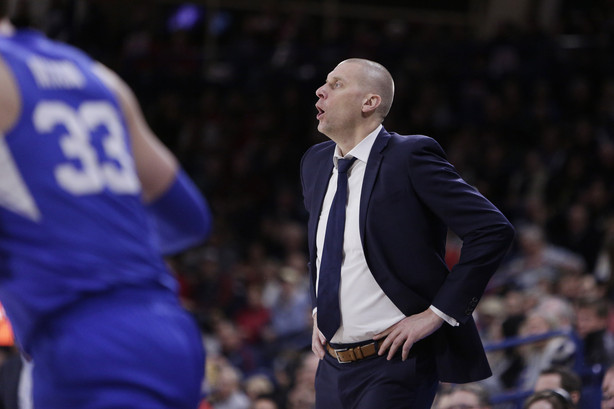 So the challenge of getting better on the glass, especially when losing Childs among the seven-man senior class, was a real one for BYU's coaching staff. They got some length from junior college transfers Spencer Johnson (SLCC) and Gideon George (New Mexico JC), while high school signees Dallin Hall of Fremont and Richie Saunders of Wasatch Academy are still planning to serve church missions to the Phillippines and Madagascar, respectively.
But they also wanted to capture the experience of a Division I player, and the transfer portal made that acceptable.
"We always want to stay as old as we can," Pope said. "That's something that really matters to us."
Credit goes to assistant coach Nick Robinson for Haarms, who was the first BYU coach to approach the Purdue transfer after he appeared in the NCAA's transfer portal. Or maybe Chris Burgess and Cody Fueger, whose recruiting tenacity was only hampered by the NCAA's semi-dead period preventing college coaches from leaving campus or hosting recruits.
Instead, the staff became Zoom video conferencing experts.
And after the virtual tours and countless hours of mostly FaceTime and text message-based conversations, the Cougars had their man, arguably the top-rated graduate transfer recruit in the country and perhaps one of the most sought after.
They also got a little help from the BYU fan base, through those Twitter polls and Facebook voting machines that most of us find dumb or at least annoying. But transfers see the most rabid of fan bases, and it makes an impression.
But back to the coaches.
"We spend so much time as a staff, watching film and talking to everyone that a person knows to get a feel for the kid," Fueger said. "Coach Pope puts so much importance on getting to know the kid, and making sure it's a good fit."
BYU beat out Kentucky and Texas Tech in Haarms' final three, mostly because of the connection the Amsterdam native made with a group of developmental coaches on the other side of the country, in a state where he had only driven through a handful of times in his life.
"Look at coach Pope and his staff. In the one year they've been there, they've done so many impressive things at BYU," Haarms told ESPN. "They're going to be in the conversation for one of the best staffs in the country. I'm in the best position to be successful. Coach Pope is an absolutely awesome guy. Other programs had more traditional success, but I can go there and be a part — a big part — of a team that wins."
Beyond Kentucky and Texas Tech, the Cougars also beat out several other power-conference and high-end mid-major schools for Haarms. The decision wasn't taken lightly; BYU watched as other transfer targets, like Utah's Matt Van Komen (Saint Mary's) and Georgia Tech's Evan Cole (Utah Valley) signed with other schools, even rivals.
But when you're competing with some of the top programs around the country, decisions won't always go your way.
Pope knows that simply being in the conversation will pay dividends.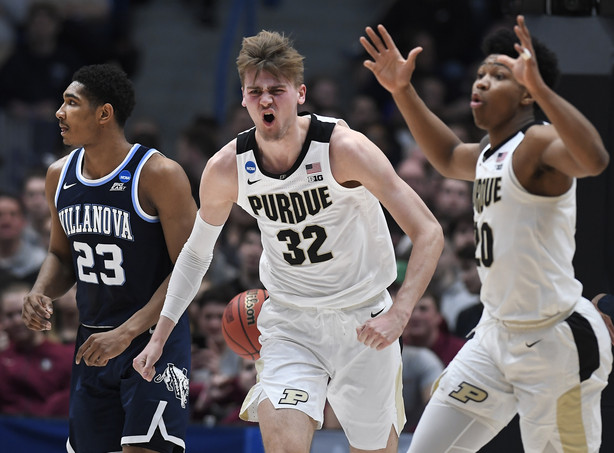 "I feel like we're doing the right thing when we're recruiting against good teams. It gives you a lot of confidence, because it means you're probably hanging out in the right part of the portal," he said. "I hope we get to spend a lot of time recruiting against Kentucky, Texas Tech, North Carolina and all the great programs. That's where you should live … and if you find the right guy, you have a chance."
The Cougars' staff, sans Robinson at least, practically lived in the transfer portal during four years at nearby UVU. Recruiting transfer students, yet alone athletes, to BYU presents a unique challenge — but they've shown they can make it work.
Besides Haarms, Pope has also brought in the trio of Utah Valley transfers to follow him, and Arizona transfer Alex Barcello, who projects to be the team's starting point guard next year. The Cougars are also in the running for Seton Hall transfer Anthony Nelson and Fresno State's Jarred Hyer, who averaged 9.1 points per game as a freshman with the Bulldogs and would likely have to sit out one season (barring changes to NCAA legislation).
They're all players, but they're more than that. They're stories, and they're people, with unique backgrounds, challenges — and also skillsets. That's why BYU has been using the portal to get to know them.
And it's paid off, even if the Cougars aren't batting a thousand.
"The only thing we do well is develop players," Pope said. "There are a million things we haven't done, but we've definitely developed players.
"If we don't help them grow, we're failing them. And we don't like to fail."
×
Related Stories