SARATOGA SPRINGS — Maybe a change in perspective was exactly what Abbey Porter needed.
The Lone Peak senior golfer shot 75 in Monday's first round of the Class 6A state meet. Not a bad score; most high school golfers would take such an off day.
But with a 10-stroke lead over rival Davis, the Knights started managing the course — so much so that they started to look at the final pairings, which put a Knight with a Dart and vice versa, as a match-play event.
And it worked to perfection.
Porter shot 68 Tuesday for a two-day total of 143, finishing fourth individual and leading three teammates in the top nine as Lone Peak won back-to-back state titles with a two-day total of 604 Tuesday at TalonsCove golf course.
The Knights won their third state title in four years, finishing first in the two years of the new 6A classification. They haven't finished outside of the top two in their classification since a third-place finish in 2015.
The Knights join Timpview (5A) and Richfield (3A) as state champions.
But Lone Peak came in with an underdog mentality. The Knights led by just two strokes a year ago, and the 10-point lead it held Tuesday morning could evaporate quickly against a quality Davis team that features the likes of Caylyn Ponich (T-7th) and Katelyn Day (T-9th).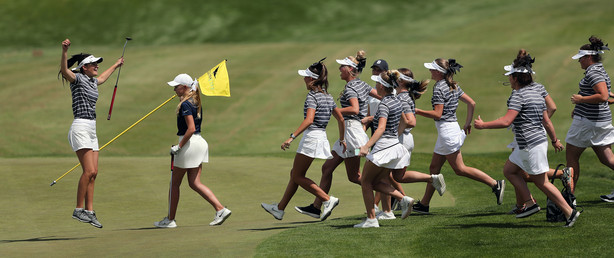 "We knew we had to make up strokes," said Porter, who has signed with Dixie State. "We couldn't give any back, because we didn't know where Davis would end up.
"We just tried to focus in and know that we had to make up those strokes."
The 5-foot, 4-inch Division-I bound team captain did her part, too. After carding a 75 on opening day, Porter shaved six strokes off her scorecard to finish as one of four golfers under par Tuesday.
"I felt like I was really able to get in the zone and focus in on what I wanted to accomplish," Porter said. "Once I got in the zone, it was easier to focus in, to make birdies than make bogeys."
Another sub-par performance was Lone Peak freshman Berlin Long, who shot 71 to finish with a two-day total of 146, tied for fifth with Riverton's Halle Parkin. Lone Peak's Lauren Taylor, another senior team captain, was two strokes back at 148, tied with Ponich.
"We did exactly what we talked about yesterday: we were really going to manage the golf course," said Lone Peak coach Gina Higbee, now in her sixth year with the Knights. "Yesterday we felt a little bit like it managed us. Some of the bunkers came into play that didn't need to.
"We really managed the golf course better today."
Bingham's Carissa Graft was the individual medalist, polishing off Monday's stunning 65 with a 66 — one stroke off the best round of her life — to cruise to the individual title at 131. Teammate Tess Blair, the two-time individual medalist, was second at 137, four strokes up on Westlake's Alina Vannarath.
🏆🏆 alert 🚨🚨

The @UHSAAinfo 6A girls golf champion is ..... pic.twitter.com/5CxtWvcjir

— KSL.com Sports (@KSLcomSports) May 14, 2019
Graft is believed to have set a state record for a 36-hole state meet event. At the very least, her two-day total of 131 edged out Blair's finish last year of 134 as the top score in Utah's highest classification since the tournament went to a two-day format in 2015.
Then came Lone Peak's Porter, Taylor, and the freshman now charged with carrying the Knights forward. The team will lose three senior contributors, but return Long and a host of other talent that will try to keep the dynasty moving forward.
"She's just tough as can be. The thing about her is she's always going to grind," Higbee said of Long. "She's 100 percent, whether she had a bad hole or not. She's just grinding, giving everything she has. She's passionate and awesome."
After the excitement, the screams, the jubilation, and a mini-shower of high school-aged girls throwing 7UP on one another next to the 18th green, the Knights walked away as champions again. But this one was special for Porter and Lone Peak, not just because it was her last year.
"We're a family, basically," she said. "We come in knowing that we want to win and celebrating his the easy part. It's after all our hard work has paid off.
"We practice focusing on the state championship."
Class 6A girls golf state meet
TalonsCove golf course
Top 10 individuals
1st: Carissa Graft, Bingham — 131
2nd: Tess Blair, Bingham — 137
3rd: Alina Vannarath, Westlake — 141
4th: Abbey Porter, Lone Peak — 143
T-5: Berlin Long, Lone Peak; Halle Parkin, Riverton — 146
T-7: Lauren Taylor, Lone Peak; Caylyn Ponich, Davis — 148
T-9: Millie Terrion, Herriman; Kennedy McNeel, Herriman, Abbi Cowan Northridge — 158
Team scores
Lone Peak 604; Davis 630; Herriman 645; Bingham 675; Pleasant Grove 709; Riverton 711; Northridge 712; Westlake 729; Copper Hills 735; Weber 736.
×
Related Stories