Estimated read time: 5-6 minutes
This archived news story is available only for your personal, non-commercial use. Information in the story may be outdated or superseded by additional information. Reading or replaying the story in its archived form does not constitute a republication of the story.
SALT LAKE CITY — When Marcus Holman first got a call from his father a year ago to uproot his family — for the second time since 2009 — and take the head coaching job at the University of Utah's club lacrosse program, he thought they might've been crazy.
But the former North Carolina All-American and Baltimore native offered his support as an assistant coach, even while playing for the Ohio Machine in Major League Lacrosse.
"I thought it was crazy, but I told him I'd go with him if he took the job," Marcus Holman said. "I had his back throughout this process, and when it finally happened, I wondered if we were a little crazy."
Turns out, it was a good decision.
"A lot of people have really worked hard for this opportunity to come about," the younger Holman added. "There's a serious endowment involved, and there were guts to come out here as a coaching staff and take a chance on this without a guarantee that it would happen."
The University of Utah board of trustees voted Friday morning to add the sport by a unanimous vote with six present members. The Utes will begin play in NCAA Division I during the 2018-19 school year, becoming the school's eighth varsity men's sport and first full-sport addition since women's soccer was added in 1995.
"I'm so happy for so many people," said Utah head coach Brian Holman, who will be retained after spending the past season leading the club program to its first national tournament since 2005. "From my family to the staff and the chance they took to come out here to this school; there are so many pieces that were pulling in the right direction. But ultimately, I'm happy for the sport of lacrosse. That was one of the main reasons why we did what we did: to continue the growth of the game at the highest level that we can."
The decision was pretty easy for the university. Thanks to an endowment fund that included a $15.6 million anonymous donation and a string of boosters known as the Founders' Club, outgoing University of Utah President David Pershing quickly approved the proposal from the school's eight-member new sport working group, and athletic director Chris Hill submitted the decision Friday on a public conference call.
"The opportunity to give this to students is a wonderful opportunity in our state and also to be recognized nationally as a leader," Hill said during the conference call.
Utah men's lacrosse will be the western-most Division I program in the nation, the first in the state of Utah and the Pac 12, and only the third in the Mountain time zone with Denver and Air Force. The Utes are the first Power-5 conference school to add men's lacrosse since Michigan in 2012.
The school will field a 40-player lacrosse team, beginning with eight scholarships and working up to the full allotment of 12.6 scholarships over a course of several years, Hill said.
"Kids grow up who dream of playing for Hopkins or Duke, but now kids in Utah can dream of playing at Utah," said Utah junior-to-be Jake Stout, who prepped at Lone Peak. "They can have a big D-I school in their backyard, and that's really big for the lacrosse community as a whole. It's only going to help grow the sport."
Instead of dreams of playing for powerhouses like Johns Hopkins, Duke, Syracuse or defending national champion Maryland, local Utahns can add the Utes to their projected goals. While several standout club lacrosse players have signed with Division I schools ranging from North Carolina to Rutgers to Hofstra in recent years, no Utah high school lacrosse player has been able to play for an in-state Division I program.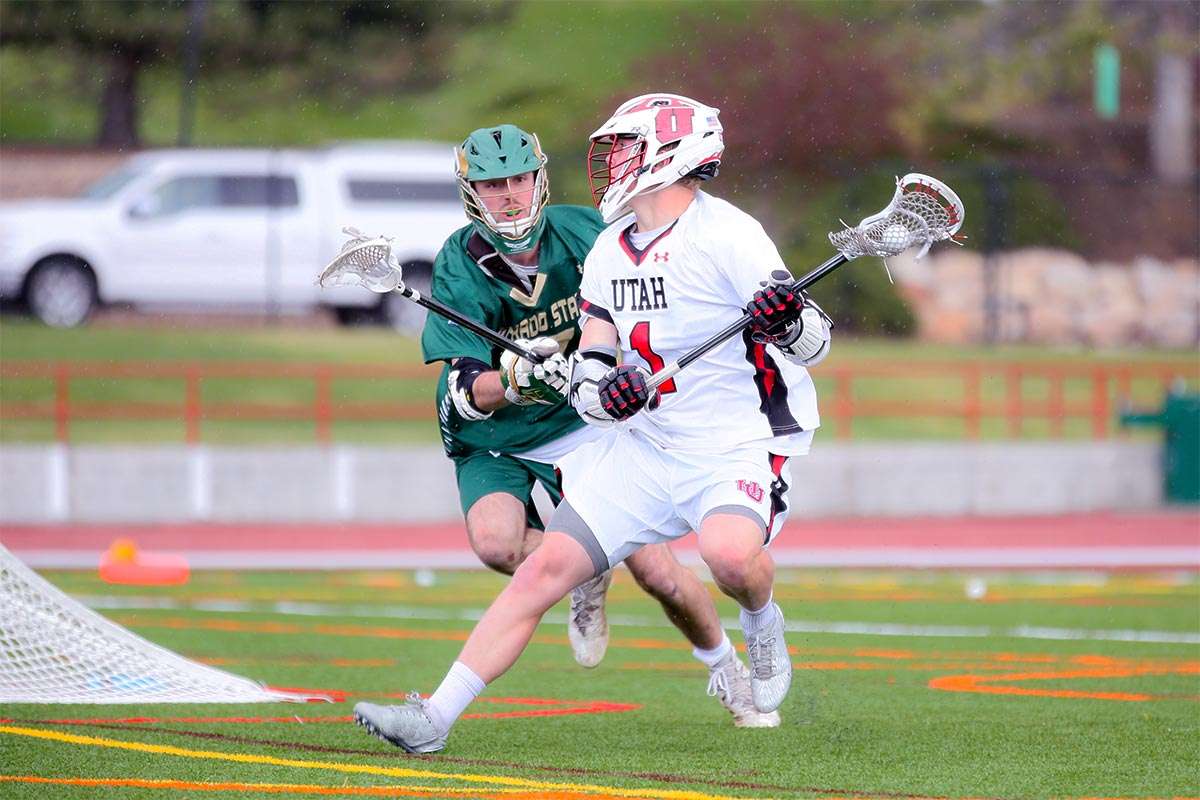 That all changes in one short season, which will see one final go-around in the Men's Collegiate Lacrosse Association before transitioning to Division I on July 1, 2018.
"Most of the kids on the team are from Utah, and this is a big deal," said sophomore-to-be Josh Stout, who scored a team-high 40 goals as a freshman. "As a little kid growing up, you always want to play at the highest level. To be able to have that in your backyard is pretty special. I didn't want to pass this up; it doesn't get any better."
The Utes will play their home games at Ute Soccer Field in the spring, just as they have while playing in the MCLA. But official representation at the school means players will receive athletic scholarships, academic aid and other benefits given to student-athletes within the athletic department — without relying on university or state fees, according to a news release from the school.
No timetable has been set for joining a conference, but no Division I lacrosse league exists west of the Mississippi River; Denver plays in the Big East, with Air Force in the Southern Conference.
The Pac 12 does not sponsor lacrosse, but several women's programs field varsity teams in the Mountain Pacific Sports Federation, and every school offers an MCLA club program.
"Our goal ultimately is to create a Pac 12 or western conference," head coach Brian Holman said. "I think that will be in the making soon rather than later with this happening. How long will that take? I couldn't say. But that's the ultimate goal, and we'll work on that while we are working on getting affiliated with somebody in the next year to help us compete at the highest level."
The transition year won't be easy, but Holman is excited about the challenge. After all, he uprooted his family for a chance in the wild west of lacrosse, a challenge he said he's enjoyed over the past year.
The adventure continues in Salt Lake City.
"Some people told me the easy part is over and now comes the work," Holman added. "But I disagree; coaching lacrosse is not work — it's pure joy to me.
"I think we crossed the big bridge, and now we get to go out and do what we love to do."
×
Related stories
Most recent Sports stories