SALT LAKE CITY — Ryan Peterson's restaurant, Diversion Eatery, had only been open for a few months in Salt Lake's Marmalade District when COVID-19 hit Utah. The restraurant subsisted on deliveries and curbside orders under the state's stay-at-home directive, but on Friday was finally able to open its doors again to customers who wanted to eat inside.
As of 1:45 p.m., however, no one actually had.
Peterson wasn't concerned; Marmalade is more of a "nighttime neighborhood," he explained, and he hoped to have some customers in for dinner. Since many Utahns are still working from home, he said, they're not "out and about downtown" for lunch yet.
And some, he acknowledged, probably just aren't comfortable yet. "It's a 50/50 split, depends on who you talk to, if they're going to come out or not."
Over on 200 South and 400 East, Even Stevens manager Skyler Bennett said he didn't have many dine-in customers at lunchtime, either. "We're hoping to see more once the word does get out," Bennett said. "Something that we're really big about as a company is being involved in our communities, and it has been really hard being away from them. So this is kind of getting that back for us.
"Being able to just talk — we love talking to our customers," he said.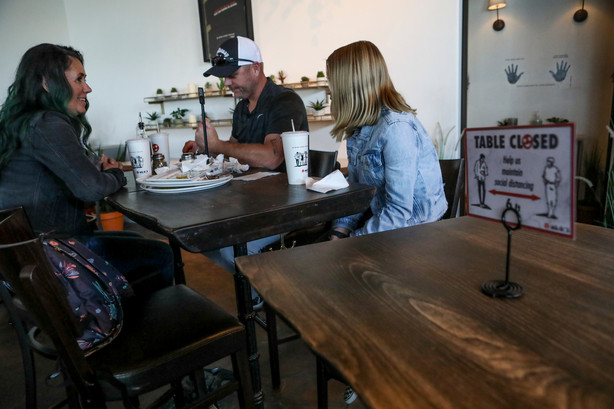 At Even Stevens, the tables were spaced and only half of the four back-wall booths were available for seating to maintain the mandated 6-foot distancing. Peterson said Diversion has likewise spaced its dining room so that the normal capacity of 69 people has been reduced to 22 seats on the inside and an additional 12 on the patio.
"We've got plexiglass up for customers ... when they come up to our counter to order," Peterson said. "We've got 6-foot tape lines while they're waiting in line, to keep their distance at a 6-feet range. We have gloves, we have masks, we have hand sanitizer."
Utah is officially in a "moderate risk" phase for COVID-19. This means restaurants are allowed to reopen under strict guidelines. Do you plan to dine in soon or will you stick to takeout/delivery?

— KSL (@KSLcom) May 1, 2020
Peterson said it's been a learning process for everyone. "We're just trying to educate the public, as much as we're trying to learn how this goes, as well."
---
We're just trying to educate the public, as much as we're trying to learn how this goes, as well.
–Ryan Peterson, Diversion Eatery
---
Though Diversion and Even Stevens have reopened for dine-in, many Utah restaurants remain reliant on carryout or delivery for the time being. On Thursday, Utah Restaurant Association president Melva Sine said she expects most restaurants to offer dine-in service by sometime next week.
But even reopened restaurants will keep options open for Utahns who'd rather not come inside.
"We want people to come in, enjoy a drink, sit down, relax for a minute," Peterson said. "But we also are still available for curbside pickup, we do delivery, we have apps you can order from, so whatever you feel most comfortable doing."
×
Related Links
Related Stories