SALT LAKE CITY — Starting Friday, Utah will transition from a state of high risk for COVID-19 to a state of moderate risk, Gov. Gary Herbert announced Tuesday.
The state will begin transitioning to a less-restrictive but still cautious operating system, Herbert said, giving Utah an opportunity to open up some aspects of its economy, but it means there will still be risks to the public for COVID-19, Herbert said.
"We can continue this trend in the right direction… as we now move into the stabilization phase," Herbert said.
Moving from high to moderate risk for COVID-19
The state will move from a "high risk" state of operations to a "moderate risk" alert level under the second version of the state's Utah Leads Together plan for pandemic recovery.
The plan is color-coded from red to green to indicate varying levels of public health risk of COVID-19. Red indicates high risk, orange is moderate risk, yellow corresponds to low risk, and green means normal risk. Friday, the state will move from the red zone to the orange zone.
That means that while the general public is expected to see a more moderate risk of contracting the virus, people who are considered at higher risk for COVID-19, including people over the age of 65 and those who are immunocompromised, will still be at high risk for the disease.
Nothing will change for people in those higher-risk populations, Herbert said. And people who aren't at high risk will still need to take every precaution to help protect those who are most vulnerable to COVID-19, he added.
Herbert reiterated that loosening the restrictions are not based on fear or politics, but is based on science and data.
"Utahns have stepped up. This is a good news day," Herbert said.
---
Gov. Gary Herbert, Lt. Gov. Spencer Cox and Utah Department of Health state epidemiologist Dr. Angela Dunn discussed the current coronavirus situation in the state at the daily health department press conference on Tuesday afternoon. Watch the replay of the event below.
---
'A Mask For Every Utahn'
Herbert also announced the "A Mask For Every Utahn" initiative that will seek to provide a protective mask free of charge for people in the state.
The Utah Manufacturer's Association, along with Cotopaxi and 20 other manufacturers in the state, will work to produce 2 million masks that will be distributed across the state. The project is funded through the federal Coronavirus Aid, Relief, and Economic Security (CARES) Act, according to Lt. Gov. Spencer Cox.
More information about the program is available at coronavirus.utah.gov/masks.
Utah leaders have asked for more participation from the public to wear masks. Health officials say they do not prevent people from being infected with COVID-19, but they do help people who are asymptomatic or presymptomatic from spreading the virus in the community.
People who already have a mask in their possession should not request one from the state, Cox said. The website will be limited to one order per household, and orders will be limited to six masks total. When the supply of 2 million has been depleted, the state will not be making any more, he said.
State leaders will also be working with community organizations, especially nonprofit food distributors, to make sure the masks are available to underserved communities, Cox said.
He said the use of masks is a "missing pillar" to controlling the spread of COVID-19, and Utahns should expect to use them for the next few months. Doing so will help protect people who are vulnerable to the disease, he added.
"This is a sign of progress toward a temporary new normal … but more importantly, this is a sign of good will," Cox said.
4 new COVID-19 deaths
On Tuesday, Utah's number of COVID-19 cases increased by 110 from Monday, with four new reported deaths, according to the Utah Department of Health.
Tuesday's totals give Utah 4,343 confirmed cases, with 370 total hospitalizations and 45 total deaths from the disease. Previously, there were 4,233 cases in the state.
The new numbers indicate a 2.6% increase in positive cases since Monday. Of the 102,439 people tested in Utah so far, 4.2% have tested positive for COVID-19.
The total number of cases reported by the health department includes all cases of COVID-19 since Utah's outbreak began including those who are infected now, those who have recovered from the disease, and those who have died.
The four people who died were all residents of Salt Lake County who had underlying medical conditions, according to health department state epidemiologist Dr. Angela Dunn. Three were over the age of 60, and one was an older adult under the age of 60, she said.
Two were residents of long-term care facilities and two were hospitalized before they died, Dunn added.
Transitioning to 'soft reopening' of Utah's economy
As the state transitions from the red, high-risk state to the orange, moderate-risk zone starting Friday, businesses will still be asked to take many precautions, Herbert said.
Some restaurants that have been operating under a carry-out or delivery model will be able to resume dine-in options once again. However, they will be asked to continuously monitor their employees for COVID-19 symptoms, and may be asked to screen customers for any symptoms before allowing them inside, Herbert said.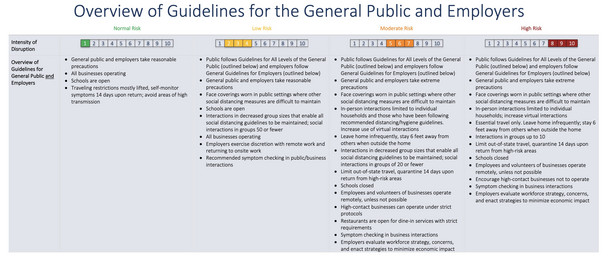 Other strict requirements, such as providing ample hand sanitizer in restaurants for customers and asking customers to practice social distancing while dining, may also be required.
Some gyms and beauty salons may also be allowed to reopen but will be required to observe similarly strict guidelines, Herbert said.
Group gatherings have previously been limited to a size of 10 people or fewer, but will now be allowed for up to 20 people starting Friday, according to the plan.
People will still be asked to take extreme precautions, leave home infrequently, avoid out-of-state travel and limit in-person interactions to those in your own household or who have followed social distancing and health guidelines, the plan states. Schools will remain closed and most businesses will be asked to have employees work from home unless that is not possible.
For more information, visit coronavirus.utah.gov.
×