SALT LAKE CITY — It wasn't how Abril Tanner thought her wedding day would be.
Her dress was perfect and she was marrying the man she loved, yes, but everything else was a bit strange. Instead of the San Antonio Temple, she stood on the side of an Orem church. Instead of being closely surrounded by loved ones, she faced a parking lot of cars.
And she took a picture holding a measuring tape between her and her husband, Garrett — not quite what she had spent months and months planning.
On March 25, The Church of Jesus Christ of Latter-day Saints closed all temples around the world in response to the coronavirus pandemic. It wasn't an unexpected decision as the world and nation came to a halt due to the growing pandemic, but it forced the Tanners and thousands of Latter-day Saint couples across the world to abruptly change their plans
"We had planned it out for over a year," Tanner said. "We had everything ready — then this happened and our plans went down the drain. We tried to still do some of the things that were planned, but nothing really happened."
The Tanners were far from alone.
Matt Andrew and Jilaina Tailleur's big day was supposed to be on April 24 in the Seattle Temple, near where Tailleur is from. But the couple saw the writing on the wall as Washington became an early hot spot for COVID-19 — they would have to change their plans.
In an effort to try to get ahead of the closures, the couple moved up their wedding date to Saturday, March 28 and changed the location to the Manti Utah Temple. But just three days before the new date, that option, too, was eliminated.
"By that point, we were not emotionally capable of changing the wedding plans again, so we're like, OK, we're just getting married," Andrew said.
They were married in Andrew's aunt's home in Kaysville.
"We had some of my extended family, a little bit of hers as well, and some friends of ours, and we got married by my bishop from my BYU student ward," Andrew said.
Faithful members believe being married, or sealed, in the temple joins a couple and their families for eternity. Sealing is a key ordinance for faithful Latter-day Saints.
Previously, couples in many countries across the world, including the United States, were required by the church to wait a year after being civilly married before becoming eligible to be sealed in the temple.
Last May, the First Presidency of the church announced a change in policy that allowed couples to be married in the temple immediately after being joined in a civil union.
For the many couples who have seen their temple weddings canceled over the last few weeks, the change feels very inspired.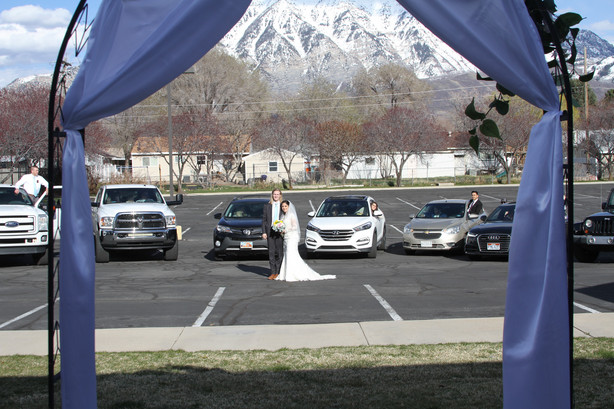 "It was heartbreaking," Tanner said about not being able to get married in the temple. "But the rules changed for a reason. And we're very grateful for them now. It was always something that we both wanted, so knowing that the rules have changed and that we are gonna be able to marry in the temple as soon as they open, that gave us peace of mind."
If not for the pandemic, the Tanners would have been wed in the San Antonio Temple on April 3 (they, too, tried to change it to the Manti temple before the church's announcement). Once all the temples were closed, though, they started to think a little outside the box. How could they still have their friends and family and still be responsible citizens?
"We came up with this idea to just have people stay in their cars," Tanner said. "That way, everyone's in their own little space, no one's touching. And everyone is 6 feet apart."
There were 13 cars in the parking lot as the Tanners got married.
"I am very grateful that we just did it the way we did because we were able to have our family there," Tanner said. "And the pictures are fun."
Those pictures tell an interesting story, no doubt. And there's countless more spread across the globe as couples continue to adjust to a strange reality.
"At the moment, it's still a little bit sore," Tailleur said. "But I think within a couple of years, it'll be a fun story to share. Everyone who went through this during this time will have that bond."
The experience has also helped the couples gain added perspective.
"When everything gets stripped away, you realize what's really important," Andrew said. "What's important is that you're marrying the person you love and you're celebrating starting a life together. Later, when the temples reopen, you bring that in, and then you can make it eternal and that's the real goal and what's really important. Everything else is just extra."
Contributing: Liesl Nielsen
×