Estimated read time: 6-7 minutes
This archived news story is available only for your personal, non-commercial use. Information in the story may be outdated or superseded by additional information. Reading or replaying the story in its archived form does not constitute a republication of the story.
PROVO — Her surgery in Spain was supposed to be last week. Instead, Brooke Andersen teaches her four young rambunctious boys from her bed in their one-bedroom apartment. With school on hiatus because of the COVID-19 pandemic, she tries to meet their academic needs even though she can't hold her head up for longer than a few hours.
Brooke and her husband Trevor had to sell their house to pay for her potentially life-changing surgery, which can only be done by a handful of surgeons worldwide. It has now been postponed indefinitely because of travel restrictions.
In their new apartment, there are two bunk beds for the boys in the living room, and the family of six shares one bathroom. The space would be tight even if they weren't quarantined.
"Living like this with the boys is probably about as good as you imagine," Brooke said with a laugh.
She thinks back to the times when they would go to parks for picnics and their weekly museum visits. Her youngest boy had just turned 2 when she suddenly lost her ability to walk and speak. She wonders if he will even remember her as she was — an active, involved mother.
The Andersens' sister-in-law, Julie Andersen, said that Brooke always has a smile on her face and seems put together. The family had no idea the pain she was in until the signs became more obvious.
Brooke experienced a sharp, sudden decline in her health last summer with hearing and vision problems and frequent loss of consciousness.
By the fall of 2019, she was having severe migraines and memory loss to the point of losing track of her thoughts mid-sentence. Her doctor recommended an MRI, but on the way to have the test done she suddenly lost feeling in her legs and couldn't take a step.
In the emergency room, the doctors stabbed her ribcage with a safety pin. She couldn't feel it. She was paralyzed from the belly button down. At times she lost her ability to speak completely.
"I knew what I wanted to say, but I couldn't," she said.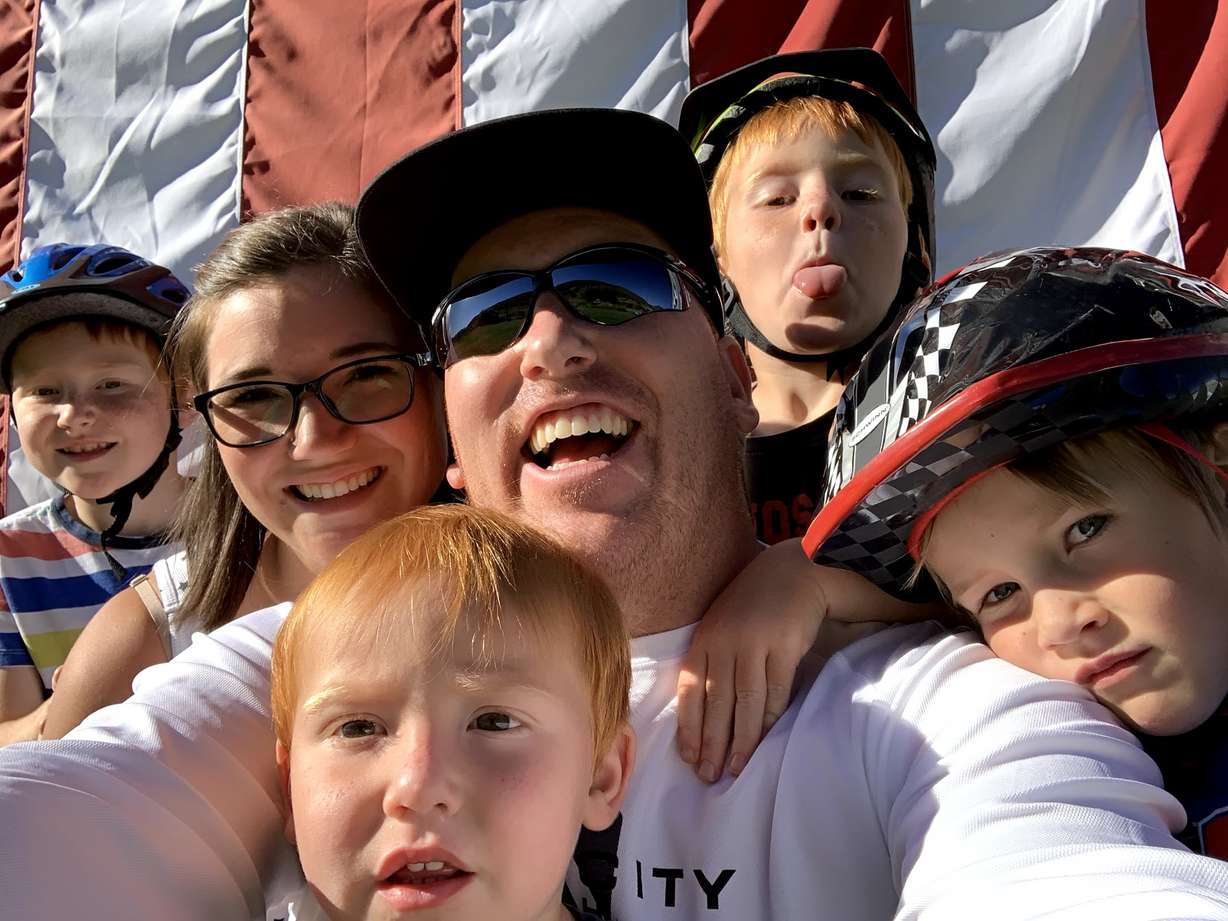 #kids_pic
Her doctor diagnosed her with neurological issues, but Brooke said something didn't seem right about the diagnosis. So, she began searching for an answer that felt right.
She watched hours upon hours of medical lectures, compiled extensive medical research about her symptoms, and documented her journey on a blog she originally started when she was recovering from postpartum psychosis.
After chasing down a few false leads, she was diagnosed with Ehlers-Danlos syndrome (EDS), which causes ligaments to stretch out. That led to diagnoses of craniocervical instability (CCI), atlantoaxial instability (AAI), and subaxial instability, along with mast cell conservation syndrome (MCCS).
The treatment for this condition called for a hard neck brace and crutch. Once Brooke started using these, she was able to regain much of her speech and mobility, but she is still constantly experiencing excruciating pain.
"I knew that surgery was going to be my best option to regain some life," she said.
The surgery she needs would fuse her neck to her spine, making her unable to turn her head. Without it, she would continue to deteriorate, most likely ending up bed-ridden and in a halo brace. However, the options for surgery were severely limited and not covered by insurance.
The cost
The Andersens located a surgeon in Barcelona, Spain, who was willing to do the surgery for cash pay and began to plan. The surgery alone adds up to $80,000 up front, not including flights or the five-week recovery period.
At this point, many of the scans and tests Brooke had received were done out of state and not covered by insurance. The bills have already begun to stack, and surgery in a foreign country would make them mountainous.
Trevor wasn't able to work as much because he needed to be home taking care of his wife and kids. Their future housing would have to have raised countertops.
Julie Andersen began a GoFundMe* for Brooke and Trevor, even though they were hesitant to ask for financial help at first.
"They are walking into a lifelong financial battle. They need all the help they can get, and they have been grateful for every penny," Julie said.
People contributed, and the Andersens gratefully planned their trip to Spain.
Then the pandemic hit. When the time came for them to travel, Spain had gone into lockdown because of the Covid-19 outbreak and travel was restricted. After seven months of fighting, with only three weeks to go, the surgery was postponed indefinitely.
"Surgery was my starting point to figuring out what life could be like for me. I was counting down the days," Brooke said. "It cracked me."
Countless patients all over the country have had their elective surgeries postponed to save equipment or provide room for virus patients; others, like Brooke, have had to cancel because of travel restrictions. These procedures can be anything from weight loss surgeries to early-stage cancer surgeries.
The caretaker's burden during a pandemic
Trevor often joked with his wife that the one thing he did not ever want to be was a mom. But when she became so ill and bed-ridden, the caretaking and homemaking fell largely on his shoulders, along with providing financially for the family and the new expenses.
"Now there's another person to take care of. A lot of responsibilities fell on to me. I often have to be both mom and dad to my kids. The extra stress with that is glorious," he said.
---
If I focus on the pain and think that it will be like this forever, I don't think I could survive. I have to believe it will get better.
–Brooke Andersen
---
His work as a real estate agent can sometimes be done at home during the pandemic, but when he has to leave the home to show a potential residence to a client, he has to find someone to help take care of his family while he's gone, even during the state's stay-at-home directive.
"At this point, it's going to play out as it plays out, and we have to do what we have to do to provide and pray that it works out as it's supposed to," Brooke said.
She understands mental illness on a personal level, so she does her best to give her husband opportunities for free time from the familial responsibilities to avoid burnout.
Before the pandemic, neighbors and friends delivered meals and regularly came to clean the house, but those acts of service have become more complicated with the outbreak.
One day at a time
For now, the Andersens are taking things day by day with the hope that the future will be brighter and the pain will lessen. Someday the restrictions will be lifted. Someday the surgery will happen.
"If I focus on the pain and think that it will be like this forever, I don't think I could survive. I have to believe it will get better," Brooke said.
If you would like to donate funds to support Andersens, their surgery Venmo account is Brooke-to-Barcelona* and their GoFundMe is here*.
---
*KSL.com does not assure that the money deposited to the account will be applied for the benefit of the persons named as beneficiaries. If you are considering a deposit to the account, you should consult your own advisors and otherwise proceed at your own risk.
---
×
Photos
Most recent Home & Family stories