This archived news story is available only for your personal, non-commercial use. Information in the story may be outdated or superseded by additional information. Reading or replaying the story in its archived form does not constitute a republication of the story.
SALT LAKE CITY — Utah once again received a AAA bond rating by the S&P Global, Moody's Investors Service and Fitch credit rating systems, the state reported last week — a feat that the Beehive State has kept since 1992. In fact, the state's perfect bond rating reaches back to 1965, in the years before the Moody's and Fitch systems were added to the ratings equation.
In 2017, The Pew Charitable Trusts stated Utah is just one of 17 states with a AAA rating in either Moody's, S&P Global or Fitch rating systems. Only Utah, Delaware, Georgia, Indiana, Iowa, Maryland, Missouri, North Carolina, South Dakota, Tennessee, Texas and Virginia had AAA ratings in all three systems. States like Illinois and New Jersey were given the worst ratings in 2017.
But what does it mean for states to have a AAA rating? It can basically be summed up as less interest for the state to pay on projects and less burden for the taxpayer, said Utah Treasurer David Damschen. Think of it as a wide-scale version of a personal credit rating. The higher your credit score, the lower your interest rate will be on mortgages.
Higher ratings from agencies Moody's, S&P Global or Fitch mean higher credibility with investors who help states fund projects. Damschen explained that the state meets with the agencies and provides them with a 100-page report on the state's financial status, budget, economy, management of public pension system and other monetary variables.
"They go through our credit with a very, very fine-tooth comb," he said. "They write some fairly exhaustive credit reports as a result of this rating process. … They gather a lot of data from us and other sources, and from that information … they provide investors with a great depth of analysis and information upon which investors heavily (rely)."
In its 2017 study, The Pew Charitable Trusts wrote that higher ratings make a difference. It stated when California was bumped from an A to A+ rating in 2015, the state was able to sell a bond calculated to save the state's taxpayers $200 million in debt service costs simply because of its better credit.
Since Utah has the highest possible rating, it typically gets the lowest rates for projects with shorter amortizations as other states — meaning Utah would have less interest to pay for in the end. Most of the bonds Utah requests are for public infrastructure projects, like highway construction or various buildings, Damschen said.
"We're borrowing at rates as low as can be," he added.
That credit rating is overly important for the state in 2019 because it's still in the process of constructing the new Utah State Prison in Salt Lake City's northwest quadrant. Utah Gov. Gary Herbert has proposed $125 million in new one-time funds and $23 million in new ongoing funds toward the project.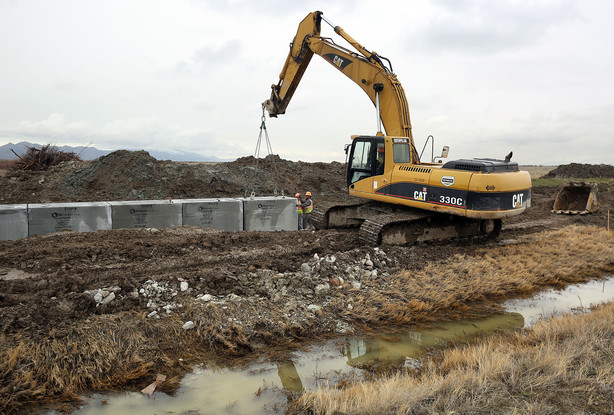 The state approved upward of a $1.6 billion bond for the new prison and "various transportation projects" throughout the state in 2017. According to Damschen, about $570 million in bonds have been approved for the new prison itself so far.
While there have been some bonds issued for that project, in the 2020 budget proposal, Herbert argues more money from Utah's budget surplus should be tied to the project now to avoid a large amount the state would ask to finance it in future bonds.
With the rating it has, it could mean a lower cost for the state in the long run.
Overall, it's the top priority for the state to keep its bond rating, Damschen said.
"Keeping our AAA bond rating is at the absolute top of our list of the state's fiscal priorities forever because it keeps us on sort of a virtuous cycle of being a net saver, not a net debtor," he said. "When you pay your debt off that fast at such a low interest rate, it just gives us a lot more flexibility and responsiveness to meet our public's need for infrastructure."
Editor's note: The previous version of this story said the state approved upward of a $1.6 billion bond for the new prison in 2017. The new version corrects that to say $1.6 billion bond for the new prison and "various transportation projects" throughout the state in 2017.
×