Estimated read time: 2-3 minutes
This archived news story is available only for your personal, non-commercial use. Information in the story may be outdated or superseded by additional information. Reading or replaying the story in its archived form does not constitute a republication of the story.
SALT LAKE CITY — Staff at the J. Willard Marriott Library at the University of Utah have created a new digital archive specifically for preserving moments from the coronavirus pandemic in history.
"If you are sitting in rural Utah, or if you're in a big city, you are being affected by this in some way," said Jeremy Myntti, head of digital services at the Marriott Library.
He's overseeing the effort to preserve this unprecedented time in the state, nation and world.
From social distancing to new fashion accessories, empty businesses and homes turned into schools, the list of how the virus has affected many of us can seem endless.
Additionally, Utah experienced a magnitude 5.7 earthquake and numerous aftershocks during the pandemic.
"This will go down in the history books, along with all of the big events that you read about in history books. This is just another one of those and it's affecting everybody in some way or another," Myntti said.
The Utah COVID-19 Digital Collection was created to document the state's response and two projects will be created: the Utah COVID-19 Digital Photograph Project and the Utah COVID-19 Story Project.
"There's really been a nationwide movement to preserve and archive materials related to the coronavirus pandemic," said Anna Neatrour, digital initiatives librarian at the Marriott Library.
Dozens of people have already shared photos. One showed a family separated in their own home because of the coronavirus.
Another featured encouraging messages posted on a sign and works of art drawn on sidewalks and driveways in every neighborhood.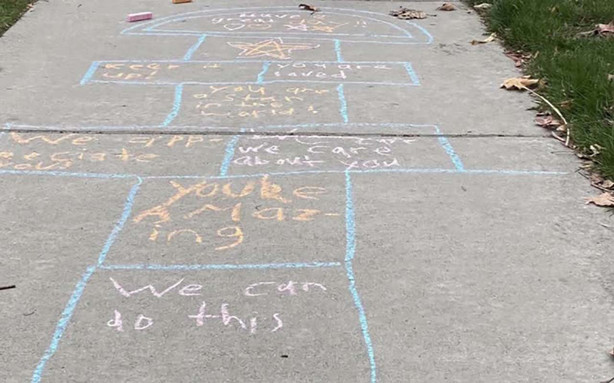 Others showed fabric and sewing machines, along with the willing hands who were working to help protect others with masks.
A handful of pictures showed the unique way Utahns have gathered for dinner or work meetings.
"It really ranges between lighthearted content and supermarket social distancing, empty shelves to some serious, really frightening moments for families to deal with," said Rachel Wittmann, a digital curation librarian at the Marriott Library. "Just anything about how your daily life has changed for yourself or within your community."
---
What you're doing is you're making history.
–Jeremy Myntti, Marriott library
---
Each person and each family will have a different story to tell. Some are painful, while others are joyful. Experiences that may seem endless now, but at some point will become a moment to remember.
"What you're doing is you're making history," Myntti said.
The new digital archive is free and open to the public. You can share your stories and photos here.
×
Photos
Related Links