SANDY — Jesse Sanchez isn't quite a pessimist, but his wife does sometimes joke that he is prone to have a "glass-half-empty" kind of attitude.
Which is why his reaction to a stunning turn of events — the loss of his job when Real Salt Lake announced staff cuts and pay reductions this week — may be surprising to some.
Sure, it's far from an ideal experience. To use his own words, "it sucks." But he's not taking it as hard as he could be.
And he really wants to help others navigate his newfound world of unemployment, too.
Because Sanchez has received plenty of help, less than a week since his ill-fated one-on-one call stating he was being "suspended without pay until June 25." A lot of people have been in his corner.
In many ways, he's been lucky.
"It's been humbling to see others looking out," said Sanchez, whose wife Kaia was laid off from her retail job at Old Navy just a week prior to his own dismissal. "I've tried to help people out while I was working, and it's super humbling to see others looking out for each other.
"There are people who aren't going to be able to take care of themselves. I have family around me. I'm doing my best to stay optimistic about this."
Sanchez knows he's not alone; more than a record 33,000 Utahns have filed for unemployment, according to the Utah Department of Workforce Services, which paid out more than $4 million in relief last week.
Those services, as well as the national stimulus package aimed at holding off as much damage to the economy as possible, have helped Sanchez and his family navigate this tricky time. The process was easy, he said, and the website has a convenient job board with easy-to-find ideas for those desperate for work.
And Real Monarchs — his old employer — didn't leave him out in the cold. When the club president called him in a one-on-one phone call (unique not to be done face-to-face, but so, too, is living in a pandemic), he thoroughly explained to Sanchez what his unemployment options were. He strongly encouraged he seek unemployment options.
And boy, were there options.
"You just have to pick up and move on," Sanchez said. "We're going through and figuring it all out."
Sanchez hasn't taken full advantage of his unemployment benefits; it's been less than a week, and Kaia Sanchez was laid off, so the family is able to collect her benefits. He also has family and friends in the area, and he knows his children are in good hands, should they need a little extra help.
So yeah, he's been lucky, which is also why he isn't rushing to withdraw his own unemployment benefits. They'll get by and try to ride out the economic storm — just like everyone else.
Besides, the 2018 graduate of Utah Valley University with a degree in public relations knows there's still a chance he could return to the Monarchs in June.
"June 25 is a potential judgment day," he said. "I could be brought back on, I could be terminated, or I could continue in an extension of furlough if the season isn't back. It's just up in the air."
Family and friends have opened up to him about their own struggles with the economic downturn. His phone gets flooded regularly — every time a friend sees a "help wanted" sign, he jokes — with tips, and a recent LinkedIn post seeking job opportunities went out to more than 4,800 people.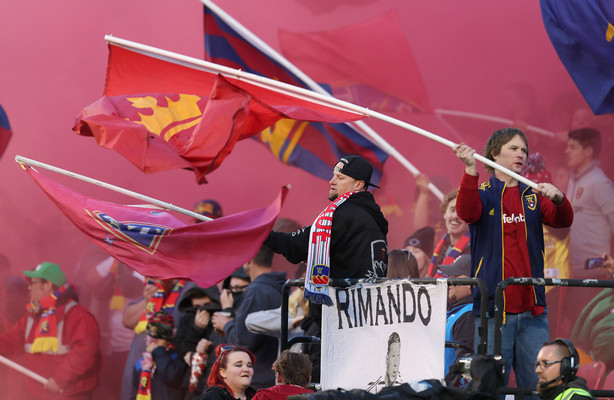 Sanchez only has a little over 500 connections. So his minor LinkedIn virality is a small miracle, and why it's become his online resume. Within minutes of his first post announcing his furlough, nearly a dozen people offered him a spot in a virtual job fair, and less than a day later, he had two job offers (in a different industry).
So if he has one piece of advice for job-seekers, it's to keep that line of social media open. You never know what potential employer is watching.
"We're fortunate and blessed to have so many people who connect and care," Sanchez said. "Yeah, people can be savages right now. But we're here to look out for one another. I was blessed to keep my job until recently, and now others are blessed to keep their job."
In the meantime, Sanchez is appreciating the small blessings of being home with his wife and three children. He was recently able to see his youngest child's first steps — something he didn't get to experience with his oldest because he was working so much. And he still has enough of an income to take them out for a Happy Meal from McDonald's.
Being cut from your career is never easy. But there's always a silver lining, he said.
And it's making him appreciate what he had before, even moreso.
RSL staff cuts
"It sucks. It's hard," Sanchez said. "But we're going to get out of this. We'll see each other at soccer games or the grocery store. We're going to be OK. We just have to stay strong, and we're going to get through this.
"We are uniting," he added. "There isn't a skin difference or a gender difference or a class difference right now; we're all united together."
And Sanchez isn't bitter. He understands the state of the economy. He knows things happen.
And, yes, he's still #RSLTID — RSL 'til I die, supporting across the club's pyramid.
"I watched the Monarchs win a championship last season," he said. "I got to be in Kentucky to watch all that. It was amazing, and being a part of that game was incredible.
"My heart is with this club, and being able to see what we can do with it is amazing."
×
Related Stories