Estimated read time: 5-6 minutes
This archived news story is available only for your personal, non-commercial use. Information in the story may be outdated or superseded by additional information. Reading or replaying the story in its archived form does not constitute a republication of the story.
SALT LAKE CITY — Iconic Utah businessman Robert Garff will be laid to rest in a private graveside service Friday afternoon, nearly two weeks after his March 29 death from complications of COVID-19.
Known statewide for his success in business, politics and philanthropy, Garff leaves behind not only an auto empire but a legacy of service that has touched countless lives and organizations around the state.
Garff was born in Salt Lake City in 1942. He attended East High School and then the University of Utah, where he earned his bachelor's degree and an MBA. In 1965, Garff married Katharine Bagley in the Salt Lake Temple.
Succeeding his father, Ken, as CEO of the Garff Automotive Group, Garff expanded the business nearly tenfold, according to an obituary on TheMemories.com.
Garff wore many other hats throughout his life, as well. A devoted member of The Church of Jesus Christ of Latter-day Saints, Garff served in the England London Mission, as a bishop and a stake president, an Area Seventy, as president of the England Coventry Mission and president of the Bountiful Temple.
He also served at various times as Speaker of the Utah House of Representatives, chairman of the Salt Lake Area Chamber of Commerce, chairman of the board for Deseret Book, and chairman of the board of trustees for the Salt Lake Organizing Committee for the 2002 Winter Olympic Games.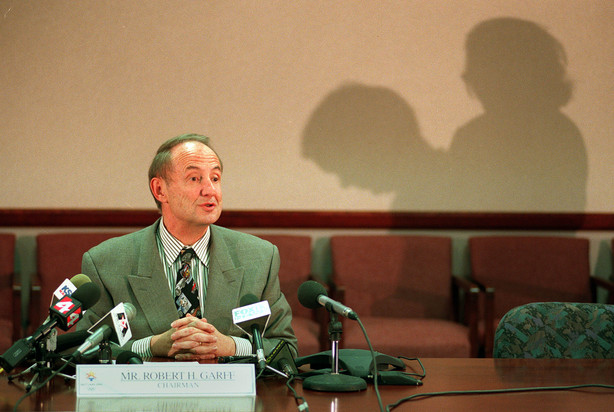 That's how current Ken Garff Automotive Group CEO Brett Hopkins met Garff for the first time, he said.
"The thing that really sets him apart in my mind is, he's really been a successful builder of teams," Hopkins said. "People have so much trust and confidence in him that as Speaker of the House, chairman of the Olympics, even growing our automotive business, we've always had partners. … He's always focused on building teams and listening to other people's opinion, gaining their trust, gaining their confidence."
Garff used that team-building ability to help turn those 2002 Games from a scandal-plagued fiasco into one of the most successful Olympic Games of all time.
"He was just a remarkable individual who cared deeply about people and education" said Taylor Randall, dean of the David Eccles School of Business at the University of Utah. Garff was a steadfast supporter of his alma mater and its business school — he sat on its advisory board for years, and his name now adorns the Robert H. and Katharine B. Garff Building that houses the university's MBA program.
"Not only was he big — he thought big, and was visionary — but he knew people's names," Randall said. "The interaction he had with me was the same as the interaction he had with my staff. He just cared about them, and it was quite remarkable.
"He's in our hall of fame for good reason. He'll leave a big hole. We'll miss him, but he also leaves a long and large legacy."
In a statement, University of Utah President Ruth Watkins called Garff "one of our most outstanding alumni."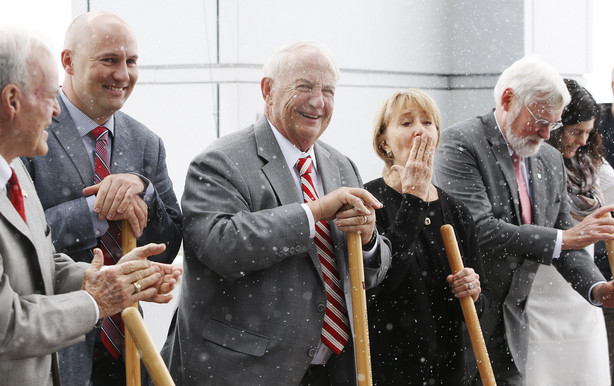 "When I arrived in Utah seven years ago, Bob and his wife Kathi were among the first people I met," she wrote. "Bob was always warm and welcoming. His passion for helping students gain the life-changing benefits of a college degree was unwavering. Bob made a lasting difference in education in this state and at the U. As an entrepreneur in our community, Bob set a wonderful example of compassionate, visionary and philanthropic leadership. We will miss him greatly."
Rick Folkerson, Garff's son-in-law and president of the Success in Education Foundation, said Garff's passion for education stemmed from his own childhood. When Garff's mother was summoned to the principal's office and saw his mediocre test scores one day, she didn't reprimand him. Instead, Folkerson said, she took him to the library and continued to do so every week.
"That's where he gained his love of reading and education," he said.
At the Success in Education Foundation — a group that has the ambitious mantra to "change the world one student at a time" — Folkerson oversees the Road to Success, Keys to Success and Code to Success programs to improve students' reading, coding and graduation rates.
"The Garff family is just absolutely committed," Folkerson said. "They're our biggest donor to the foundation. And these programs were originally started under the Robert H. and Katharine B. Garff Foundation, and they donated all the program to the Success in Education Foundation because they wanted it more community-based and community-minded. They wanted the community to have ownership over the direction of the foundation."
On Monday, Folkerson said, the Code to Success program will launch in Idaho, continuing to impact more children.
"Robert not only financially helped support it, he was chairman of the board and gave so much direction," said Rick Clayton, fundraising director for Success in Education. "But more than anything, he was out there with us. When we had scholarship presentations, or keynote speakers, or graduations, he was out there. … He'd sit down with these kids and just talk with them."
Multiple Garff associates remembered his habit of tapping his chest with his fingers and pointing at people. "That was his way of saying thank you, and that he cared about us," Clayton said. "He was a great man."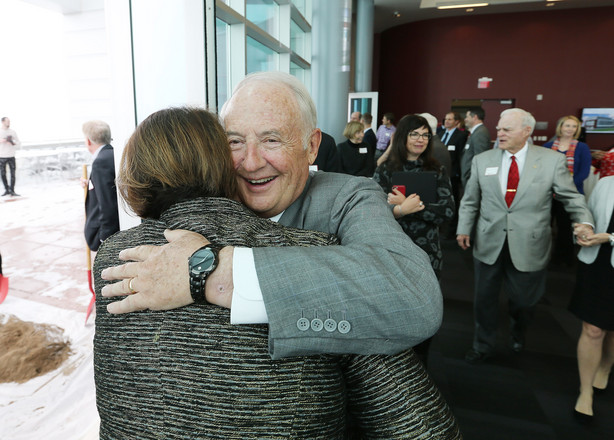 On Friday night, both the University of Utah and the state honored Garff's memory. The university traditionally "lights the U," or spotlights the Block U in the foothills above campus, for athletic events, but will light the U in memory of Garff from 8 to 9 p.m. Friday.
In addition, the American and Utah flags on the grounds of the Utah Capitol complex were to be flown at half-staff Friday.
The tributes and kind words speak of a man who was successful in many endeavors during his life, but also a man who strove to make those opportunities available for Utahns everywhere.
"That's one of the things I admire (about) him so much," said Hopkins. "He was never really focused on money, or being rich, or making his family rich. He used all of his success to create opportunities for others."
×