THE QUARANTINED BASEMENT — How many times have you opened up your streaming service during social distancing just to say, "Man, there's nothing new here" and then find yourself browsing aimlessly for the next hour-and-a-half? Well, we've all been there.
While you're still stuck inside for a while, there is some good news because April is a new month and that means there are some new titles on your streaming platforms. There are a lot of throwaway titles, but there are some gems.
Netflix
Available now
I'm not proud of this, but the 1998 teen comedy "Can't Hardly Wait" is a guilty pleasure for me. It's the most late-1990s movie you're going to see and some of the jokes have not aged well, but it still makes me giggle.
This isn't a "must watch" on this list, but I couldn't in good conscience leave it off here.
Available now
I absolutely love the 2013 film "Mud." The first time I saw it, I was absolutely enthralled and could not wait to let everyone know about it. It was the birth of the McConassiance and it is a master class in slow-burn pacing.
This movie may not be for everyone because the story slowly unfolds in front of you and there isn't a lot of action, but the mix of thriller and coming-of-age story is beautifully layered and told. This is a movie for cinephiles and is one I will always recommend.
Available now
In 2009, director Guy Ritchie gave us "Sherlock Holmes" and I've been forever grateful.
This is a slick and stylistic joy ride filled with twists, turns, laughs and thrills. I actually own this movie because it's great to have on hand for a fun movie night in, and now you can all enjoy that on Netflix.
Available now
The year 2010 was a good one for some really good movies and one of those was "The Social Network."
The movie boasts brilliant writing, great performances and an enthralling storyline. Between David Fincher's directing and Aaron Sorkin's writing, it's hard to go wrong and this is an example of what happens when a brilliant writer teams up with a visionary director.
Available April 16
It's not easy to become an iconic animated film in this day and age when they seem to be a dime a dozen, but "Despicable Me" has done just that and spurned two sequels, a spinoff and another spinoff in the works.
With all of the rides, toys, TV shows and movies out there, the original stands as the best and you and your family can now enjoy it on Netflix.
Disney+
Available now
I don't really know why I'm even mentioning this because it's likely you all have watched this a thousand times already, but Disney/Pixar's latest, "Onward" is already streaming on Disney+ just weeks after its release in theaters.
Available April 12
You may not get too excited about this one, but your kids will. "PJ Masks" is a favorite of little ones everywhere and season three is now coming to Disney+ to keep those same little ones entertained during lockdown.
Amazon Prime
Available now
If you're in the mood to find out what the world would be like if coronavirus turned everyone into weird zombie-vampires, then have I got a movie for you.
The 2007 action/horror flick "I Am Legend" is now on Amazon Prime and it's great for a night in. The movie is suspenseful, emotional and well-acted by Will Smith. Turn off the lights to enthrall yourself in the film, but keep a night light on so as to not scare yourself to death.
Available now
This one is just in case you want to try something super different. This movie isn't for everyone, but when you're watching "The Office" for the 23rd time, maybe it's time to go out on a limb.
"The Brothers Grimm" is an odd film from 2005 starring Heath Ledger and Matt Damon as the titular brothers. The movie is directed by the ever-eccentric Terry Gilliam, so you know you're in for a trippy ride. The movie tells the tale of the Brothers Grimm, who are actually traveling con artists who encounter an actual curse and now need to do what they only pretend to do for money.
My guess is you'll watch this and some will love its unique and quirky approach and others will loathe it. Either way, when you start hanging out with friends again you're going to have some conversation starters about how you saw a great little under-the-radar movie or how some loon over at KSL.com gave you the worst recommendation ever.
Hulu
Available now
If you feel like you want a break from all the new Marvel superhero flicks and are feeling nostalgic for the original Marvel movie that started the madness then check out the 2002 "Spider-Man" on Hulu.
The film still holds up today and while some of the special effects look dated, it's still an entertaining flick.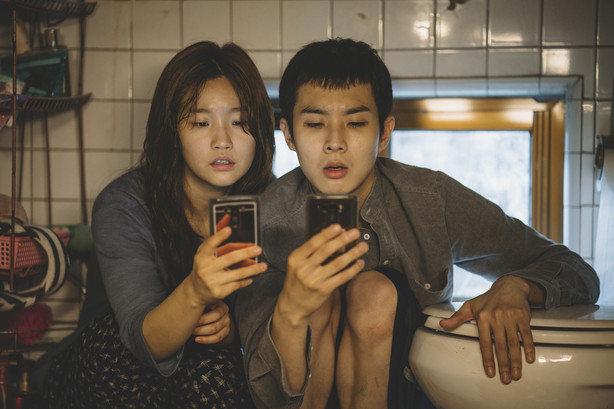 Available now
Have you been curious about that South Korean film that has created such a stir in Hollywood and won all those Academy Awards, including Best Picture, but never saw it because it seemed like a lot of work to go to a small theater or pay money on iTunes?
Well, wonder no more, because the brilliant film is now on Hulu and you can finally join in the conversation with all your pretentious movie friends (you know, people like me).
This movie is a stick-to-your-ribs movie that you will not be able to get out of your head for months after you watch it. Just know that the less you know going in, the better.
"Parasite" is rated R for language, some violence and sexual content.
Available April 24
Here is one more for family movie night. The 2019 animated film "Abominable" is headed to Hulu this month. The movie follows the adventure of three teenagers who help a yeti return to his family while avoiding a wealthy villain who wants it for nefarious purposes.
OK, so the plot isn't Shakespeare here, but who cares. We're in this to have some fun and a few laughs and this movie will do that.
---
×
Photos
Related Stories
More stories you may be interested in