This archived news story is available only for your personal, non-commercial use. Information in the story may be outdated or superseded by additional information. Reading or replaying the story in its archived form does not constitute a republication of the story.
SALT LAKE CITY — Gov. Gary Herbert announced a plan Thursday afternoon to "test Utah" for COVID-19.
The goal of the #TestUtahChallenge, as it's now known, is to gather data and test everyone in the state who needs it — both to help people access the correct medical care, as well as to trace the spread of the virus.
The plan — which is a partnership between the state and Utah's tech community Silicon Slopes — includes launching an online assessment, setting up new testing facilities across the state and tracking the hotspots.
Think you need to be tested for COVID-19? Visit https://t.co/SFfv6LysCL for a new way to be tested. Together, we can #testutah, and we will get through this together. Next up, I challenge @PostMalone@UtahCoachWhitt@SenMikeLee & @TraegerGrills. pic.twitter.com/9EhXHaiccI

— Gov. Gary Herbert (@GovHerbert) April 2, 2020
Three things need to happen to make this initiative successful:
Assessment: All Utahns visit TestUtah.com and take a 5-minute online assessment that will ask them about symptoms they may be experiencing, pre-existing conditions, allergies, people they may have come into contact with, the industry they work in, etc.
Testing: Those who take the assessment will receive an email, and individuals who qualify for a test will receive a unique QR code and will be able to self-schedule a time to get tested at a COVID-19 testing center near them. After the individual is tested, their results will be emailed or texted to them within 24 to 48 hours, informing them of their diagnosis and the next steps they need to take.
Tracking: If an individual tests positive, they will be asked to answer a few questions so state health officials can trace the spread of the virus and figure out where the hotspots are in the state and how to allocate resources.
"We can't test everyone, but we'll prioritize testing for those who currently have symptoms, have interacted with someone who has already tested positive, or have recently visited places where COVID-19 is more widespread," the website says.
"The sooner we can identify COVID-19 cases, the sooner we can get back to our normal way of life. In addition to social distancing, widespread testing is a proven, effective way to combat the spread of COVID-19."
The number of testing facilities is still limited, however, but Silicon Slopes and the state hope to increase that number soon — though resources are still a challenge. There are currently two testing facilities in Utah County (in Orem and Provo), but at least six testing facilities will launch across the state in the coming weeks, and that number will hopefully increase to 10-plus, according to Mark Newman, founder of NOMI Health, who has helped lead the charge in the private sector.
Each facility will be able to complete about 500 tests a day, helping the state to more than double the number it's currently capable of and reach its goal of 7,000 daily tests.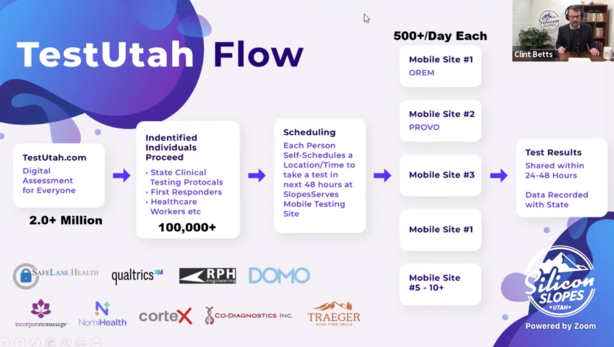 "We know that a huge part of solving this pandemic here in Utah is to identify people with COVID-19. So any initiative that allows us to identify more positive COVID-19 cases allows us to do better public health initiatives, such as contact tracing, investigation, isolation, quarantine. So this effort is part of that and will allow us to do public health initiatives better and more broadly," state epidemiologist Angela Dunn said.
The push to increase testing has been a priority of the Utah tech community, and companies across the state came together to make it happen — though none of them will make money off the venture, according to Silicon Slopes executive director Clint Betts.
The tech community's partnership with the state is a "one-of-a-kind public/private partnership," according to Herbert, who announced the initiative during a press conference Thursday.
"This is an example of people coming together, seeing a challenge and a problem. We appreciate, so much, the private sector stepping up as we've seen many times in the past," Herbert said.
To get the word out, Silicon Slopes has put together a marketing campaign centered around the hashtag #TestUtahChallenge and "Crush the Curve" and have drafted everyone from Jazz player Rudy Gobert to golfer Tony Finau to push the message out on social media as a type of challenge.
We can "Crush the Curve" and get Utah back on the court. How are you doing it @SpencerJCox@lhm@orrinhatch@RyanQualtrics@VivintHome#TestUtahChallengepic.twitter.com/ODG7A7sL3g

— Rudy Gobert (@rudygobert27) April 2, 2020
The organization's goal is for everyone to take the assessment, then enabling the state to have a better picture of where the virus is and how to best allocate its resources.
"(Silicon Slopes) has done in a two-week period what would normally take upwards of a year to accomplish," said Lt. Gov. Spencer Cox. "I have told people, please be patient. There will probably be bumps in the road. … We're working through this together."
Submit Your Questions:
×