This archived news story is available only for your personal, non-commercial use. Information in the story may be outdated or superseded by additional information. Reading or replaying the story in its archived form does not constitute a republication of the story.
SALT LAKE CITY — There are a lot of potential NFL draft sleepers from the state of Utah for the 2020 NFL draft.
There's Tyler Huntley, the graduating Utes quarterback who posted high-level numbers at his informal pro day.
There's shifty BYU receiver Aleva Hifo, whose 4.41 40-yard dash will likely merit at least a phone call from several NFL franchises.
There are countless numbers of former Utah high school and college football stars who will be seeking an opportunity to compete at the next level.
Jordan Love will be one of them.
But don't call the former Utah State quarterback a "sleeper." There aren't a lot of NFL teams who are sleeping on him.
Quite the opposite.
Few teams will be "sleeping" on Love because Love is likely to be an early draft pick. A nearly unquestioned first- or second-round talent, ESPN's Todd McShay believes the quarterback with the highest upside in this year's draft class is the former Aggie.
That's why he projects the Los Angeles Chargers to fall in love with the Utah State alum at No. 6 overall.
"I'm told Los Angeles likes all four of the top quarterbacks in the draft class — and this pick could end up being Oregon's Justin Herbert, too," McShay wrote in his most recent mock draft for ESPN.com. "But Love has the arm to make NFL-caliber throws and should be available here at No. 6."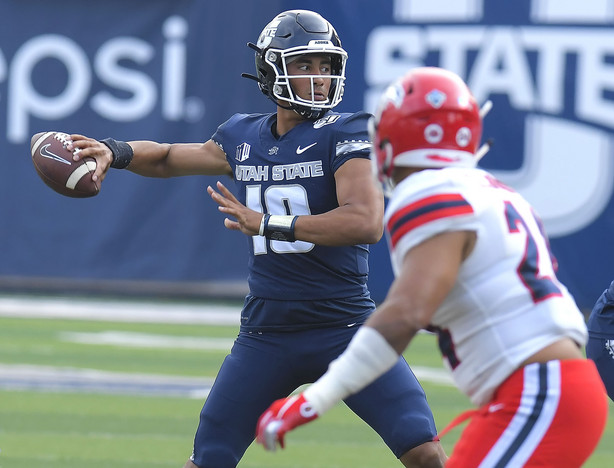 Other draft analysts and mock drafts project Love dropping to the Patriots at No. 23, a possible successor to now-departed quarterback Tom Brady in New England. Love has also been compared to Patrick Mahomes for his arm strength and athleticism.
Sure, he's not Joe Burrow, the national championship-winning quarterback from LSU who is unanimously expected to go No. 1 overall to his hometown Cincinnati Bengals. Most expect Alabama's Tua Tagovailoa to be taken off the board before Love, too.
But on the next level — the very next rung of the ladder — is Love, alongside Herbert.
If the effects of the coronavirus pandemic limit NFL teams' scouting departments before the upcoming draft, that spot could fall to Herbert, though. McShay currently has the Ducks starter and Rose Bowl champion going No. 9 overall to Jacksonville.
"There's more to work with off Herbert," McShay noted. "Jordan Love had struggles this past year, with 17 interceptions. I think teams would like to get to know him a little bit.
"To me, Love is so sudden, and he's got so much potential. But he's not ready yet. He's going to need some time. He has to go to the right place, as all these guys do. But he really, in my opinion, has a higher upside than even Justin Herbert. He's going to need a little bit more time, and he's going to need the right supporting cast early in his career in order to get over the forced mistakes that he's made."
NFL Scouting Combine results: Jordan Love
| Workout | Time/measurement | QB Ranking |
| --- | --- | --- |
| 40 | 4.74 | 7 |
| Vertical | 35.5" | T-2nd |
| Broad | 118.0" | 5 |
| 3-cone | 7.21 | 6 |
| 20-yd shuttle | 4.52 | T-9th |
The Chargers parted ways with longtime starter Phillip Rivers in the offseason, but currently have Tyrod Taylor and Easton Stick on staff at quarterback. That should give Love an opportunity — but not a certainty — to be an immediate starter. He even confirmed at the NFL Scouting Combine that he had met with the Chargers, but declined to elaborate.
"I feel like I can jump right into whatever NFL team, whether I'm the starter right away or whether I'm the backup and have to sit and learn," Love said. "I'm ready for whatever I get thrown into.
"I'm going to compete for that job, and we'll see what happens."
Love broke the Utah State career record for total offense with 9,003 yards, including 12 games of 300-plus passing yards and four completions of at least 80 yards. He wrapped up his prolific three-year career with the Aggies with a .612 completion percentage for 8,600 yards and 60 touchdowns with 29 interceptions, finishing second all-time for passing yards, completions and attempts, and tied for second in touchdown passes.
But his career was far from perfect, by his own admission, as he worked through several staff changes that included the move from Matt Wells to Gary Andersen as head coach.
"All my interceptions went up," Love said. "I got into situations where I was trying to force the ball downfield and trying to make plays that I couldn't make. I should have just checked it down."
The 6-foot-4, 225-pound native of Bakersfield, California, led the Aggies to a 21-11 overall record, including a 7-6 record as a junior in 2019 that ended with a 51-41 loss to Kent State in the Frisco Bowl.
He knows he'll have to answer those questions — why the dropoff as a junior? Why the 17 interceptions? Why the struggles on offense with the Aggies? He's prepared for that.
"I threw 17 interceptions; I'm going to have to talk about them," Love said. "If I don't want to talk about them, then I shouldn't throw 17 interceptions next time."
×
Related Links
Related Stories