SALT LAKE CITY — So many of us Utah parents are now working from home and simultaneously educating our kids — and it's nothing short of complicated.
In the beginning days of the "soft closure" directive, I was positive I could find a way to handle it all. In my mind, I was going to place my children in front of a Zoom call with their teacher while I did a Zoom call with my colleagues and everything was going to be fine. But everything was suddenly not fine.
The earth began to shake and I lost all footing.
I'm not sure what broke me. Was it the dozens and dozens of emails racing in at the moment my house was shaking? Or was it the pages and pages of instructions and lessons I printed off the next day?
It also could have been the fact that our first official day of homeschool, post-earthquake, we were yelling at each other the minute we got started. Either way, I cried myself to sleep that night. The next school day wasn't much better.
Since Gov. Gary Herbert officially extended the school "soft closure" until May 1, I realized I needed to crowdsource — pun intended — some success tips to get me through five more weeks of balancing homeschooling and working from home.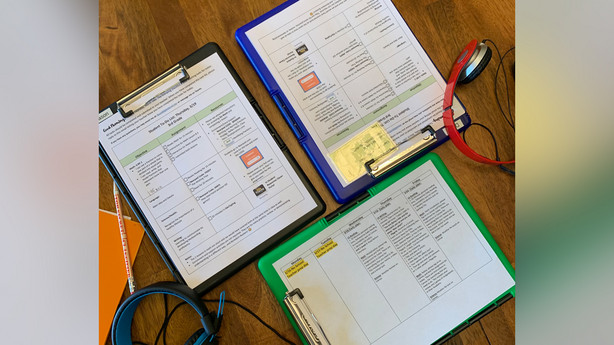 Here is a list of some of the things that are working for me (or for other families). Maybe some of these ideas can help you too.
Keep calm
Advice from many other parents reminded me this is the time to focus on creating calm during chaos, and focus on individual relationships. Stressed-out parents can't teach stressed-out children.
Make note of the activities you and your family need each day to decrease stress. Can you incorporate simple yoga stretches, or play peaceful music? Are you taking regular mental breaks? Most parents I talked to mentioned they have mandatory outdoor recess, even in the rain.
Adjust your expectations
Thankfully, the Utah State Board of Education announced it will suspend all assessment testing statewide due to the COVID-19 pandemic. This will be my saving grace.
My daughter in ninth grade seemed to have a lighter coursework, or was more capable of managing it on her own. But my three boys in elementary school had multiple assignments each day in math, reading, language arts and science. I quickly realized we had hours and hours of school work, and the younger kids needed much of my focus to guide them through it.
It didn't take long for me to shoot off panic emails to several teachers, explaining that I couldn't balance administering all the school work and still actually work myself. One teacher encouraged me to focus on math and reading. Even with just focusing on those subjects, I found it necessary to put a time limit of three hours on our school day so that I could manage.
Highlight the time you spend together
Our most difficult math lessons each day require a personal laptop and solid parental help for at least an hour. It is most effective if I sit with my third-grader twins on the couch, one on each side, laptops ready to go. Even then, we aren't far away from frustration and tears.
I'm better at marketing than teaching my children math, so I rebranded math. I officially changed the name of this particular daily math lesson to "cuddle math." It's an unpleasant hour each day, but we cuddle up on the couch under a warm blanket and figure out our fractions. And I pray that my boys remember cuddling with mom and not the stress or uncertainty around them.
Keep it together
I am referring to spaces in your home, not your sanity (though mine has been questionable as of late). Find a central location to keep laptops and school assignments. At our house, school work now sits in a repurposed bookshelf. I also happened to have slimcase storage clipboards that worked perfectly to hold the elementary students' daily assignments as well as other papers.
Likewise, I had to be more strategic about my own work to-do list and make sure, whenever possible, I could transport my own work to be near my kids while they worked on their school assignments.
Have a daily schedule
I have struggled to find a schedule that works for us. If I'm being honest, I still feel resentful that I have to wake up early, stay up late or use a Saturday to get my work done because my day hours are now going to teaching kids. I'm not the only one feeling this way.
"It's exhausting," explained Jessica Miller, as she told me how she is managing her job and homeschooling. "I am doing some flexible scheduling. I work a few hours early in the morning, about 5 a.m., and then spend a good chunk of the midmorning and midafternoon with my kiddos and I work for a while in the later afternoon or evening.
"Flipping back and forth between work, home school, meals and play is confusing for the kids and frustrating for me, but it's what we have."
Moving forward following spring break, I'm hopeful sticking with a regular schedule will be the key to our success.
You are in charge
Nike Peterson is a mom of six and on the Clearfield City Council. She started homeschooling a couple of her kids last year and has been able to roll well with the current educational changes. "The beauty of being home is being able to adapt to each kid's learning style, pacing and approach. School at home is different and can absolutely look and act different too," Peterson explained.
"Study on an iPad on your bed? Sure! Not start school until after lunch? OK. Take a mental health day to go hike and get fresh air and then get back to a more regular schedule the next day? Absolutely."
None of us, teachers included, have done this before, and we are all just making it up as we go. We can get through it if we adjust our expectations and give ourselves space to be imperfect.
Studio 5 with Brooke Walker:
---
×
Photos
Related Stories