SALT LAKE CITY — It was only a matter of time, and that time came Monday morning.
The NFL Draft has officially moved away from Las Vegas, the league's newest city, to a yet-to-be-determined location for the country's largest sports league's centerpiece showcase, as announced by commissioner Roger Goodell's office Monday morning.
As with any other departure, cancellation, postponement or suspension in the sporting world to help alleviate the spread of the coronavirus pandemic, the move was made in the best interest of the fans, for public health and to help stem the flow of transmission of a virus that has infected more than 179,000 individuals, with upwards of 7,000 deaths worldwide.
"While this outcome is disappointing both to the NFL and to the Las Vegas community," Goodell said in a prepared statement, "we look forward to partnering with the Raiders, the City of Las Vegas and the Las Vegas Convention and Visitors Authority for a future NFL Draft as well as evaluating opportunities for other major NFL events in Las Vegas in the future, including the Super Bowl."
The NFL said it is exploring "innovative options" for how to conduct the draft, which will be announced at a later date. That could include a draft closed to the public at a smaller location, or even one conducted virtually — similar to how Major League Soccer enacted its own SuperDraft in January, in lieu of its usual spot at the annual United Soccer Coaches' Convention.
The league has already put a suspension on in-person interviews on draft prospects, effectively cancelling pro days on college campuses across the country. Video interviews have also been limited per team, as well.
The one thing that is certain, though, is that the draft won't be going to Las Vegas, after all.
"Although Las Vegas lost this chance to shine, there will be many more opportunities to show the world just what Las Vegas is made of," Raiders owner Mark Davis said in a prepared statement. "Whether it be the draft, the Pro Bowl or the Super Bowl, the sports and entertainment capital of the world is ready."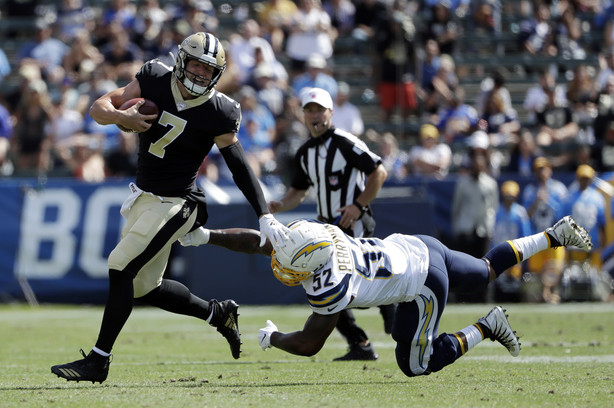 What did not change Monday was the start of a new league season, at least in business terms. With Monday brought the ability to begin conducting transactions, including player trades and acquisitions and free agency. The Titans placed the franchise tag on last season's NFL rushing leader Derrick Henry, Kirk Cousins and the Vikings agreed to a two-year extension, and two-time Pro Bowl tight end Austin Hooper was nearing a deal with the Browns, according to various reports from the Associated Press.
DeAndre Hopkins went from the Texans to the Cardinals as part of a trade that sent Arizona running back David Johnson to Houston, according to ESPN NFL reporter Adam Schefter.
In short, the more things changed, the more they stayed the same. The NFL and is players' association agreed to terms on a new labor deal that will include a 17th game for the regular season, among other changes.
#Saints have tendered restricted free agent QB Taysom Hill at the first round level.

— Charles Robinson (@CharlesRobinson) March 16, 2020
That's a good thing for former BYU quarterback Taysom Hill and the New Orleans Saints. Hill will officially become a restricted free agent Monday, but the Saints are expected to place a first-round tender on the soon-to-be 30-year-old quarterback who lined up at everything from running back to tight end to slot receiver and on special teams during the 2019 campaign.
The first-round tender means if the athletic quarterback is pulled away by another team during free agency, the Saints will receive a first-round draft pick as compensation for Hill, who many view as the heir apparent to New Orleans star Drew Brees.
The tender would be worth $4.667 million, according to Over The Cap.
Other former Utah high school and college football standouts expected to enter free agency including BYU linebacker Kyle Van Noy, who will be an unrestricted free agent with the New England Patriots and is regarded as a top-40 free agent target in the league by Spotrac.
"I just want to go where I'm wanted," Van Noy said on Ian Rapoport's RapSheet and Friends podcast. "I've worked really hard to get to this opportunity. There are so many players who don't get this opportunity, and I'm just looking to maximize it the best I can. And enjoy the process; there are a lot of things that go on, and I'm excited for it."
Other free agent targets included Denver's Utah duo of running back Devontae Booker and Tim Patrick; Utah State alums Nick Vigil and Kyler Fackrell; and former Southern Utah linebacker Miles Killebrew (Detroit) and cornerback LeShaun Sims (Tennessee).
See the full list of free agents with local ties below.
×
Related Stories