WEST JORDAN — Classrooms across Utah were empty as teachers prepared to shift learning online and schools rushed to make sure students had the necessary technology for the two-week closure.
Gov. Gary Herbert said the "soft closure" is designed to slow the spread of the coronavirus by implementing social distancing.
"Teachers have up to two days to make plans to continue instruction," said a statement from the governor. "Remote instruction will resume on Wednesday, March 18, at the latest, and may take many forms."
At the end of the two weeks, the governor said the policy will be reassessed to determine whether the closure should continue.
"We're going to school without going to school," said Kim Searle, principal of Sunset Ridge Middle School in West Jordan. "We'll do what we can to make this transition as easy as possible."
Searle's school invited students to show up at specific times on Monday to receive a Chromebook, charger and protective case.
"She's a little nervous," parent Janae Rindlisbacher said about her daughter who's in eighth grade. "We're going to help her but I also work, so we've got to figure out how I can help her and then my husband works."
Emotions varied among students who said they still have a lot of questions about how the closure will work and what their teachers will expect from them.
"I was kind of mad because I'd rather be in the class rather than being at home doing it," Rindlisbacher's daughter, Megan, said about switching to remote learning. "I can't like actually raise my hand and say, 'Hey, I need help."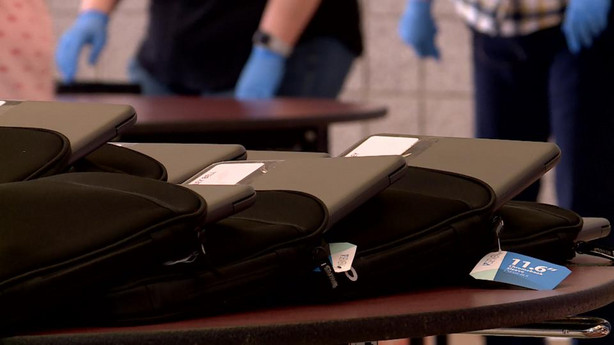 Jordan School District officials said they are well prepared for online learning and that students should embrace the opportunity to try something new.
"This is a time where we're doing something a little bit different," said Ross Menlove, the district's digital learning consultant. "If a kid wants to wake up early in the morning and get it done in the morning, they can do that. If a kid wants to wait until late at night, they can do that. There's no limitation of when they can and can't do — that's the joy of doing it online."
And just because it's online, Menlove said that doesn't mean that kids need to be glued to the computer or other electronic devices all day.
"We've been encouraging teachers to use technology to distribute and get the information out there," he said. "But that their activities can involve things at home, it can involve going outside, going out and reading a book."
×
Related Stories