PROVO — Is Taysom Hill the heir apparent to Drew Brees?
The New Orleans Saints could be preparing to move from No. 9 to No. 7 as the franchise's next great quarterback, according to multiple reports from around the league in the week leading up to Super Bowl LIV.
Only two franchises are still alive for the Lombardi Trophy, so the other 30 teams not named the Kansas City Chiefs or San Francisco 49ers have already begun spinning their plans for the offseason, which officially opens Feb. 11 for teams to sign new contracts.
That includes New Orleans, where all three rostered quarterbacks from 2019 are set to enter some form of free agency in March. Brees, the unquestioned starter among the trio that also includes Hill and backup Teddy Bridgewater, has not decided if he will return for another season. At 41, it's easy to see why one of the greatest passers in the NFL's modern era might choose to hang it up.
His time is nearly up, Brees readily admits. But the question remains "when," not "if."
"You know, obviously at this stage of my career, it's not a given that I'm coming back every year," Brees told NFL Network reporter Jane Slater during the Pro Bowl, "but when that time comes, I'll always be a Saint."
If Brees returns for 2020, it likely pushes out at least one quarterback between Hill or Bridgewater. The Saints only have about $12 million in salary cap space next year, and Bridgewater's value on the open market (not to mention his innate desire to be a starting quarterback in the NFL) should push him elsewhere.
And according to several reports, that would be just fine with Brees — and Saints head coach Sean Payton. The New Orleans coach has found a unique offense to run with a unique talent like Hill, who threw for 55 yards, ran for 156 yards and a touchdown, and caught 19 passes for 234 yards and six scores for the Saints in 2019 — while also returning kicks, punts and playing in a variety of special-teams coverage packages.
Brees has spoken both publicly and privately about Hill, praising the versatility, athleticism and hard-working personality of the 29-year-old BYU product from Pocatello, Idaho.
NBC's ProFootballTalk reported Tuesday that the Saints would prefer for Brees to re-sign for another year — and for the 2020 season to become a transition year for Hill to succeed him at the helm of the franchise. The two are markedly different players, of course, but such a move would also not be a surprise by those who have followed Payton's grooming of Hill since signing with New Orleans shortly after being among the final cuts by the Packers in 2017.
"Even if Brees comes back," ProFootballTalk's Mike Florio wrote, "Hill will be used much more extensively as part of the team's offense in 2020 — especially in light of some private regret that, if Hill had been utilized just a little bit more in the wild-card loss to the Vikings, the Saints quite likely would have won that game."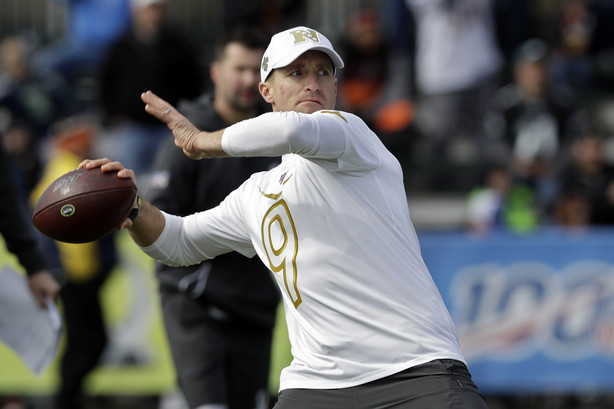 In that game, Hill completed a 50-yard pass to set up a touchdown (for which he was a lead blocker) in a 26-20 overtime loss to the Vikings, ran for a team-high 50 yards on four carries, and caught two passes for 25 yards, including a 20-yard TD grab from Brees with 10:31 left in the fourth quarter that helped spark the Saints to rally from a 20-10 deficit to force overtime.
Hill did nothing but increase his popularity amongst Saints coaches, players and fans over the past year in New Orleans. His jersey was reportedly among the top-sellers with the franchise in 2019.
As a third-year player coming off his rookie contract, Hill could be placed on a first-round tender by the Saints to remove his free-agency designation. That would raise his salary from $645,000, according to Over the Cap, to just over $4 million. If a team decides to negotiate with Hill and offers him a contract, the Saints would receive the right of first refusal to match — or receive a first-round pick from that team in 2020, if New Orleans opts not to match the deal.
Those decisions will be made between the final play of the Super Bowl and March. But if the past year is any indicator, it seems likely Taysom Time in the Big Easy won't be ending in the near future.
×
Related Stories