LAS VEGAS — Every time Gonzaga made a big play, the roof was blown off the Orleans Arena.
A 3-pointer by Joel Ayayi? The roar was deafening.
Another triple by Corey Kispert? This, accompanied by a near-unanimous standing ovation.
It helped that the Zags were playing in the West Coast Conference Tournament title game for the 23rd-straight year. It also helped that it came against Saint Mary's, Gonzaga's chief rival of the past two decades.
But mostly, the reason for the raucous environment Tuesday night during the Zags' 84-66 romp over the Gaels was for the fans to celebrate an 18th league title, and eight in the last 10 years.
Orleans Arena became Spokane South for another year, propelling the Bulldogs — the No. 2 team in the nation, which clearly didn't need an automatic bid to the NCAA Tournament — into the nation's 68-team bracket known colloquially as March Madness.
Spokane South was wild. Spokane South was intense. Spokane South featured the only sold-out student section in the 10-team conference, with only BYU coming close (a near-sellout, at that).
So, when it came time for head coach Mark Few and his Bulldogs to celebrate, they did it with the fans.
In a week, those same fans will be locked out.
With concerns about the spread of COVID-19, the NCAA will require teams in its 68-team Division I men's and women's basketball tournaments to play games in mostly-empty arenas.
The NCAA made the dramatic step a reality Wednesday, closing access to the men's and women's tournaments to everyone except players, coaches and "essential" team and arena personnel, with limited family attendance.
"While I understand how disappointing this is for all fans of our sports, my decision is based on the current understanding of how COVID-19 is progressing in the United States," NCAA president Mark Emmert said in a statement. "This decision is in the best interest of public health, including that of coaches, administrators, fans and most importantly, our student-athletes."
Weird? You betcha. For the players, the coaches, the media — everyone.
"Obviously we've never ever dealt with anything like this. It's all new, and we're all just waiting to see, and hoping and trusting that wise decisions will be made on both ends," Few said before the decision was officially announced. "We want to keep everybody safe — but also take into account that these guys have waited their whole lives to play in this tournament. I'm hoping some prudent and wise decisions will be made, taking all that into account."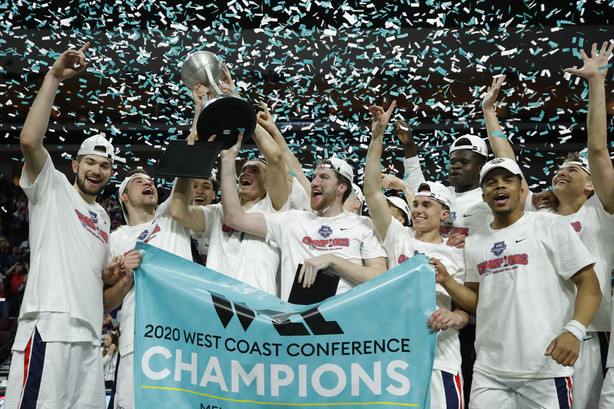 But an NCAA Tournament without fans? That's weird, even if the NBA and other leagues have also considered the same thing (and were met with similar incredulity).
But the thing is, it already has happened. Yeshiva University and Worcester Polytechnic Institute tipped off Friday afternoon at the 1,100-seat Goldfarb Gymnasium at Johns Hopkins University unoccupied by fans and spectators.
No crowd.
No cheers.
No raucous student sections.
Players went through pregame introductions like normal, giving each other fist bumps instead of high-fives. In lieu of the crowd, each team's bench chanted "De-fense!" and led their own cheers.
"This is definitely the first time we've had that situation where there's no fans in the gym," Yeshiva head coach Elliot Steinmetz told the Associated Press after the Maccabees' 102-78 win.
Even if coaches, players and administrators understand the reasons why public health dictates the need for a closed-door tournament, it's still disappointing.
"That would be really odd," Utah State guard Sam Merrill said moments after wrapping up the Mountain West Tournament title, the second-straight for the Aggies. "I don't know; that's all I can say. Will there be TV?"
That was the typical response when players and coaches were asked about such a fan ban — incredulity. Some even jokingly thought of ways around a spectator ban.
"We're going to triple our cheerleaders," Utah State head coach Craig Smith said. "We're going to need a lot of media and a lot of cheerleaders. Double our managers."
San Diego State head coach Brian Dutcher, whose Aztecs are projected as a No. 1 or No. 2 seed, even joked about a solution to decide if arenas should be emptied during the early-round games.
"Well, if they send us out east, I hope that rule goes through," he quipped. "And if we stay west, I hope they let the fans come. So, it all depends on where we get sent.
"If we get sent east, no fans. If we get sent west, everyone can come."
Coronavirus (COVID-19) resources
Prevention
To help mitigate infectious transmission of COVID-19, health care officials advise anyone who thinks they might have the virus to first call their doctor before going to a hospital
Wash hands thoroughly and often
Stay home if you're feeling sick
Don't touch your face
Cough or sneeze in your elbow or a tissue
Risk and symptoms
You could be at risk of having COVID-19 if you've recently traveled to mainland China, South Korea, Japan, Italy and Iran
Infected patients typically have a fever, cough and shortness of breath
Contributing: Jacob Klopfenstein, KSL.com
×
Related Stories