LAYTON — What's the strangest thing that has been left on your doorstep? Well, two Layton men who found a raw animal organ outside their door just might have you beat.
In a newly-built row of townhomes, roommates Tyler Reed and Preston Moody were still putting the finishing touches on their bachelor pad.
There were boxes left to unpack and pictures to hang. However, there was an issue even more pressing.
Sometime around 9 p.m. last Thursday, they got a sort of "welcome to the neighborhood" package.
"I don't even want to touch it, so I'm just going to kind of open the bag," Reed said.
Reed and Moody don't have a doorbell camera and the walkway leading to their front door is even fenced off.
Reed said Google offered clues as to what it could be.
"Yes, Google led us to the cow heart idea," Reed said
However, the internet search engine didn't exactly explain why it ended up at their front door.
"Our thoughts just started going all sorts of directions," Reed said.
They thought the whole thing was maybe a prank from a friend or an annoyed neighbor, so they contacted KSL TV with the hope of getting to the bottom of it all.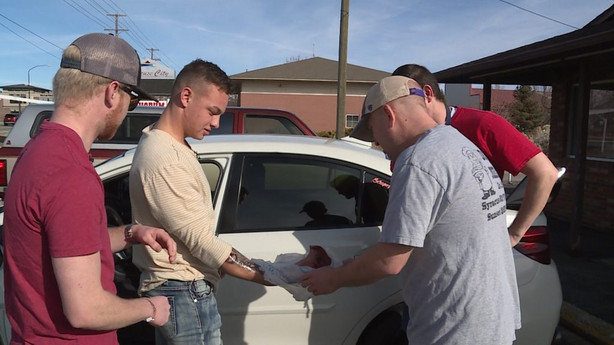 "I don't know," Reed said. "Maybe a butcher would be able to know for sure."
KSL TV brought in the experts at "Don's Meats" in Syracuse.
"Are you ready to see this bad boy?" Reed asked before revealing the organ.
"That is definitely not a cow," said butcher Lance Lasater.
As more employees gather around the mystery meat, they came to an educated conclusion.
The group of butchers-turned-meat-detectives agreed it was an animal heart.
"I would say it's mid-range sized, like maybe a pig or a sheep," Lasater said.
Perhaps it was just someone trying to be nice?
"People eat hearts," Lasater said. "Hearts are really popular."
However, Lasater admitted the delivery system, in this case, was abnormal.
"No, never heard of that," he said. "This is the first time of seen this."
Then, in the time we had left the home of Moody and Reed, they received another mysterious delivery.
This time, it was a bit sweeter and carried with it fewer questions — glazed donuts.
"We're just getting a good laugh out of this whole thing," Reed said.
×