LAS VEGAS — Utah State was not going to go out.
Not like this.
Not right now.
The Aggies know there is only one surefire way to make it back to the NCAA Tournament after last year's breakout performance and an up-and-down follow-up in head coach Craig Smith's sophomore season in Logan: win the Mountain West Tournament.
And they're one game away from doing just that.
Sam Merrill scored 18 of his game-high 27 points in the second half to go along with seven assists, and Neemias Queta added 21 points, six rebounds and five blocks to help second-seeded Utah State end No. 11 Wyoming's Cinderella postseason run 89-82 in the semifinals of the Mountain West tournament Friday night in Las Vegas.
Justin Bean had 9 points and 10 rebounds, and teammate Brock Miller scored 13 for the Aggies (25-8), who used a 13-0 run after the Cowboys tied the game at 66-66 with 4:45 left to pull away for good.
"I think I just tried to let the game come to me," said Merrill, who took over and scored 18 points in the second half for the second-straight game. "There are moments when the game was a little bit tense … but at the end of the day, it's about creating open shots for whomever. It's not about one certain guy.
"Shots fell tonight. They fell last night. Hopefully they fall again tomorrow."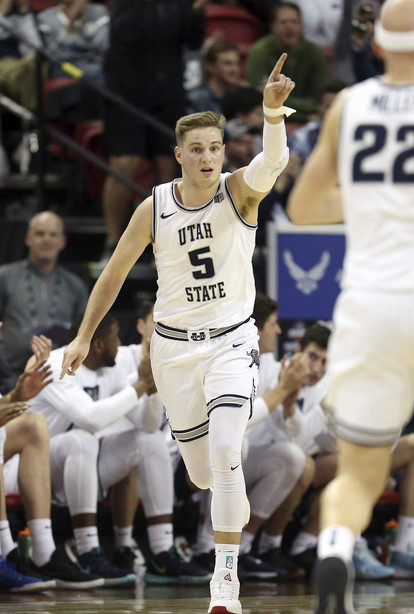 Just like Thursday night's quarterfinal win over New Mexico, Merrill was not going to be stopped.
"I thought Sam Merrill made some really big, timely, tough shots down the stretch," Wyoming coach Allen Edwards said. "But I loved our guys' fight. I'm proud of them.
"We played a very good Utah State team down to the wire."
Wyoming never led and trailed for all but 44 seconds of the game.
But that doesn't mean it was easy. The Aggies led from the first possession, but Wyoming never trailed by more than five until Merrill hit a three with 6:20 to go in the first half to go up 30-23.
That 7-point lead became the standard, including a 38-31 halftime advantage behind 12 points on a perfect 5-of-5 shooting from Queta before the break for an Aggie squad that shot 52% from the field.
Sam. MONEY. Merrill!#AggiesAllTheWaypic.twitter.com/nFSB8oLNPN

— USU Men's Hoops (@USUBasketball) March 7, 2020
But then came the Pokes.
Utah State shot just 3 of 11 from the field to open the second half, and Wyoming pulled within 2, 49-47 on a three by Greg Milton with just over 12 minutes to go.
"Every time we made a mistake, they made us pay," Smith said. "But our guys finished strong.
"This time of year, March Madness, what do they say? Survive and advance. That's what we did."
That's how the Pokes stayed in the game after the break: from downtown. Five of Wyoming's first nine makes came from 3-point range, and even as the Cowboys didn't pull away, they didn't let Utah State pull away, either.
Foster tripled his average of 4.4 points per game with his second 3-pointer 7:49 to go. Marble scored 5 straight points — a triple and a pair of free throws — to tie the game, 66-66 with 4:45 remaining.
That was the game reset the Aggies needed.
"After they started making a lot of threes, we just kept sending them to the paint," Queta said. "I did a good job of staying out of foul trouble, and either blocking or altering the shot."
Merrill's triple capped an 11-0 run — one in which the Aggies held Wyoming scoreless for 3:06 — to push the lead back to double digits, 77-66, with 90 seconds remaining.
YOU THOUGHT!#AggiesAllTheWaypic.twitter.com/MesqqVHm6b

— USU Men's Hoops (@USUBasketball) March 7, 2020
"That was a pretty good response by us," Merrill said.
That was the theme: Every time Wyoming made a run, Merrill and Queta (or Queta and Merrill) were there to stop them.
"I know Sam pretty well. When I go back home, I talk to him quite a bit," said Jake Hendricks, the Sky View High product who had 11 points, four rebounds and the inevitable task of guarding Merrill. "I didn't have anything to prove. I just knew I had to come out and guard him the best I could."
Wyoming won as many games in the conference tournament as it did in conference play during the regular season, picking up back-to-back upsets over Colorado State and Nevada to set up Friday night's semifinal.
The Aggies made sure not to become a third upset victim.
Utah State will face top-seeded San Diego State, which hit 15 3-pointers to rally past Boise State 81-68 in the other semifinal. Malachi Flynn had 22 points to lead the Aztecs and KJ Feagin added 21 points and six rebounds.
Tipoff is scheduled for 3:30 p.m. MST on CBS.
×
Related Stories