Estimated read time: 4-5 minutes
This archived news story is available only for your personal, non-commercial use. Information in the story may be outdated or superseded by additional information. Reading or replaying the story in its archived form does not constitute a republication of the story.
PROVO — Mark it down: This BYU basketball team is going to the NCAA Tournament.
Yoeli Childs poured in 28 points and 10 rebounds, Jake Toolson added 17 points with five 3-pointers, and TJ Haws chipped in 16 points and eight assists to help No. 23 BYU to its biggest win of the year 91-78 over No. 2 Gonzaga in front of a raucous crowd Saturday night at the Marriott Center.
Zac Seljaas added 12 points and five rebounds for the Cougars, but did his work down low — including forcing Zags star Killion Tillie to foul out with 1:31 remaining. Tillie dropped 18 points and three rebounds while saddled with foul trouble.
"I can't help but think how encouraging that is for the future," said Childs, a crack in his voice on an emotional senior night. "Our ability to fight and to continue to fight. Gonzaga is a great team. They made their runs and had great players out there making great plays. But nothing they did slowed us down. It gets me really excited for the future."
The Cougars (23-7, 12-3 WCC) snapped Gonzaga's indomitable run of regular-season conference wins, a remarkable 40-game achievement that shouldn't be undersold. But they also held the Zags (27-2, 13-1 WCC) to 41.7 percent shooting, including 5-of-25 from 3-point range.
BYU didn't just win with a run-and-gun offense or by scorching the nets with 14 triples. They won with defense — and with only 8 seconds from their usual defensive stopper, Dalton Nixon, who returned from an ankle injury.
"Somebody's got to take charges if Dalt's out," Haws quipped. "I felt like I could get a couple tonight."
Toolson was unconscious from deep in the second half. A 3-pointer from the "Marriott" logo, reminiscent of Jimmer Fredette's shots during his whirlwind senior year on moment. Just minutes later, a stepback triple from 27 feet, Toolson's fifth trey.
Last year's Western Athletic Conference Player of the Year at Utah Valley almost singlehandedly willed 23rd-ranked Cougars to a 10-point lead with just over 12 minutes to go.
But the Zags rallied — who thought they wouldn't?
Gonzaga used an 11-2 run, including holding the Cougars scoreless for 2:44, to chip away to a 65-61 advantage with 10:21 remaining.
Freshman Drew Timme's jumper pulled the Zags within a bucket, 70-68 at the under-8 timeout — capping a 7-0 run for Gonzaga when BYU went cold, making just 1 of 8 from the field.
The Cougars had officially cooled off.
But they weren't done.
"We weren't just fighting out there for the seniors," Childs said.
Alex Barcello's three from the left-wing gave BYU an 82-75 advantage with 4:42 to go, and Haws scored his second triple less than a minute later to force a 15-8 run from the moment Timme's shot hit the bottom of the net.
But the win wouldn't have been complete without Seljaas.
The former Bountiful High sharpshooter completed his remarkable transition to full-time power forward, bullying Tillie and the Zag posts all night. Seljaas held the Gonzaga standout to just 18 points and four rebounds in only 26:01 of play, a team-high scoring margin just ahead of Corey Kispert's 16 and Filip Petrusev's 14.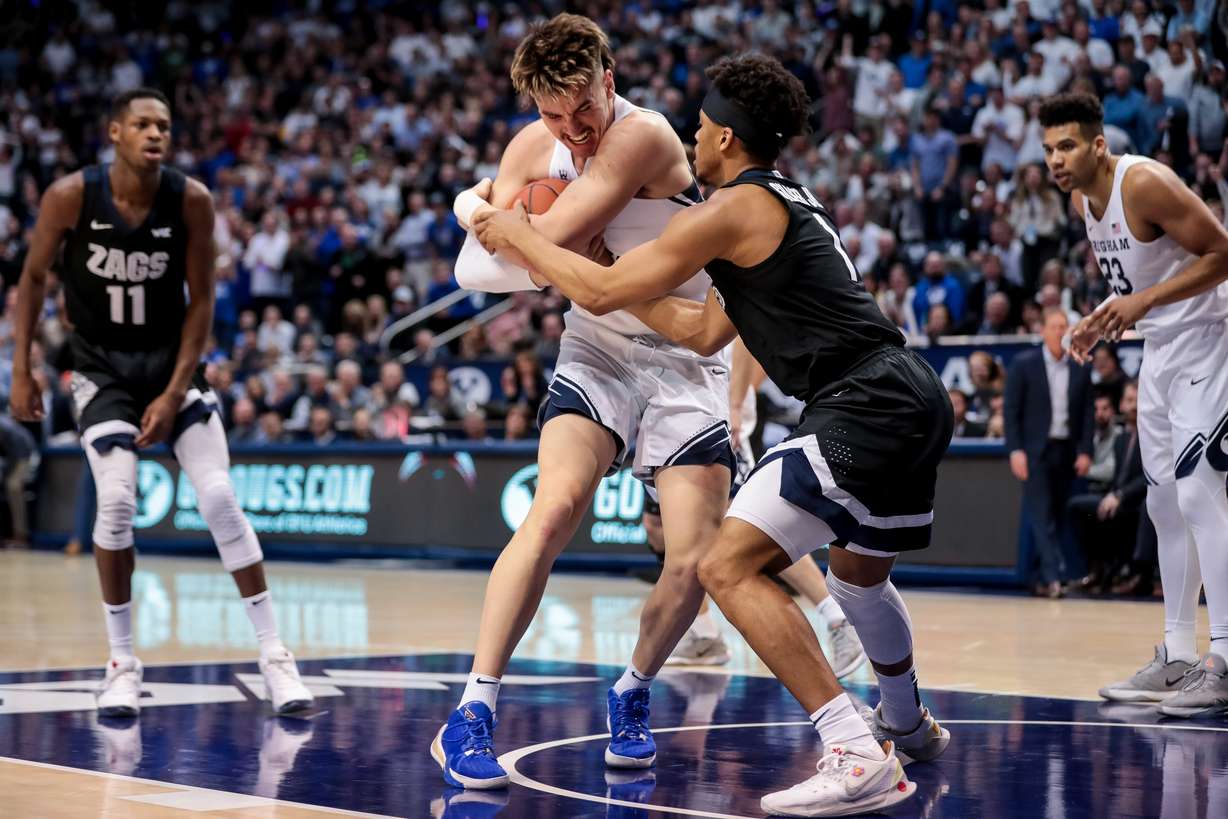 There were so many contributors in Saturday night's win, a historic victory for BYU coach Mark Pope in his first season with the Cougars, his 100th overall as a head coach in two stops within the same county.
"Zac Seljaas was unbelievable. How great was Zac Seljaas tonight?" Pope asked rhetorically. "I'm always looking down the court, and Zac is just in there fighting for loose balls, for rebounds, making plays. He's just a winner — and he's being rewarded for it.
"I'm grateful for all the young guys on this team to watch Zac and Dalton Nixon because that's winning basketball."
But to quote Haws, the Cougars aren't done yet.
"There's magic that happens in March," Haws said. "When you have a lot of momentum and some magic going, it's going to be really good for us. This is definitely a huge momentum-builder for us. It's a great win for us.
"But the thing that this team has done well all year is take it one game at a time. We're going to get better from this, and we're excited for next week, as well."
BYU can wrap up the No. 2 seed in the conference tournament with a win over Pepperdine next Saturday in Malibu, California. The Cougars path to the tournament title consists of two games — two wins — in as many days in Las Vegas.
But their ultimate destination — the NCAA Tournament — is secured, thanks to one wild night in Provo.
×
Related stories
Most recent BYU Cougars stories