PROVO — If anybody needs tickets to No. 23 BYU basketball's regular season-home finale Saturday night against No. 2 Gonzaga, head coach Mark Pope has you covered.
At least, he'll do what he can — which might not be much.
The game that has been sold out for a week acts as the fitting Marriott Center finale to the careers of seven seniors, including leading scorers Yoeli Childs, Jake Toolson and TJ Haws.
All three of the aforementioned players have had varying paths to and staying with BYU over the past four years. But all three have left their mark on a "magical" team that has helped the Cougars (22-7, 11-3 WCC) accomplish feats the program had barely dreamed of before.
What a way to end it.
Throw in Zac Seljaas, Taylor Maughan, Dalton Nixon and Evan Troy, and you see the strength of BYU's senior class.
"What these seniors have accomplished is breathtaking," Pope said. "We get a chance to duke it out in front of BYU Nation in front of the best team in the nation. We're excited."
It's the kind of magic that Pope, in his first year since moving over from Utah Valley, spoke about when he first accepted the monumental job of replacing legendary coach Dave Rose back in April.
But the 47-year-old Pope knew a little something back then when he stood at a podium in front of his wife Lee Anne, his four daughters, athletic director Tom Holmoe, and several friends, associates and members of the press corps.
He knew what BYU had coming back for the 2019-20 campaign.
Specifically, he knew what these seniors were all about — and then he added to them by bringing Jake Toolson back from Utah Valley.
And now their home journey comes down to one game against the No. 2 team in the country, a Gonzaga squad that is 27-1 after Thursday night's 71-54 win over San Francisco, but one that Pope is still convinced is the best in the land (sorry, Baylor).
"It's going to be sheer insanity. The joint is sold out. We've won seven in a row. They've won a lot in a row," Pope said. "We've got an incredible senior class that has given their heart and soul to BYU and to these fans. A chance to come celebrate them. They'll all be balling and crazy and psychotic.
"I told Trevin Knell he better be ready, because he might be the only one of sound mind on Saturday night. It's what makes senior night great."
In many ways, Saturday night is just the continuation of a year that has already been thrilling. Pope has reinvigorated a BYU basketball program that, while it hadn't quite fallen on down times, did occasionally find itself listless and drained of emotion.
But there's no lacking emotion around campus in Provo anymore. Not this week. Not any week.
But especially not Saturday.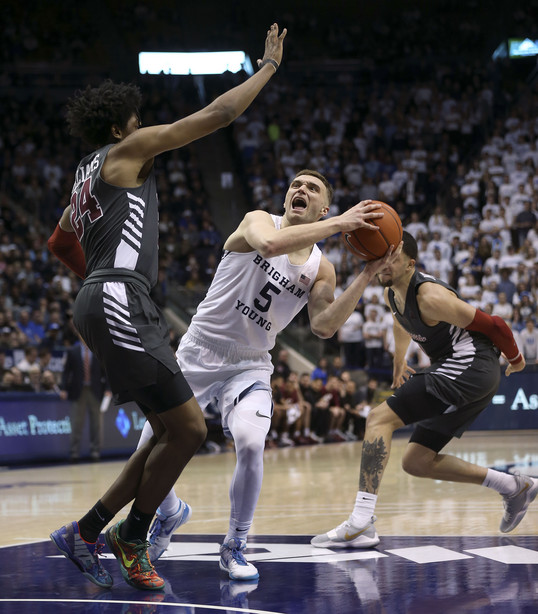 "All year, this team has really believed in ourselves," Haws said. "We know what we're capable of; the national ranking was cool. But I feel like we've built habits all year long … and big weeks like this, we've just been taking it one game at a time. That's what it takes in this league. Every week is huge."
Guaranteed a spot in the West Coast Conference's top three by virtue of their 85-75 win over Santa Clara, the Cougars aren't quite guaranteed an NCAA Tournament berth for the first time in four years.
It's close. But they've still got work to do.
"Any time we can win, I feel like it's a step in the right direction," Toolson said after the Cougars' latest victory.
"Now there are things that we'll look at and things that we'll have to shore up. But I think winning is getting better, and I feel like we did that."
Winning, making memories, and holding on to every last moment of their senior season.
That's what BYU did Thursday night in a win over the Broncos. That's what they'll try to do against their toughest competition of the year Saturday night.
And it's what they'll try to hold on to as the final month of the season tracks down, and the calendar flips to March.
It's why Toolson and Childs took a moment in the final seconds of Thursday night's game, arm-in-arm, glanced up at the scoreboard and laughed.
"We want to encourage each other," Toolson said. "We're always lifting each other up, putting each other in spots to be effective, and to score the ball. I think that's what happened tonight."
How to watch, stream, listen to the game
No. 2 Gonzaga (27-1, 13-0 WCC) at No. 23 BYU (22-7, 11-3 WCC)
When: Saturday, Feb. 22 at 8 p.m. MT
TV: ESPN2 (Dave Fleming, Sean Farnham)
Streaming: WatchESPN
Radio: BYU Radio 89.1 FM, KSL 102.7 FM/1160 AM (Greg Wrubell, Mark Durrant)
Series: Gonzaga leads 18-6
×
Related Stories