Estimated read time: 4-5 minutes
This archived news story is available only for your personal, non-commercial use. Information in the story may be outdated or superseded by additional information. Reading or replaying the story in its archived form does not constitute a republication of the story.
SALT LAKE CITY — Utah's high court has reversed a murder conviction for the teenage getaway driver whose boyfriend shot and killed Utah County Sheriff's Sgt. Cory Wride in 2014.
The Utah Supreme Court found there is a reasonable probability a jury would not have convicted the now 23-year-old Meagan Grunwald if not for errors in jury instructions during her trial, so "our confidence in the guilty verdict is undermined," Chief Justice Matthew Durrant wrote in an opinion released by the court Friday.
Three of his colleagues concurred; Justice Thomas Lee dissented, writing he doesn't believe a properly instructed jury would have reached a different verdict.
Grunwald's attorney, Doug Thompson, said he drove to the Utah State Prison almost as soon as he saw an email notifying him of the opinion. When he told her a new trial had been ordered, "it was an emotional moment," Thompson said, declining to give further details.
Grunwald remains in prison, where she has been since July 2015, on a remaining conviction of aggravated robbery tied to the car chase. The first-degree felony charge carries a sentence of at least five years and up to life.
Grunwald, who was 17 years old at the time of Wride's death, did not fire a shot that day, but was found equally liable as an accomplice to the crimes of her boyfriend, 27-year-old Angel Garcia-Juaregui.
Garcia-Juaregui shot Wride as he was sitting in his parked patrol vehicle after he pulled over behind Grunwald's truck to check on the stopped vehicle. Grunwald testified at trial she initially believed the glass on the police vehicle was bulletproof, but as the chase went on, she began to fear for the officer.
Garcia-Juaregui later died in a shootout with police in Juab County.
Wride's widow, Nanette Wride, said Friday the court's decision left her at once numb and hysterical.
"I feel completely betrayed by a system my husband believed in," she said. "I've done a lot of healing and I feel like I've skipped back six years."
She said she could not understand the court's decision and believes Utah should toughen penalties for those involved in the deaths of officers.
"Everything happens for a reason, I'm just so interested what this reason is. Maybe we'll teach the justice system a thing or two," Wride said.
Brent Jex, president of the Utah State Fraternal Order of Police, said he agrees with Lee's dissenting opinion, which said Grunwald was "at least a knowing collaborator" who kept her foot on the brake as the pair waited for an opening in traffic on Jan. 30, 2014.
Jex called for Utah County Attorney David Leavitt to prosecute Grunwald again.
"We stand with the Wride family and the Utah County Sheriff's Office, and we're hoping that David Leavitt does the right thing and pursues justice," he said.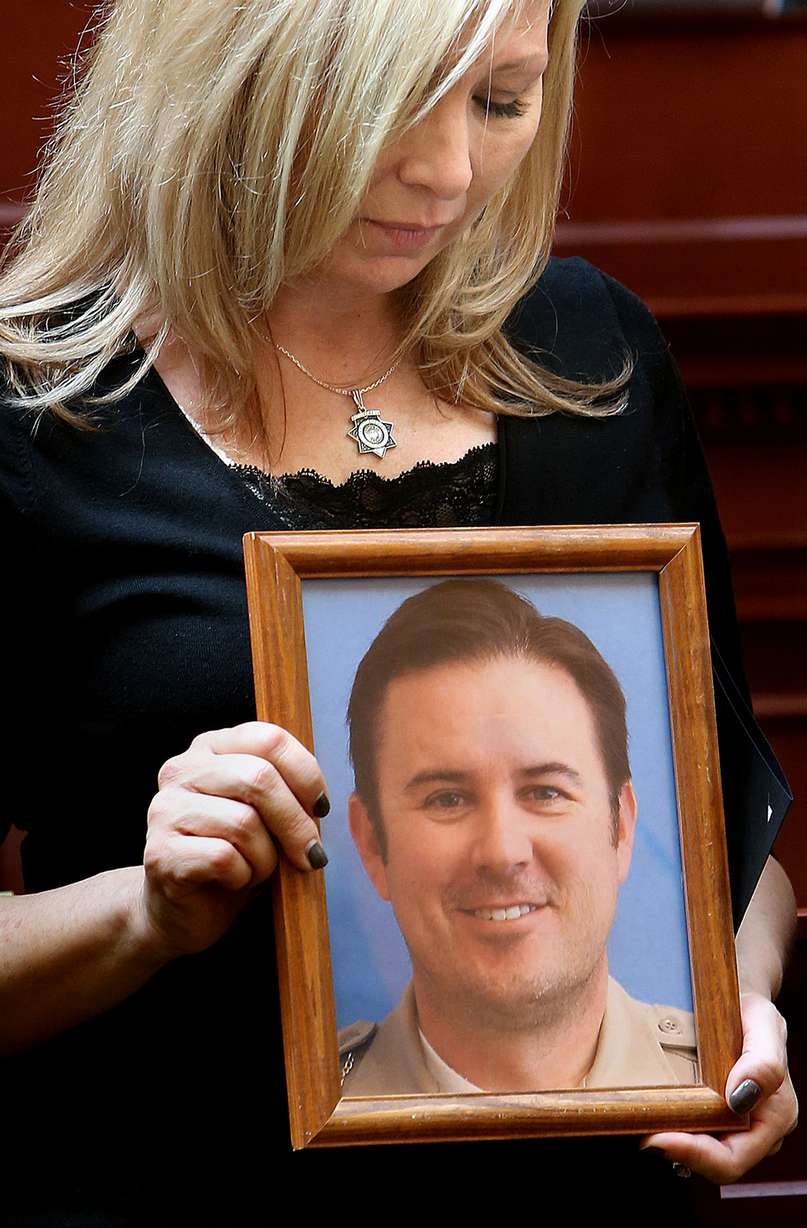 Leavitt declined comment because he had not yet reviewed the opinion, a spokeswoman for his office said.
Grunwald testified at trial that she pulled over on state Route 73 in Eagle Mountain that day because she and Garcia-Juaregui were arguing. Wride spotted the truck's emergency lights and stopped to see if anyone in the truck needed help, then returned to his patrol vehicle to look up a fake name Garcia-Juaregui gave him.
Grunwald's boyfriend told her to put her foot on the brake, opened the back window and suddenly began to shoot, she testified. When police later located the truck, with Grunwald still behind the wheel, Garcia-Juaregui shot and wounded Utah County sheriff's deputy Greg Sherwood.
In 2018, the Utah Court of Appeals tossed Grunwald's conviction for attempted murder of Sherwood based on the jury instructions, who was shot in the head and survived. It upheld her convictions of aggravated murder and aggravated robbery. She then appealed to the Supreme Court.
Durrant said the court's decision "should not be misinterpreted as a finding that Ms. Grunwald is, in fact, not guilty." While police body camera footage could be seen as consistent with prosecutors' version of events and jurors might find Grunwald's testimony isn't credible, those factors don't eliminate the reasonable probability they could acquit her.
And there was a similar likelihood that the jury could have made other conclusions in Grunwald's favor, the opinion says. Those include the possibility that she was telling the truth when she said she did not understand what her boyfriend meant when he said he would "buck" Wride in the head, even though a reasonable person could have, Durrant wrote.
At oral arguments in the case roughly a year ago, Grunwald's attorneys argued the jury received improper instructions that led to a different outcome in her case than if the paperwork had been correct.
The faulty instructions in part directed jurors to pronounce her guilty if they found she acted recklessly, Grunwald's defense team argued, but the standard for an aggravated murder conviction is higher, requiring a person to act knowingly and with intent to aid in the crime.
Thompson, her attorney, said reversals like Friday's are unlikely, but "I felt strongly from the beginning that these issues were so crucial to a good trial that we had a good shot."
×
Photos
Most recent News stories