Estimated read time: 4-5 minutes
This archived news story is available only for your personal, non-commercial use. Information in the story may be outdated or superseded by additional information. Reading or replaying the story in its archived form does not constitute a republication of the story.
COALVILLE — A grassroots group gathered enough signatures to put a city council vote on rezoning some land to a ballot vote in Summit County.
The rezoned land would have allowed for a nearly 700-unit housing development, with 570 high-end luxury homes and 130 rentals.
Coalville has always been a place where things don't seem to be in such a rush. The town had less than 1,400 residents in the 2010 census.
"I think this little town is so charming," said Lynn Wood, who has a place just off Main Street.
Like many people in the small town, Wood loves its small-town feel.
"People come here and they just want to drink in the atmosphere that's here," she said. "It's special."
That's also why Wood started the group Coalville For Responsible Growth.
She was worried the luxury housing development would change the character of Coalville.
"It's too much growth all at once. Let's keep it authentic," said Wood.
The group recently got enough signatures to force a referendum on the Coalville City Council's December vote to rezone the land.
Rezoning the land would have allowed for the development.
"I think people were discouraged," said Wood. "They felt like they weren't being heard. We tried to say, 'Your voice mattered.' I don't think they believed us, but I think they believe us now. I'm really excited about that."
The Wohali development would be built on the opposite side of Interstate 80, where Coalville is located. In most places, the mountain would keep the development from being seen in town.
Coalville is one of those charming little towns where life doesn't seem to be in such a rush. So, when word spread of a 570-home development, many were worried it would change the town. Recently, a group got enough signatures to force a referendum on it. @KSL5TV at 5 and 6:30. pic.twitter.com/2jPZnDY5JJ

— Alex Cabrero (@KSL_AlexCabrero) February 19, 2020
Jim Boyden's family has owned that land for generations.
They're from Coalville, well known in town, and although he understands the concerns, Boyden said he also cares for Coalville's future.
"We'd like to develop it," he said.
Boyden estimated the development would bring in roughly $10 million a year in new taxes to the area, and would help Coalville prosper.
"I love Coalville and my family wants to leave a good legacy here, but I think people are afraid of change," said Boyden. "I think there's a fear that we'll come and run roughshod over the community and take advantage of a community that hasn't ever seen something like this before. That's certainly not what we're going to do."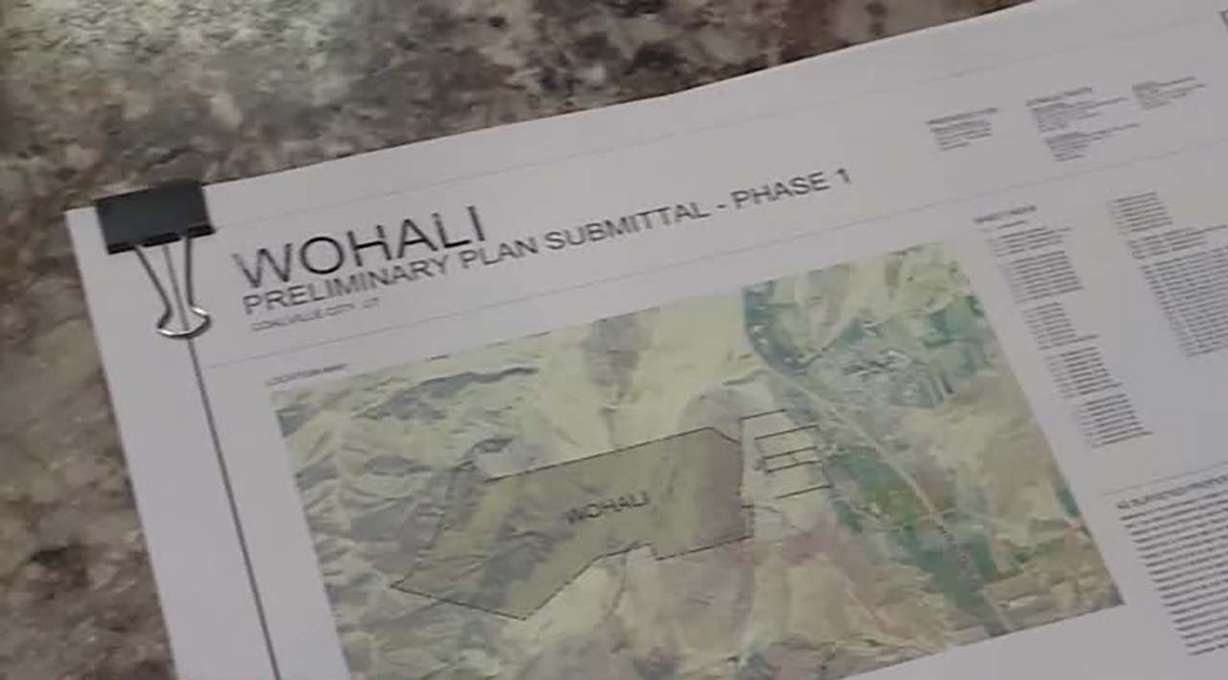 Boyden said if allowed to go forward, the Wohali development would grow at about the rate Coalville is already growing – roughly 20-25 homes a year.
The full development would take decades to fill out.
"We would grow at a slow pace," said Boyden. "We annexed the land into Coalville instead of Summit County because we wanted the tax revenue to go to Coalville."
However, he said he was concerned his family's two years' worth of work with the city could be for nothing.
Use of referendums
The referendum was just the latest in Utah, with the most recent being the state sales tax proposal.
The success of the grassroots efforts could be a sign that voters want more of a say about certain issues.
"It's given the taxpayers an opportunity to vote and to have their opinions heard," said Sheldon Smith, Coalville's city attorney.
Related:
Smith said he is in favor of voters making their choice known, but worried referendums on all sorts of issues statewide can make it difficult to get anything approved.
"I think that it has maybe gone beyond what was intended," said Smith.
Wood agreed, saying referendums should only be used when necessary.
"A referendum should only be used, I think, in really extreme circumstances. It's a hard road. It's not easy to gather all the signatures as a grassroots effort," said Wood. "It should be hard. We don't want to rule by the masses, but when there's a decision that clearly isn't the majority, then there should be a method to challenge it."
If voters overturn the zoning, there is a Plan B.
Boyden said he could develop roughly 120 homes, with about 300 rentals, on property that wouldn't need to be re-zoned.
However, he said a smaller development would mean less tax revenue for Coalville.
"With a reduction in density is a reduction in benefit for the community, and the school district, and the fire department," said Boyden.
Voters will make that decision this coming June.
×
Related stories
Most recent Utah stories