SALT LAKE CITY — Mark Pierce and his wife were spending a snowy February night relaxing at their cabin east of Heber City when the explosion happened.
"Our whole house shook," said Pierce, who looked up to see flames shooting out of his neighbor Lori Walker's devastated cabin.
Sinking up to his waist in snow, Pierce ran outside to see two girls frantically shouting that their mother, Walker, was still trapped inside. Pierce joined his neighbors Eric Staten and Nate Hammond and climbed into the house through a broken window.
They found Walker unconscious and trapped under debris, and pulled her to safety as the burning house collapsed around them.
Now, a year after the fire, Pierce, Staten and Hammond's heroism was honored at an annual awards ceremony hosted by the Utah chapter of the Freedoms Foundation at Valley Forge.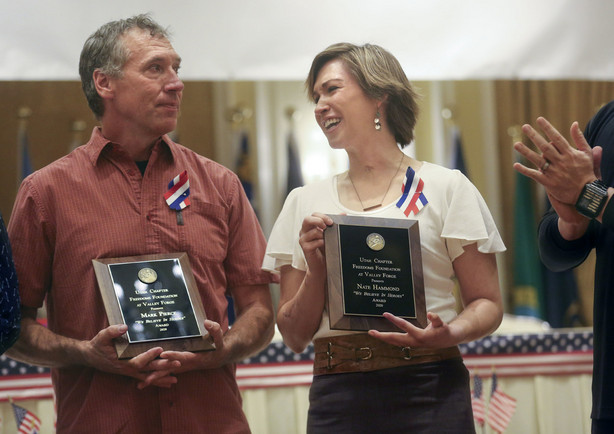 "It's not something sad or traumatic to look back on, it's something to celebrate," said Walker. "I just I can't believe I'm still here."
The national nonprofit honored more than a dozen Utahns on Wednesday who displayed heroism and dedicated service to their fellow citizens over the past year.
"It was really emotional," said Utah Attorney General Sean Reyes, who helped present the awards. "To be able to actually shake their hands, give them a hug and thank them on behalf of everyone in Utah, it really choked me up."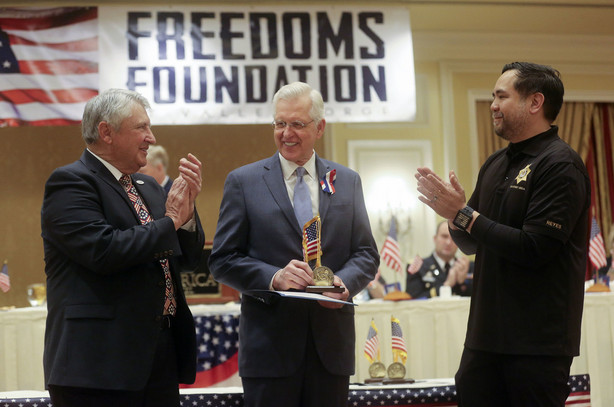 The awards ceremony kicked off by awarding Elder D. Todd Christofferson, of the Quorum of the Twelve Apostles of The Church of Jesus Christ of Latter-day Saints, with the George Washington Honor Medal for his work promoting religious freedom.
"As a gifted teacher, he focuses on the critical role religion plays in societies worldwide," Lloyd Newell, a former board member of the Freedoms Foundation's Utah chapter, said of Elder Christofferson.
×
Photos