Estimated read time: 4-5 minutes
This archived news story is available only for your personal, non-commercial use. Information in the story may be outdated or superseded by additional information. Reading or replaying the story in its archived form does not constitute a republication of the story.
OREM — Longtime Mountain Crest wrestling coach Davie Swensen took two of the newest state champions of one of Utah's top high school programs under each arm and bellowed into the echo-filled hallways underneath the UCCU Center in Orem.
His loud and gregarious voice boomed — with pride, with joy and with the satisfaction of another Mustang state title.
But this championship celebration was a little bit different.
"Thirty years ago, I took a picture with Greg Schroeder when him and his brother Kirk became state champions," Swensen said. "And now I'm going to take the same picture with his boys."
Luke Schroeder, a sophomore, won the 113-pound state title and older brother Hunter Schroeder, a senior, added the 195-pound state title to cap off his senior year as the Mustangs pulled away for their second championship in three years Saturday evening at Utah Valley University.
In addition to the Schroeders, Mountain Crest also got state titles from Cooper Sanders (120) and Brayden Guthrie (182) to cruise to their first state title since 2018. New Mountain Crest coach Jay Tovey was named 4A Coach of the Year by his peers, while Guthrie took home Most Outstanding Wrestler for the upper weight classes.
But for the Schroeders, the moment almost didn't happen. Both brothers admitted to difficult moments this year, and Hunter thought about quitting the sport before his final season. Each time, his father, coaches, uncles — and even his own brother — pushed him forward.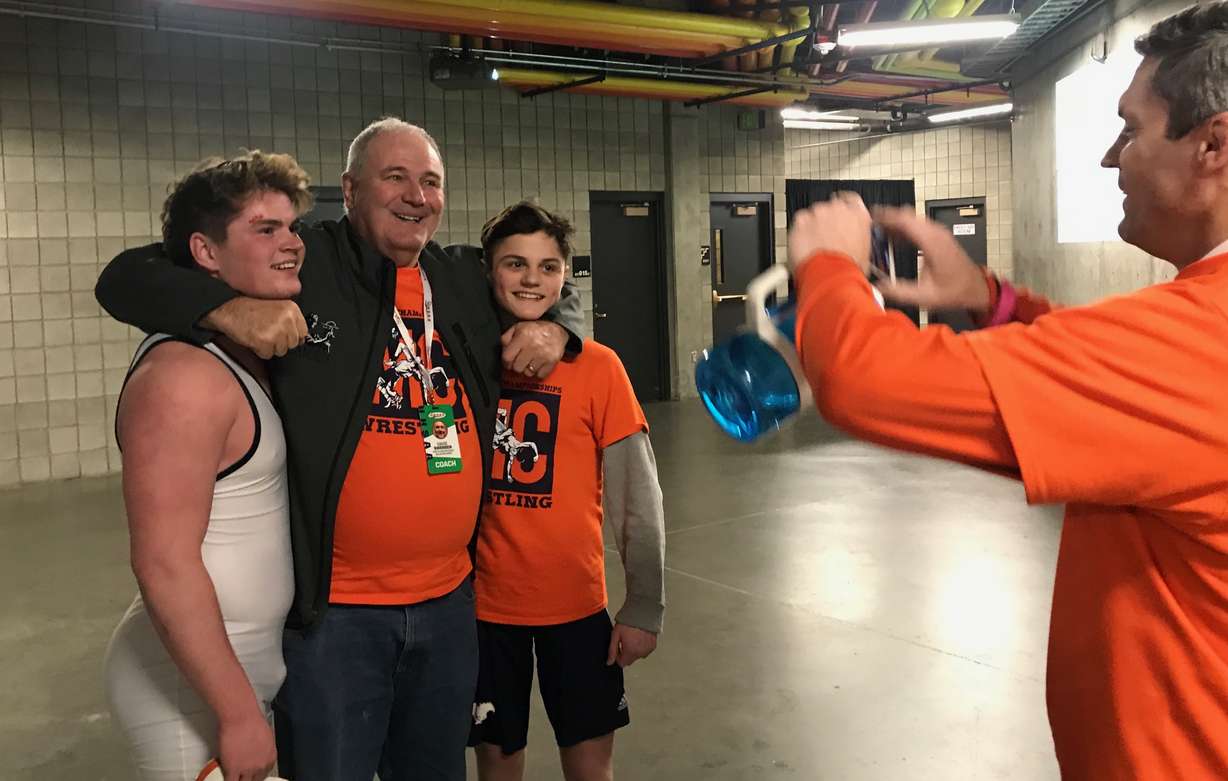 "I was thinking about quitting," Hunter Schroeder said. "But I decided, you know what, I might as well just give it my all. That's how I wrestled.
"I haven't loved wrestling before like I did this year," he added. "It was a great experience, and a good way to end my senior year — improving and coming to love wrestling the way I did."
The Schroeders' father Greg won a state title in 1990, the same year his brother Kirk won his first of two individual titles. But 30 years later, time proved to be a flat circle — at least in the history of Hyrum, as the older son cruised to a 1 minute, 28 second pin at 195 pounds.
Hunter Schroeder was on the mat so little, he admits that — after placing fourth and third at state the past two years — he barely had time to feel nervous. He was much more on edge during little brother's earlier bout.
Both are glad they gave the 2019-20 season a go, whether it was their first or their last.
"I've had some tough moments this season, but I just started working a lot harder this season," Luke Schroeder said. "My team really pushed me to become this."
He cruised to a 10-3 win over Canyon View's Jake Olsen at 113, jumping out to a 6-1 lead after the first period and never looking back to improve to 32-11 on the year.
Just like pops.
"My dad used to do that when he was my age, too," he said. "My coaches told me to get inside their heads early, so I can just be ahead the whole match and make them quit."
Uintah finished second with 274.5 team points, led by two-time state champion Brady Merkley at 126, August Harrision at 138, and Dylan Swift at 170.
Desert Hills 145-pounder Ryker Boyce won his third state championship to pace the Thunder, which finished just behind third-place Bear River.
CLASS 4A
Most Outstanding Wrestlers: August Harrison, Uintah; Brayden Guthrie, Mountain Crest.
Coach of the Year: Jay Tovey, Mountain Crest.
Top 10 teams
Mountain Crest 319.5, Uintah 274.5, Bear River 202.5, Desert Hills 195, Canyon View 104, Pine View 101, Hurricane 95.5, Ridgeline 90.5, Snow Canyon 87.5, Stansbury 85.
Championship finals
106 — Trenton Ward, Bear River p. Easton Evans, Mountain Crest, 0:59.
113 — Luke Schroeder, Mountain Crest d. Jake Olsen, Canyon View, 10-3.
120 — Cooper Sanders, Mountain Crest p. James Shumway, Green Canyon, 3:38.
126 — Brady Merkley, Uintah d. Terrell Lee, Mountain Crest, 6-4.
132 — Riley Helt, Pine View d. Dillon Dick, Uintah, 5-2.
138 — August Harrison, Uintah p. Gabe Sanders, Mountain Crest, 5:27.
145 — Ryker Boyce, Desert Hills d. Colter Ricks, Ridgeline, 7-3.
152 — Joshua Armstrong, Hurricane d. Ma!uade Jones, Desert Hills, 12-5.
160 — Maverik Skinner, Bear River d. Clayton Warr, Hurricane, 9-4.
170 — Dylan Swift, Uintah p. Kaden Kirk, Ridgeline, 0:50.
182 — Brayden Guthrie, Mountain Crest p. Gavin Carter, Canyon View, 0:17.
195 — Hunter Schroeder, Mountain Crest p. Gage Hall, Desert Hills, 1:27.
220 — Hunter Larsen, Sky View p. Dawson Bundy, Desert Hills, 4:51.
285 — Jeshua Koch, Bear River d. Peyton Williams, Desert Hills, 8-4.
×
Related stories
Most recent High School stories