Estimated read time: 3-4 minutes
This archived news story is available only for your personal, non-commercial use. Information in the story may be outdated or superseded by additional information. Reading or replaying the story in its archived form does not constitute a republication of the story.
SALT LAKE CITY — Politicians rarely see the opioid epidemic up close and personal like Jenny Wilson did last month.
The Salt Lake County mayor had just left her office on a Friday afternoon and turned onto State Street when she spotted a man lying unconscious and convulsing on the sidewalk. As she pulled over to call 911, Wilson saw Salt Lake resident Tiffani King run up to the man and immediately administer the overdose-reversing drug naloxone.
"She saved a life," Wilson said.
King stayed close to the man as the life-saving medication took effect, rubbing the man's sternum, making sure he was still alive. As she pulled out her phone to call for help, she heard Wilson standing behind her talking to a 911 operator.
"A really crazy situation like that happens and you turn around and there's the mayor standing there," King said. "But these things need to be done no matter who's around."
Speaking to the Salt Lake County Council on Tuesday, the mayor honored King's efforts, calling the social worker who once struggled with addiction a hero. "I don't know that I could live with the guilt if she hadn't been there, because I would not have been able to save that life."
The man King saved later became combative with first responders and was eventually arrested, but King said that doesn't matter.
"Wherever he goes after this, he's alive," she said.
For Wilson, the experience cemented the importance of making naloxone available across the county. At the meeting on Tuesday, County Council members were given naloxone kits and a Salt Lake County Behavioral Health Services representative provided a brief training on how to administer the lifesaving drug.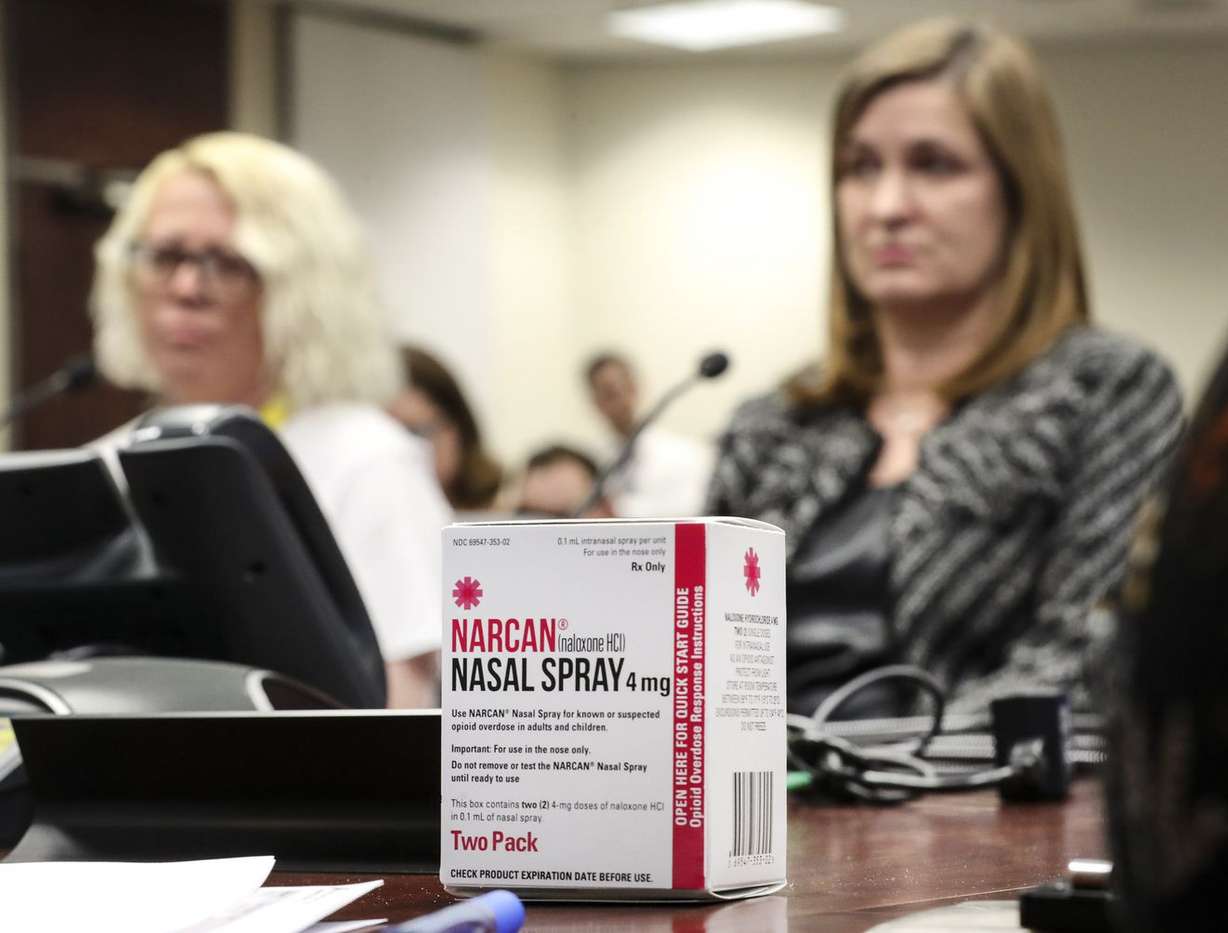 Since 2018, Salt Lake County Behavioral Health Services has distributed over 4,500 naloxone kits to a number of businesses, nonprofits and government agencies in the county, including the University of Utah, the Salt Lake County Sheriff's Office and Volunteers of America-Utah.
The nonprofit Utah Naloxone also distributed roughly 1,500 kits to Salt Lake County Library Services. Utahns can go to any of the 18 library branches, pick up a naloxone kit and receive training.
"For our officers, this is part of their daily duty. Every night, somewhere in the county, somebody is saved with this," said Councilman Steve DeBry as he held up his naloxone kit. "It's magic."
According to King, people struggling with addiction are often wary of administering naloxone or reporting overdoses to the police out of fear of being arrested. Salt Lake County District Attorney Sim Gill attempted to put those fears to rest.
"I can assure you that our office will not be prosecuting and does not prosecute those that save lives," Gill said.
Speaking to KSL after the meeting, Wilson laid out what she thinks needs to be done to prevent people from needing naloxone in the first place.
"If your kid has his wisdom teeth out, like mine just did, maybe let's leave the opioids behind and look and see if a Tylenol or another medicine can take care of that pain," she said. "Opioids should be the last action, not the first."
Wilson pointed to Medicaid expansion as a way for people struggling with addiction to get the care that they otherwise couldn't afford. The mayor also touted the Salt Lake County Jail's medical assisted treatment program, which was officially expanded in January. The program gives inmates access to drug counselors and provides methadone and buprenorphine treatments.
×
Photos
Related stories
Most recent Utah stories