Estimated read time: 2-3 minutes
This archived news story is available only for your personal, non-commercial use. Information in the story may be outdated or superseded by additional information. Reading or replaying the story in its archived form does not constitute a republication of the story.
WEST VALLEY CITY — A man who police say set his ex-girlfriend's apartment building ablaze after she broke up with him over the weekend now faces federal court charges.
Luis Fernando Bueso-Romero, 21, is charged in U.S. District Court with damaging a building by means of fire. If convicted, Bueso-Romero could serve between five and 20 years in prison.
Additionally, prosecutors say Bueso-Romero is a Honduran resident living illegally in the U.S. A federal immigration detainer has been placed on him.
On Feb. 1, firefighters responded to the fire at the Overlook Point Apartments, 4612 S. 2930 West in West Valley City, and began evacuating residents, charging documents state. Eight of the buildings were ablaze, as well as the stairwell to the apartment entrances, prosecutors wrote.
Two residents needed to jump off second-floor balconies to escape, according to the charges.
Bueso-Romero's ex-girlfriend told investigators that earlier that evening, she told him she had a new boyfriend. He then allegedly began sending her "a series of photographs" showing him in the area of her apartment. One of the texts he sent read, "I will not lose you," according to the charges. The fire was reported at 8:25 p.m.
Investigators found surveillance video at a nearby gas station at 8:03 p.m. showing Bueso-Romero purchasing a gallon of water, a lighter and prepaying for gasoline — and then pumping gasoline into the water jug he had bought, according to prosecutors.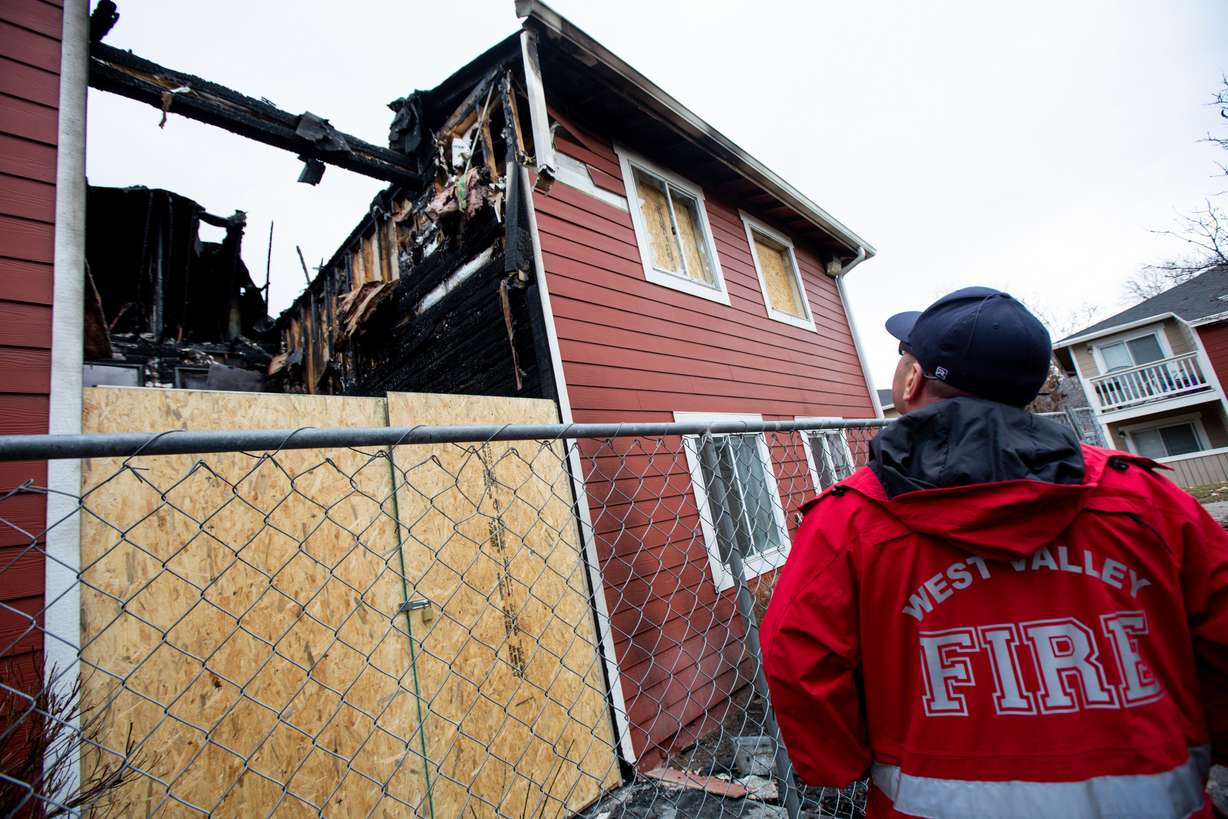 Fire investigators discovered that accelerant was poured along the wall of the ex-girlfriend's apartment, blocking the exit of all of the apartments sharing the same stairwell, the charges state.
A police K-9 also detected the presence of ignitable liquid at the front door, entryway and outside a bedroom window of the woman's apartment, prosecutors said.
Detectives found Bueso-Romero the next day in an abandoned building after they tracked his phone on a warrant, according to the charges.
Firefighters estimated the damage to the building at $250,000. While three people were treated for smoke inhalation, no one was seriously injured.
Related:
West Valley police said they had responded to two previous domestic violence calls at the woman's apartment involving Bueso-Romero but did not have probable cause to make arrests at the time, according to court documents.
U.S. Immigrations and Customs Enforcement agents said Bueso-Romero illegally entered the United States near El Paso, Texas, in 2014. He failed to appear for his immigration court hearing and a judge ordered him removed in 2016, according to a statement from Alethea Smock, a public affairs officer with the agency. An appeal was dismissed in August.
×
Related stories
Most recent Utah stories