This archived news story is available only for your personal, non-commercial use. Information in the story may be outdated or superseded by additional information. Reading or replaying the story in its archived form does not constitute a republication of the story.
SALT LAKE CITY — There are a few cities around the league that are special to Damian Lillard.
Oakland has always been his home, his hometown, the place where he learned to hoop, to shoot, and to grow into the basketball star he is today.
Portland has become his home since being drafted by the Trail Blazers with the No. 6 overall pick in 2012.
But right up next to that home locale is Utah, which he visits every time the Blazers play at the Jazz, just a short drive south on I-15 from Weber State.
And that's where his former coach Randy Rahe, athletic director Tim Crompton and a small army of purple-clad, Lillard-jersey sporting fans came from Friday night. Lillard and Rahe spent some quality time together on the pregame court, catching up, talking shop and getting in a little extra coaching from the tenured Wildcat coach.
No place in the NBA will ever be his hometown. But Utah is right up there for Lillard.
"Utah and Portland are similar to me, both another home — where I'm accepted as one of their own," Lillard said. "They're both very comparable."
Lillard's been on a tear recently, and he continued that tear Friday night, lighting up the Jazz defense for 42 points, six rebounds and six assists in a 117-114 loss at Vivint Smart Home Arena. The 29-year-old five-time NBA All-Star had little trouble holding off Joe Ingles, Royce O'Neale and a Jazz squad that allowed him to score on four-straight triples to open the game.
Nothing against you, fellas; Dame's just that good. Good enough to score 16 points on 6-of-6 shooting during the Blazers' 38-32 first quarter. Good enough to beat NBA defenses at previously unseen rates.
Good enough to drop 42 on the Jazz in a loss a week after scoring 51 in a 125-107 home win at the Mode Center. Many will argue that it should've been 44, but two fewer points don't take away from what Lillard is accomplishing.
"We've got to take something away," Jazz coach Quin Snyder said of defending Lillard. "He's so good and he's going to adjust to what you're doing over the course of the game. So there's always Plan B and things like that.
"You have to make it harder on him in order to beat him. What he did last night, he found shooters at the end of the game consistently and guys hit shots. Again, you've got to take something away."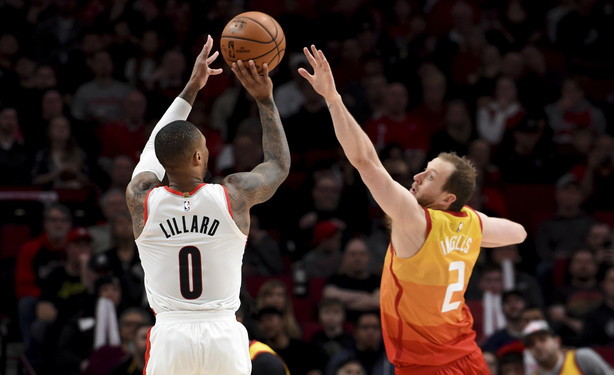 Just a week ago, he became the first player in NBA history to average 45 points and 10 assists over a six-game span, according to Elias Sports Bureau. And he isn't slowing down, ranking in the top six in the league in points per game, assists per game and PER, with 29.6 points, 8.0 assists and 27.01 PER for the Blazers (24-29).
"He's just in a real good groove," Portland coach Terry Stotts said. "The ball's coming off his hands well, he's playing with confidence. I think he's mixing up getting to the rim and deep threes (are) really opening things up for him, as well.
"His passing is probably being overlooked because of how well he's scoring."
Lillard's success translates off the court, too. His album Confirmed went platinum, and the NBA will reportedly allow him to perform as Dame D.O.L.L.A at the league's All-Star Game in Chicago.
Lillard's success isn't just his own, either.
Arguably the most successful NBA player out of Weber State — at least, in the modern era — Lillard has helped twist open the door for mid-major college basketball players to have long, lengthy, even star-studded careers in the Association. More and more players are coming out of non-blueblood colleges — the Dukes, Kentuckys and Kansases of the world — and that's a lasting tribute to Lillard's legacy.
That includes fellow Wildcat guard Jerrick Harding, who still texts with Lillard before each game and who was congratulated by the Ogden legend after his 44-point effort in a 70-66 win over Sacramento State that made Harding the all-time leading scorer in Weber State history.
Even in Portland, the Blazers have regularly started other mid-major alums like Gonzaga's Zach Collins, Lehigh's CJ McCollum and Marshall's Hassan Whiteside.
Come from where ever, it doesn't matter in the Rose City.
"It's great for the game," Lillard said. "A lot of times, those are the hungry players because they've been overlooked. They come into the league, and they can hang because they have man-strength and man-mentality. You've had to learn — you're not coming from a high school game, but you're ready for the professional game."
×
Related Stories