Estimated read time: 7-8 minutes
This archived news story is available only for your personal, non-commercial use. Information in the story may be outdated or superseded by additional information. Reading or replaying the story in its archived form does not constitute a republication of the story.
SALT LAKE CITY — Despite increased interest since Utah GOP Sen. Mitt Romney voted to convict President Donald Trump for abuse of power, there's trouble ahead for a bill that would allow Utah voters the ability to recall their U.S. senators and for an effort to censure Romney.
Both Utah House and Senate leaders have concerns about the recall bill's constitutionality — and Gov. Gary Herbert doesn't support any censure of Utah's junior senator.
"Gov. Herbert understands that Sen. Romney voted in accordance with his conscience, bearing in mind all the information he had after sitting through the impeachment trial," said the governor's spokeswoman Anna Lenhardt. "He does not feel that voting in this manner warrants censure."
There's also likely a roadblock in the Senate on the proposed censure, as well as for another resolution being drafted in the House to proclaim many Utah officials' support of Trump, as Senate GOP leaders want to move on from all the impeachment drama.
Instead, senators want a citation backing Trump, which wouldn't require hearings or a vote.
"I think there is a sentiment of trying to be positive and I think we have a lot to be positive for," Senate President Stuart Adams, R-Layton, said. "I think as far as (censuring) or the unconstitutional effort to try to remove a senator, I think those are problematic. I think we'll look to see what we can say that's positive."
Rather than a resolution that requires committee hearings and votes to pass, Adams suggested a citation that could simply be read from the House and Senate floors.
Related:
"I'd rather see a citation, quite frankly, that gives the accolades where they are due and the positive things that are happening," he said. "What I don't want to do is move into the negative rhetoric that I think is coming from Washington, D.C., of going back and forth trying to make accusations about either side."
Asked if he was worried a resolution could result in that kind of divisiveness, Adams said, "That's probably one of the problems with resolutions. That's where I'd be more hesitant. I think a citation is simply a statement of what we feel is the positive things that have happened. I'd be more in favor of that."
He said it "becomes less divisive."
But would a citation carry the same weight with the White House as a resolution?
"I'm not worried about weight," Adams said. "I'm worried about not creating disunity. I think that's more important to me than weight. I think trying to move above the fray of the contention and to actually keep things positive, I think we need to be smart about how we move forward."
Recall Romney?
The recall bill was "never" meant to target Romney, according to sponsor Rep. Tim Quinn, R-Heber City, but caught a tidal wave of interest after Romney's vote. The hashtag #RecallRomney began trending on Twitter afterward, and Quinn's bill began catching fire both on and off of Utah's Capitol Hill.
But Adams has labeled the bill "unconstitutional," and House Speaker Brad Wilson, R-Kaysville, expressed concerns about the bill to reporters Friday, though he didn't go as far as to oppose it as written.
"I think most of us have concerns voting for things we're being told are unconstitutional. Though there are times we try to stretch the limits to try to see where that line is, I guess we'll see how definitely our counsel believes this provision is," Wilson said. "It sounds to me like they've got a lot of concerns."
The U.S. Constitution does not provide for the recall of any federally elected officials. While some states have statutes to allow voters to recall members of Congress, the U.S. Supreme Court has not yet ruled on whether that's constitutionally legal at the federal level.
Quinn has told the KSL a possible constitutional challenge shouldn't stop his bill. Asked about the speaker's comments Friday, Quinn acknowledged the issue of constitutionality could foil the bill.
---
I think most of us have concerns voting for things we're being told are unconstitutional. Though there are times we try to stretch the limits to try to see where that line is.
–House Speaker Brad Wilson, R-Kaysville
---
"His concerns are valid, there's no question of that. Everybody has constitutional concerns," he said, though he added he still believes the courts should act separately from the legislative branch. "But he's the speaker."
So Quinn said House Republicans will likely have a "robust caucus discussion" about it next week "and we'll see where it goes from there."
Wilson said "there may be ways to tweak" Quinn's bill to address concerns. Quinn welcomed any changes, including perhaps changing its effective date until after the next Senate election "so there's no way they can say, 'This is a Romney bill.'"
"It's never been," he said. "I spoke to Sen. Romney about that yesterday, and I think he accepted that answer, but that's one option that we could do."
Signaling Utah's support of Trump
While Adams supports a citation to signal Utah's support of Trump, Wilson is sponsoring a joint resolution, which would require approval from the entire Utah Legislature in votes in the House and Senate.
Wilson told reporters Friday he was not aware of Senate opposition to the resolution, and he'd discuss it with Adams. He said his resolution in support of Trump is being drafted and will likely be made public early next week for discussion.
"We'll see where that goes," he said.
Wilson and the sponsor of the censure bill, Rep. Phil Lyman, R-Blanding, have said the intent of their bills is to send a clear message that Utah supports Trump and everything he's done for the state, particularly regarding public lands.
Adams, a co-chairman of the president's reelection campaign in Utah, however, wants to go a different path. He said when it comes to Trump, there's "a ton to talk about." He cited the economy, regulatory policies and appointments to the U.S. Supreme Court.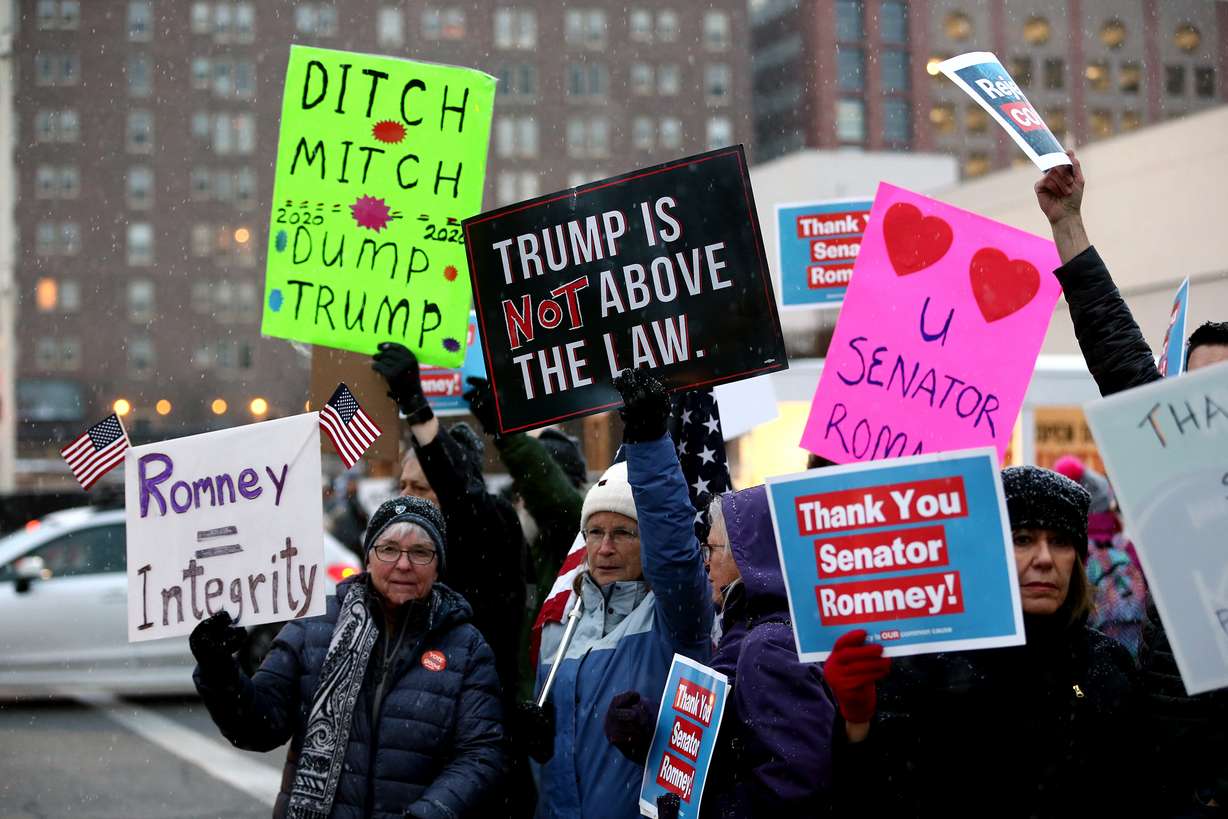 "Whether it's a citation or a resolution, I think we probably need to talk. We might be able to express some great things that I think actually the president is doing," the Senate president said. "I think there's support for doing things that are positive."
Wilson said the current administration in the White House has been "probably the most responsive White House we've had in decades," and whether Utahns like Trump's "style" or not, "he's done incredible things for the citizens of the state of Utah."
Senate Minority Assistant Whip Jani Iwamoto, D-Holladay, said she didn't know whether she other members of the Democratic caucus would support legislation praising the country's GOP president.
"I just found out about it," Iwamoto said. "But I think a citation would work better."
As for Romney — who has faced both outrage and praise for his vote — Wilson had kind words for the senator, crediting him again for flying overnight back to Utah to meet with legislators and explain his vote.
Based on their meeting, Wilson said Romney is "the same person that was deliberative and thoughtful and introspective" when he ran the 2002 Winter Grams and when he ran for president in 2012. Wilson credited him for using the same "very deliberative process" as a juror in the impeachment proceedings.
"I think we forget sometimes how amazing and rare it is where when people are dealing with difficult situations, we don't spend enough time any more trying to understand each other," Wilson said. "And he came out here and said, 'I want to understand your concerns about what I did,' and we spent a lot of time trying to understand where he was coming from."
Wilson added: "It doesn't mean we agree with his decisions, but I think living in a time now, where we have people in this state that are still willing to sit down and try to understand each other is very helpful."
×
Related stories
Most recent Politics stories