Estimated read time: 5-6 minutes
This archived news story is available only for your personal, non-commercial use. Information in the story may be outdated or superseded by additional information. Reading or replaying the story in its archived form does not constitute a republication of the story.
SALT LAKE CITY — A state representative called Thursday for U.S. Sen. Mitt Romney to be censured for his vote to convict President Donald Trump for abuse of power, the same day Romney came to Utah's Capitol to meet privately with Republicans leaders of the Legislature to explain his action.
The censure resolution pairs with a bill filed last week that would give Utah voters the ability to recall their U.S. senators that is attracting even more attention now that Romney broke with his party. Utah House Speaker Brad Wilson, R-Kaysville, also filed a resolution "paying tribute" to Trump.
The GOP leaders of the state Senate, however, expressed little interest in going after Romney, or even in supporting Wilson's resolution, saying it was time to move on from the divisive issue of the impeachment.
The sponsor of the censure resolution, Rep. Phil Lyman, R-Blanding, said he didn't want Utah's relationship with Trump to be "damaged by the actions of Sen. Romney." Lyman attended the House leadership meeting with Romney.
"I wanted to send a message that Utah supports President Trump," Lyman said. "I didn't want that message to be lost."
Romney flew overnight from Washington to Utah and spent the morning in private meetings with the Republican legislative leadership of first the Senate and then the House. He made no public appearances at the Utah Capitol and is expected to return to Washington Friday.
The senator strode briskly through a back hallway of the Capitol between meetings, telling reporters seeking comment not only on his vote against the president but also the recall bill: "No, not this morning."
Wilson gave the senator credit for returning to Utah to face the fallout.
"It took a lot of courage to do that in the wake of what happened," Wilson said. "Primarily because many of us here are disappointed with what happened yesterday and disagree, at least to some degree, with the decision that was made, but we appreciate him coming out and explaining his decision."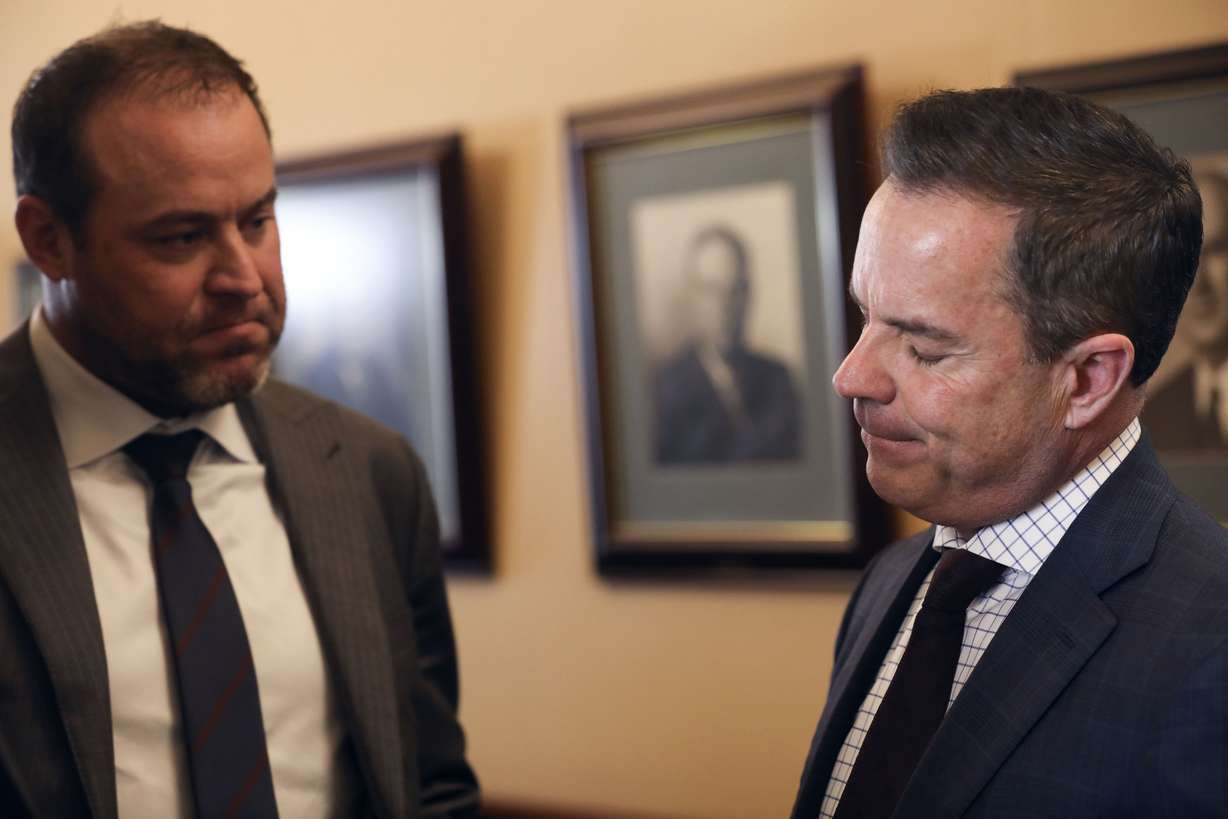 The speaker said the lawmakers in the meeting have a better understanding of Romney's reasoning for his vote to convict, but they still disagree with what he did.
Trump has done "tremendous things for the state of Utah and the country," Wilson said, and whether or not people agree with the president's actions, "there are a lot of things that President Trump and his administration have done to support this state, support state rights, and we appreciate his leadership."
Wilson told House Republicans in their caucus there's a range of "emotions" over Romney's actions, from "anger" to "understanding" to "still trying to understand." But what is certain is legislators "have to be mindful" of how Utah manages its relationships with the president.
"This is a tense time, right?" Wilson said, noting that "you cannot open" any national news website and not see a cover story on Romney and "some of the tension that's caused with the White House."
"But we have had and continue to have a great relationship with the White House," Wilson said. "Don't fret. We'll just keep managing this and we'll go from there."
Wilson opened a bill file Thursday for a joint resolution "paying tribute to President Trump for his support of Utah and Utah issues."
The resolution's text was not yet made public, but Wilson told reporters it's meant to "send a message to President Trump and his administration and how appreciative we are in the state of Utah for the great work his administration has done on behalf of the citizens of this state."
House Majority Leader Francis Gibson, R-Mapleton, told the Deseret News that the joint resolution has clear support in the House. Gibson said he's not sure whether Quinn's senator recall bill or Lyman's censure resolution has enough support to get through the House, though he noted there's been a surge of Utahns who are unhappy with Romney.
"Sen. Romney made his decision to vote the way he did," Gibson said. "There are some people in Utah that support it, and I think the majority of Utahns are frustrated."
But Sen. Don Ipson, R-St. George, questioned why any action needs to be taken by the Legislature over Romney's vote, citing what he called the "good working relationship" Romney has with the president.
"I for one wouldn't want to be judged, to be censured, for one vote that I make," Ipson told reporters during the Senate leadership's daily media availability, especially when Romney "makes 80% of his votes to support the president and not everyone would say that his vote doing that was wrong."
Ipson said he believes "it's important that we support the president and the policies and the good he's done for the state of Utah and we move on." Asked if that needed to be done in legislative resolution as the speaker is proposing, he said, "Why does it need to be?"
Senate Majority Leader Evan Vickers, R-Cedar City, told reporters that the bill allowing Utahns to recall a U.S. senator is "very, very clearly" unconstitutional but stressed the differences over the House legislation shouldn't be seen as a split between the House and Senate.
"We don't want it to become a divisive issue. We may have a little bit of a difference of opinion on approach, but this is not something that we need to dwell on," Vickers said.
×
Related stories
Most recent Politics stories