Estimated read time: 6-7 minutes
This archived news story is available only for your personal, non-commercial use. Information in the story may be outdated or superseded by additional information. Reading or replaying the story in its archived form does not constitute a republication of the story.
SALT LAKE CITY — On Tuesday, President Donald Trump took to the podium at the U.S. House of Representatives chamber and delivered an update on the status of the country.
The annual State of the Union took a few different turns this time around. At one point, conservative talk host Rush Limbaugh, who revealed yesterday he is battling cancer, was presented the Medal of Freedom. There was a scholarship revealed and a military reunion during the speech. There were also some awkward and tense moments between Trump and House Speaker Nancy Pelosi, and several Democratic lawmakers tweeted that they either avoided attending the speech or left during it.
For example, Rep. Tim Ryan, D-Ohio, tweeted he left because he "had enough."
"It's like watching professional wrestling. It's all fake," he tweeted.
There were plenty of issues brought up throughout the night. Looking at Trump's speech itself — and the Democratic response delivered by Michigan Gov. Gretchen Whitmer afterward — here were five takeaways from the evening:
The economy
Much like Utah Gov. Gary Herbert boasted in his State of the State address last week, President Trump used the platform Tuesday to tout the strength of the U.S. economy. Trump spared no time jumping to what he described as growing prosperity for all Americans, including women, persons of color, persons with disabilities and blue-collar workers.
"Our country is thriving and is highly respected again," Trump said. "The years of economic decay are over. … We are moving forward at a pace that was unimaginable just a short time ago, and we are never, ever going back. … The State of our Union is stronger than ever before."
Trump said 7 million new jobs have been created since he was elected. He added 7 million Americans have come off of food stamps and 10 million people have been lifted off of welfare after he has taken office.
Indeed, the country's unemployment rate and stock market figures are robust. According to the U.S. Bureau of Labor Statistics, the unemployment rate continues its decade-long gradual decline from 10% in October 2009 to 3.5% in December 2019. The Dow Jones Industrial Average closed Tuesday at 28,807 points. It reached a record 29,000 points last month — continuing its remarkable climb since the Great Recession during the late 2000s.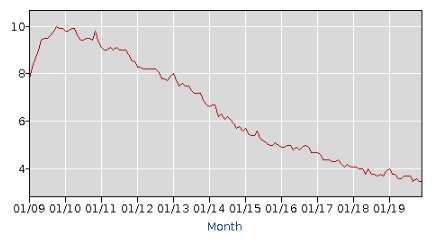 However, the Democratic response seemed to paint a bleaker snapshot for those who are struggling to make ends meet in the U.S. right now. The U.S. Census Bureau reported in September that the U.S. poverty rate was at 11.8% in 2018 — 3% lower than the figure five years ago. The agency still said that meant 38.1 million people were living in poverty in 2018.
"It doesn't matter what the president says about the stock market. What matters is that millions of people struggle to get by or don't have enough money at the end of the month after paying for transportation, student loans or prescription drugs," Whitmer said. "American workers are hurting. So when the president says the economy is strong, my question is, strong for whom? Strong for the wealthy who are reaping rewards from tax cuts they don't need? The American economy needs to be a different kind of strong."
Health care
Perhaps the most interesting portion of the entire speech centered around health care, particularly when Trump seemed to take a jab at "Medicare For All" plans proposed by more than 100 lawmakers, including a few Democratic presidential candidates.
"There are those who want to take away your healthcare, take away your doctor, and abolish private insurance entirely," he said, adding that those plans would wipe out "the private health insurance plans for 180 million Americans."
"To those watching at home tonight, I want you to know: We will never let socialism destroy American health care," Trump added. He also called to end allowing "provide unlimited free health care" to those living in the U.S. illegally.
It was clear that was a partisan point, leading to a mix of groans and cheers from the gallery. It was another topic addressed by Whitmer after Trump's speech was over.
Whitmer said she had to fight her mother's insurance company when her mother was once denied coverage for chemotherapy. She also referenced several cases across the country of people finding unique ways to pay for health care coverage, including a woman from Utah who sells art to pay for treatment of a rare genetic disorder.
In addition to poverty numbers, the U.S. Census Bureau found that nearly 27.5 million Americans, or about 8.5% of the country, were uninsured in 2018. The uninsured percentage fell below 10% for the first time in 2015 and has held relatively steady since, according to the agency.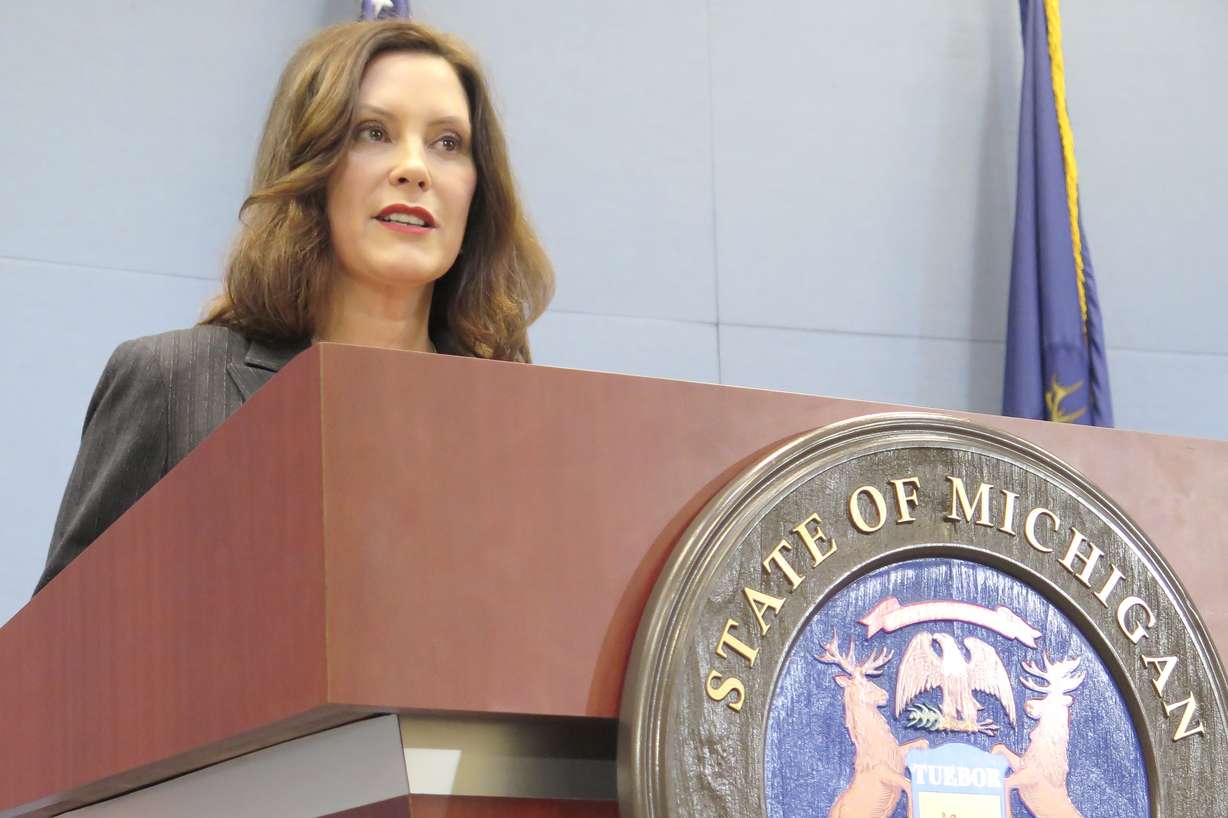 "It's pretty simple. Democrats are trying to make your health care better; Republicans in Washington are trying to take it away," Whitmer argued.
Conflict at the border
Trump referenced a few incidents of violence from people living in the U.S. illegally — also leading to mixed reactions in the room.
"In the last three years, (the U.S. Immigration and Customs Enforcement) has arrested over 5,000 wicked human traffickers — and I have signed nine pieces of legislation to stamp out the menace of human trafficking, domestically and around the globe," Trump said. "My administration has undertaken an unprecedented effort to secure the southern border of the United States."
Trump also asked Congress to pass the Justice for Victims of Sanctuary Cities Act, which is a piece of legislation proposed that would allow people to sue cities that limit their cooperation with the U.S. immigration laws if they are "injured or harmed by an alien who benefitted from a sanctuary policy." The bill hasn't appeared to have received much, if any, bipartisan support in Congress.
Related:
Conflict with Iran
In early January, the U.S. carried out an attack that killed Iranian Gen. Qassem Soleimani and others. At the time, it briefly sparked fears of a possible war between the two countries — a fear that quickly quieted down in recent weeks.
Trump justified the attack again Tuesday night. He talked about an Army staff sergeant killed by a roadside bomb in Iraq that Soleimani allegedly had plotted, as well as other recent attacks attributed to Soleimani.
"Our message to the terrorists is clear: You will never escape American justice," Trump said. "If you attack American citizens, you forfeit your life."
That said, Trump seemingly offered Iranian leaders an olive branch. He said U.S. sanctions have crippled Iran's economy, but he would be willing to help reverse it if Iranian leaders ask for help.
"We are here. Let's see which road they choose. It's totally up to them," he said.
The elephant in the room
Trump's speech mirrors a situation Americans last saw 21 years ago. Trump stood at the U.S. Capitol in front of the lawmakers expected to soon vote on his impeachment case. NPR pointed out that Clinton's 1999 speech came under similar circumstances. Clinton avoided addressing his impeachment case that night, and Trump did the same Tuesday.
×
Related stories
Most recent Politics stories