Estimated read time: 3-4 minutes
This archived news story is available only for your personal, non-commercial use. Information in the story may be outdated or superseded by additional information. Reading or replaying the story in its archived form does not constitute a republication of the story.
SALT LAKE CITY — Prior to Megan Marsden's retirement in 2019, the Utah gymnastics team added a highlight to its resume they hadn't done in the past: Utah was able to sign P&G National All-Around Champion Maile O'Keefe to its roster for the 2020 season.
O'Keefe, a native of Las Vegas, Nevada, has been participating in gymnastics since she was 8 years old. Her passion for the sport began when she walked into the gym, where she said she felt right at home off the bat.
That passion for gymnastics led her to qualify as an International Elite in 2013. Her resume includes a bronze medal in the 2018 American Cup, a gold medal for Team USA in the 2017 Gymnix International, and a Team USA gold medal at the City of Jesolo Trophy in Italy where she also took home two silver and two bronze medals.
O'Keefe also took part in the 2017 Junior Japan meet where she won the all-around and beam while finishing second on vault, bars and floor.
One of O'Keefe's biggest accomplishments came as a member of the United States National Team in 2016 and 2017. It was here where she took home five individual titles in the junior division, including the all-around gold medal both years.
"Winning my first P&G championship title was hard but an amazing opportunity and I'm so glad I did it." O'Keefe said. "Being on this team as the first P&G champion doesn't really change a whole lot because the other girls work equally as hard and we're all driven toward the same goal of being national champions."
O'Keefe was one of the most highly-touted recruits coming out of high school, and had offers from all around the country, including schools like Oklahoma, Florida, LSU and UCLA. She ultimately chose to come to Utah because of the academics, as well as the opportunity to perform in front of a large gymnastics fan base.
"Being a part of a national powerhouse like Utah is an amazing feeling," O'Keefe said. "Getting to be here with world class coaches is really a great opportunity and I'm so grateful to be here."
Her time at the University of Utah has already been filled with great performances, while locking down the Pac-12 freshman of the week after having career nights against Arizona State and Arizona.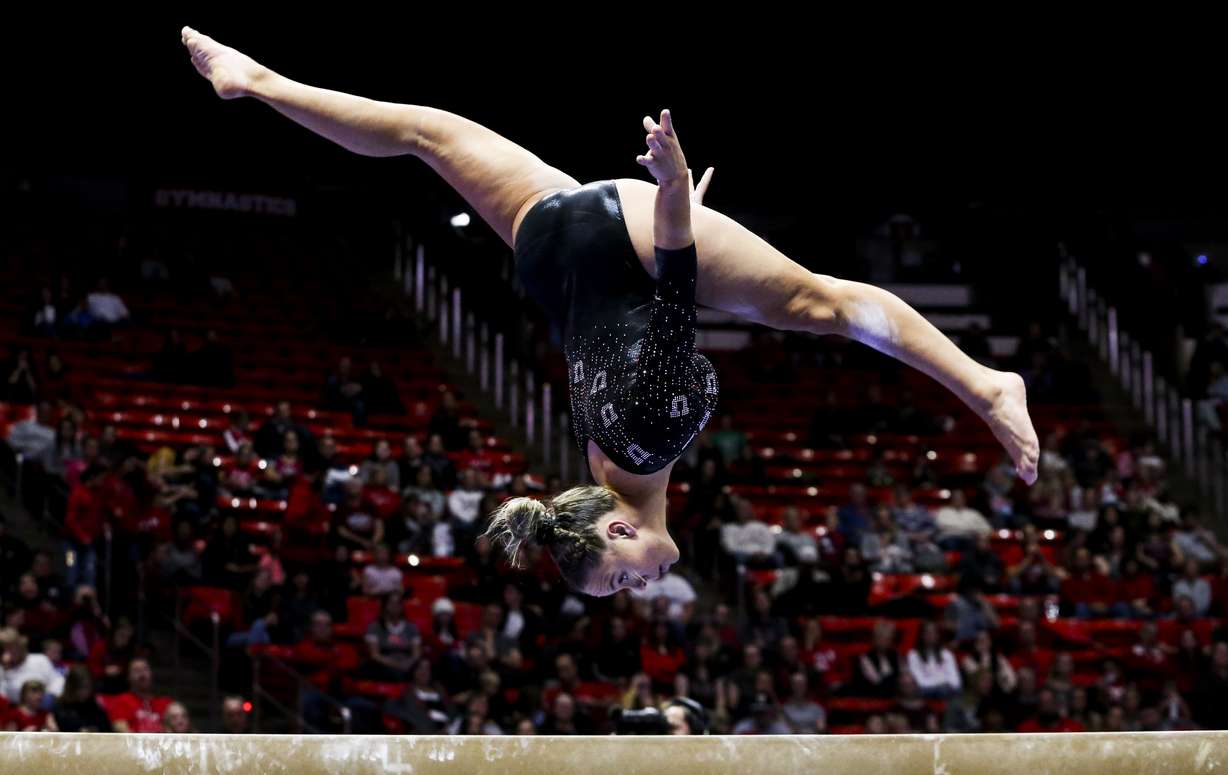 During the meet against the Sun Devils, O'Keefe scored a 9.80 on vault, a 9.775 on bars and beam, and topped it all off with a 9.875 on floor. She claimed the all-around victory with a total score of 39.225. Against the Wildcats, O'Keefe scored a 9.800 on vault and bars, a 9.825 on floor, and a 9.9 on beam. She won another all-around with a score totaling 39.325.
Utah has had many great gymnasts come through the program, like MyKayla Skinner, Georgia Dabritz, Ashley Postell, Missy Marlowe and Kristina Baskett — all have become legends in the eyes of Red Rocks fans.
Will O'Keefe be the next Red Rocks legend on this list? Only time will tell. Ute fans could be witnessing something special for the next four years.
And to all the future gymnasts, O'Keefe offers one piece of advice. "Keep calm, relax, trust in the process, and work hard. Don't ever stop working hard."
×
Most recent Utah Utes stories