Estimated read time: 5-6 minutes
This archived news story is available only for your personal, non-commercial use. Information in the story may be outdated or superseded by additional information. Reading or replaying the story in its archived form does not constitute a republication of the story.
PROVO — No one could guard Saint Mary's forward Malik Fitts.
The redshirt junior forward had a game-high 29 points, eight rebounds and an assist in the Gaels' trip to the Marriott Center, a pivotal West Coast Conference clash with BYU.
But what he really needed was a sixth foul.
TJ Haws scored 23 points, including the game-winner with seven seconds remaining to lift BYU to arguably its biggest win of the year, beating conference rival Saint Mary's 81-79 in the Marriott Center on Saturday night.
And yet, it's not even the biggest moment of the BYU senior's weekend.
"I've got a big day tomorrow. We're headed to the hospital tonight," said Haws, whose wife Lauren will be induced to give birth to their first child, a son named Tyson, overnight. "It's been a full day of emotions, to say the least.
"But I'm super excited, and happy we came out with the win. Now I'm going to go out and have one of the coolest experiences of my life."
Yoeli Childs had 19 points and three rebounds for the Cougars, who got 9 points from Dalton Nixon and 8 points apiece from Jake Toolson and Alex Barcello.
Jordan Ford added 18 points and four assists for Saint Mary's, but his game-tying attempt just before the buzzer was tipped by Zac Seljaas, who collected one of his seven rebounds to clinch the victory. Freshman Alex Ducas scored 9 of his 11 points down the stretch run for Saint Mary's.
None of them will compare with Haws' accomplishment in a matter of hours, the one taking place far from basketball standards and nets and Marriott Center courts.
But what a way to end a child-free life. As he prepares for bottles, dirty diapers and sleepless late nights, Haws just handed his BYU team what it needed most: a win over a top-35 team at home in front of arguably the loudest, most frenzied, sober crowd in college basketball.
"Come on man, you can't make this stuff up," Childs said. "It's just absolutely amazing. But the fact that this dude is having a kid? That's the best thing ever. I can't imagine the emotions he's feeling, the stress he's having, on the court, off the court. That's just the type of dude he is. He's one of the toughest dudes out there.
"To push that aside and fight for his team, to lock in for 40 minutes, is unbelievable. And he did it all night."
BYU coach Mark Pope was positively ebullient as he bounded into the postgame interview room with arguably the biggest win of his first season with the Cougars.
"I just feel so happy for these guys," Pope said. "They have been fighting for this for a long time, wanting it.
"The standard here is so high; they've won a lot of games here, but they've been frustrated in being able to get to where they want to go, at the end of the day. I was so excited about the building tonight … I was happy for everybody that came, because genuinely they get to see these young men who were fighting with every bit of their heart and guts. You can't walk out of the building and not be inspired."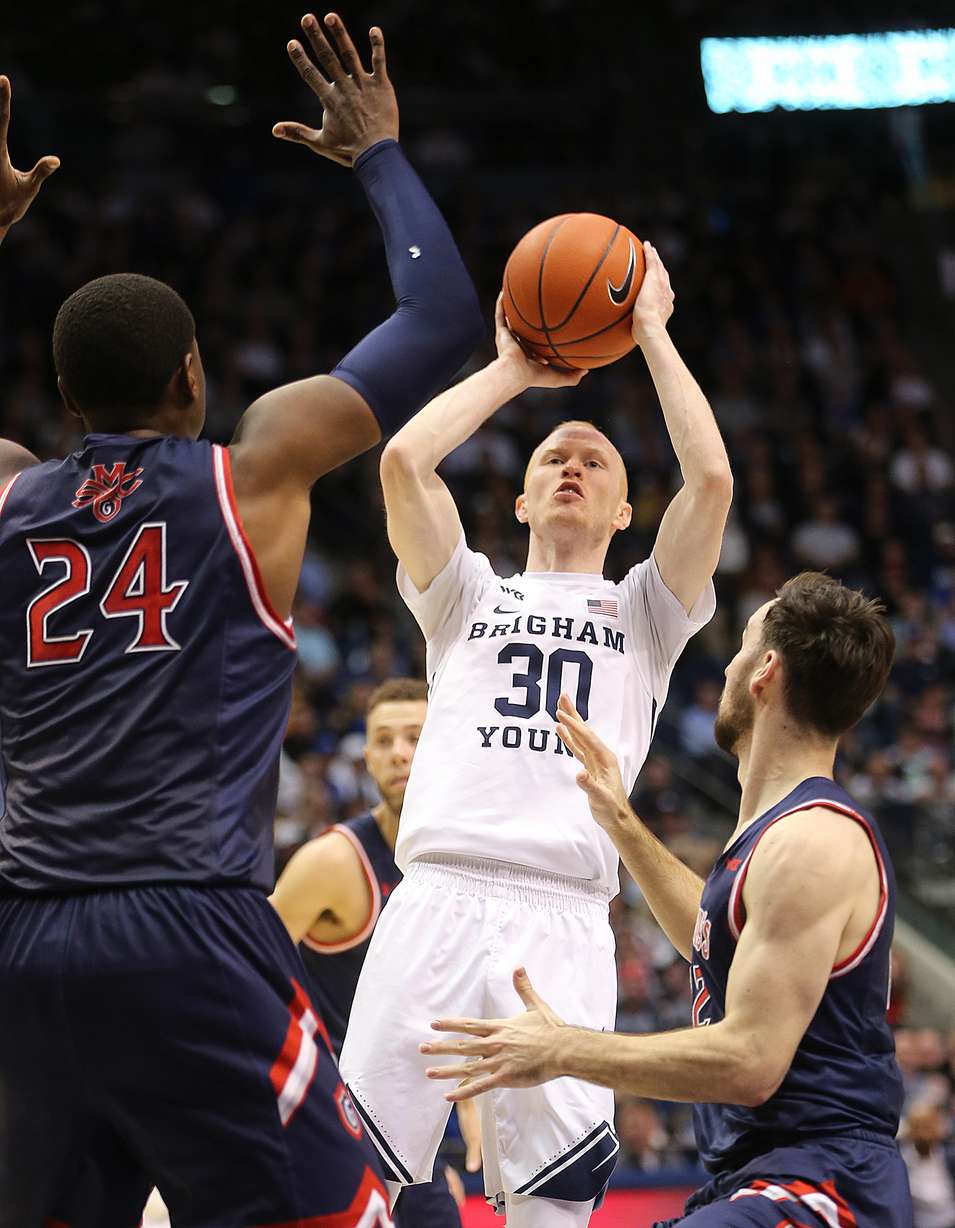 Fitts went to the bench with his fourth foul after back-to-back whistles, a reach against Connor Harding and another drawn by Toolson as BYU tied the game at 69-69 with a 7-0 run with 6:19 to go.
The Saint Mary's forward could only sit for a few seconds — he was simply that important to coach Randy Bennett and the Gaels. Fitts drew his fifth foul with 4:36 remaining, sitting permanently with 29 points, eight rebounds and an assist — and the Saint Mary's lead down to one, 70-69.
Haws hit a pair of free throws — the Cougars' first charity assists of the game — to give BYU a 1-point lead, and neither side led by more than a possession until Ducas' 3-pointer with 1:31 on the clock.
Seljaas' hit a pair of free throws with 49 seconds left to pull BYU back within 79-78. The senior then grabbed a critical rebound on the other end, and BYU had 16 seconds for the final shot.
Plenty of time for Haws.
With one shot to get it right, but wanting to leave time on the clock in case they needed to foul on the rebound, Haws passed to Seljaas, who handed off to Toolson as the clock drained down. The UVU transfer immediately dished it back to Haws, as if to say, "This one's yours, soon-to-be-father."
The former Lone Peak star rolled around Toolson, cruised around the side of a high-post screen set by Childs, and unleashed a high-arcing 15-footer that took over a second to splash through the bottom of the net.
"I'm so excited to greet this child, because this child in the womb has witnessed some pretty fun things," Pope said. "He's going to be ready to go."
Even though the Cougars still had one final possession to defend a late attempt at a game-winner — by Ford, it turned out — the standing-room-only crowd knew what was coming. Chants of "T-J! T-J! T-J!" rained down on the redheaded Alpine product, the son of former BYU star Marty Haws.
In a few hours, Haws will be a father. Lauren Haws will be a mother. Nothing up to this point will equal the joy of welcoming their firstborn son into the world.
But what a moment to top in Provo.
"It's just so fun, when it's a battle all night," Haws said. "They made tough shots all night, things went our way for a bit, and things went their way for a while.
"We just battled. But games like that, when it's a team win, are so much fun to be apart of."
Next up
BYU hits the road next week to play at Portland next Thursday, Feb. 6, at Portland. Tipoff is scheduled for 8 p.m. MST on Stadium.
×
Related stories
Most recent BYU Cougars stories