Estimated read time: 6-7 minutes
This archived news story is available only for your personal, non-commercial use. Information in the story may be outdated or superseded by additional information. Reading or replaying the story in its archived form does not constitute a republication of the story.
SALT LAKE CITY — After an emotional debate Friday, a Utah Senate committee voted 4-2 to advance a bill that would require aborted and miscarried fetal remains to be buried or cremated.
"Today, when a woman has a miscarriage or an abortion, those remains are treated as medical waste and thrown out as so much refuse," sponsor of SB67 Sen. Curt Bramble, R-Provo, said Friday.
The bill would require hospitals or clinics to either cremate or bury the remains, and to offer mothers the ability to decide how they'd like the remains disposed of by checking a box on a form that provides them information about their choices. If the mother doesn't wish to decide, Bramble said she can leave the box blank, and the decision will be left up to the facility.
The bill would not apply to women who miscarry at home.
As he explained the bill, Bramble lambasted a KUTV news report that he said was incorrect in describing the bill as requiring women themselves to provide for the disposal of remains.
"Every once in a while, you get a bill that gets misunderstood and things go viral," Bramble said.
Some proponents of the bill who spoke out during Friday's meeting said the bill would've saved them from pain when they miscarried.
Meanwhile, critics said they opposed potentially increasing a woman's trauma by making her think of the fetuses' disposal in an already difficult circumstance.
Sen. Jani Iwamoto, D-Holladay, said that during her own miscarriage, she would've been "traumatized with a piece of paper" and would've "been asking what are we burying," as she said she miscarried early in her pregnancy.
Alicia Alba, of Utah County, told the Health and Human Services Committee that in 2014 she lost a baby to miscarriage at 10 weeks. At her doctor's office, Alba delivered a "tiny and perfectly-formed baby into the palm of my hand," she recalled.
"There is no denying the humanity of the unborn after you've seen them face to face," Alba said.
There were no protocols in place at the hospital for handling situations like hers, according to Alba. She said she "was haunted by the realization that my baby had likely been disposed of as medical waste. My baby had likely been thrown away."
It took Alba years to heal, she said, adding that the bill "strikes the perfect balance" by giving mothers the opportunity to decide what happens to their miscarried fetuses.
Likewise, Nicholeen Peck, president of Worldwide Organization for Women, said when she had multiple miscarriages, no one gave her options to dispose of the remains.
"This is a human need," she said. "This is a women's rights issue, it's a women's health issue, and we need to respect that. It doesn't hurt anyone to give them the option. It only helps if they can choose."
Sen. Luz Escamilla, D-Salt Lake City, questioned whether information regarding disposal choices can be given by families' request, rather than by giving the options to everyone to whom it might cause trauma.
"How would a woman know she has a choice if there's not some communication?" Bramble countered.
Liz Miller, of Salt Lake County, became emotional as she recalled having two miscarriages. One of them required surgical removal of the fetus and contents, Miller said.
"I cannot fathom the enormous insult to an already unbearable trauma by forcing a discussion" about disposal, Miller said.
Though Miller thanked Bramble for trying to help women struggling with a loss of their unborn child, she said "women and their loved ones should not have to choose to bury or cremate fetal remains under any circumstances."
Bramble also discussed the bill on Thursday during a tense House Democrats caucus meeting by invitation from Rep. Brian King, D-Salt Lake City. During the meeting, other lawmakers grilled Bramble on whether mothers would be required to pay for the burials or cremations, or if hospitals and clinics would carry that cost.
Bramble said the bill as written "imposes no requirements on the woman," but does not clarify whether or not clinics could pass the cost onto women's bills.
According to the proposed bill, a woman is only responsible for the cost of burying or cremating the remains if she chooses to do so at a location different than the one used by the hospital or clinic.
If the woman does choose how the fetus will be disposed of, a record of it will go into her medical history, Bramble said.
The bill wouldn't require a woman to find out how a medical facility disposes of the remains, he said.
"On a woman's side of the equation, it gives her one more choice. It gives her the choice to do nothing, or it gives her the choice to say 'I'd like to have the remains, whether it's from abortion or miscarriage, I'd like to have these remains treated with dignity,'" Bramble said on Thursday.
Rep. Jen Dailey-Provost, D-Salt Lake City, pushed back and said that cost is related to accessibility, and law dictates a woman have access to an abortion.
During Friday's meeting, Bramble introduced a replacement bill that would allow a facility up to 120 days to accumulate multiple remains to be disposed of at one time to save money, as opposed to 10 days in the original bill.
Mary Taylor, president of Pro-Life Utah, who presented the bill with Bramble, said simultaneous cremation would alleviate the cost concern. She said calculations show it would cost $1.80 to cremate each fetus simultaneously with others.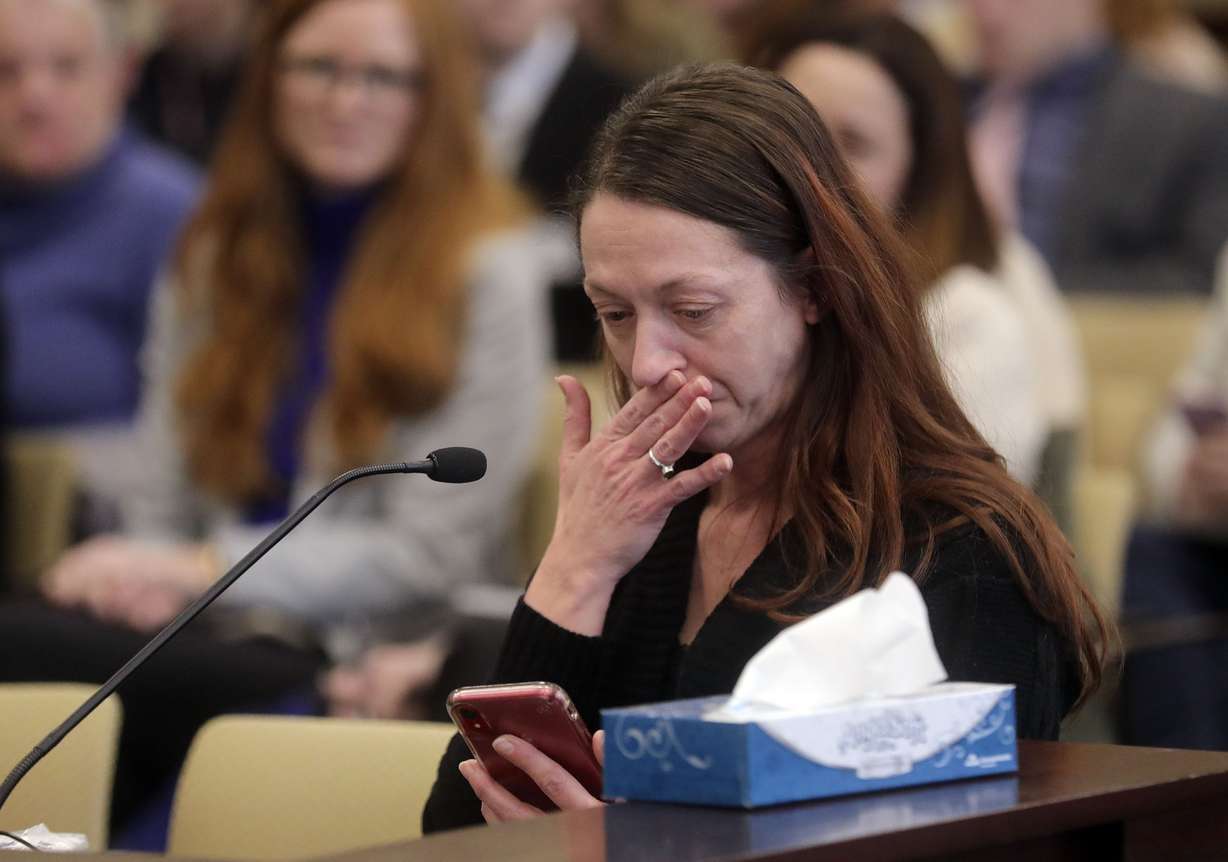 "I think it's easy for everybody to understand why this is important to offer to a woman who's had a miscarriage," Taylor said. But in Pro-Life Utah's post-abortive support group, she says one of the biggest traumas for those women is "dealing with the knowledge of what happened to their baby."
Even if a woman decides to let the facility decide how to dispose of the remains, they receive more dignity knowing they were not treated as medical waste, according to Taylor.
The replacement bill also addresses a concern members of the Utah Medical Association expressed about pathology, according to Bramble. Some doctors were concerned that, after pathology is performed on miscarried fetuses, there might not be enough remaining tissue, Bramble said. The replacement bill only addresses remains that exist after pathology takes place.
Katie Matheson, spokeswoman for Alliance for a Better Utah, said during Friday's meeting, "We are concerned about the impacts of this bill, and we are concerned it would have an impact on the women who lose the pregnancy and the health providers."
Matheson recalled miscarrying during her first pregnancy on one Valentine's Day. She said had SB67 been law at the time, it would've added a burden and "compounded the trauma for me."
The group supports those who want to choose how to dispose of fetal remains, but are concerned about the bill interfering with doctor-patient relationships, Matheson said.
A similar bill in Indiana was upheld last May by the U.S. Supreme Court, the Associated Press reported.
Contributing: Sahalie Donaldson
×
Photos
Most recent Utah stories