SALT LAKE CITY — Ogden isn't just one of the 10 best places for a child to grow up; children growing in Utah's three main metropolitan areas are more likely to thrive than children growing up in the average U.S. city, according to a study released by a Massachusetts university this month.
The January 2020 study compiled by Brandeis University researchers analyzed data for 72,000 neighborhoods within the 100 largest metropolitan areas in the U.S. Taking into account 29 total "common conditions" analyzed within those neighborhoods, such as high school graduation rates, housing vacancy rates, air pollution levels and employment rates, researchers assessed the metropolitan areas using something they called a "child opportunity score."
The Ogden-Clearfield (75 points), Provo-Orem (74) and Salt Lake City (72) metropolitan areas all had child opportunity index scores 17-20 points above the national average, according to the paper. The national average was 55 points. Ogden tied San Francisco for the ninth-highest index score in the country. Madison, Wisconsin, led all cities with a score of 83. Bakersfield, California, rated at the bottom nationally at 20 points.
Why do these scores matter?
The data released in the report are from an updated model university researchers released in 2014. They say scores seem to be associated with life expectancy and economic mobility later in life, researchers wrote in the report. Those who grew up in "low-opportunity" neighborhoods are likely to make less money and die earlier than those in "high-opportunity" neighborhoods, according to the research paper.
The report also says neighborhoods play an impact in a child's:
Health and development
Education
Understanding of norms and expectations for the future
Future outcomes
The study also noted interesting tendencies within its data. For example, it found some regional patterns within cities with high and low scores. Cities in the plains states and New England tended to have better scores than cities in southern states.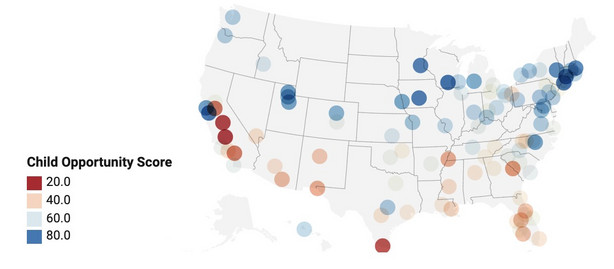 However, researchers said they also found that children's race and ethnicity factored into scores in a troubling way. The study found black children were nearly eight times more likely to live in a "very low-opportunity" neighborhood than white children and Hispanic children were 5.3 times more likely. The divide showed up on child opportunity scores.
"Across the 100 largest metros, white children live in neighborhoods with a child opportunity score of 73 compared to a score of 33 for Hispanic children and 24 for black children," the report stated.
What makes Utah a good place for children to thrive?
Ali Crandall, assistant professor in BYU's College of Life Sciences, didn't participate in crafting this particular study; however, she has published research related to how an environment affects children's life outcomes.
Positive things, such as children having close relationships with parents, having good friends and neighbors, as well as other positive adult role models and good structures and routines, tend to help foster good outcomes. Advestities, such as an environment of trauma, abuse, mental illness, drug abuse and incarceration, tend to lead to poorer physical and mental health well-being.
"What we do know, environmentally, there's a lot of things about your social environment and your structural environment that are really important," she said. "One thing we know is communities of poverty tend to have more adversities. Because of the stress that they're experiencing, they often have less advantageous or less positive childhood experiences."
Child opportunity index scores from the Brandeis University study nearly mirrors social capital data released by the United States Congress Joint Economic Committee last year. Social capital is defined as a network of relationships among people who live and work in a society, so that the society functions effectively.
The committee's map showed plains and New England states have strong social capital, while southern states — for the most part — had some of the weakest capital, much like the Brandeis study reported with child opportunity scores. Utah was rated as having the highest social capital in the country. Wisconsin, which houses the city with the best child opportunity index score, had the third-highest social capital of the 50 states and the District of Columbia.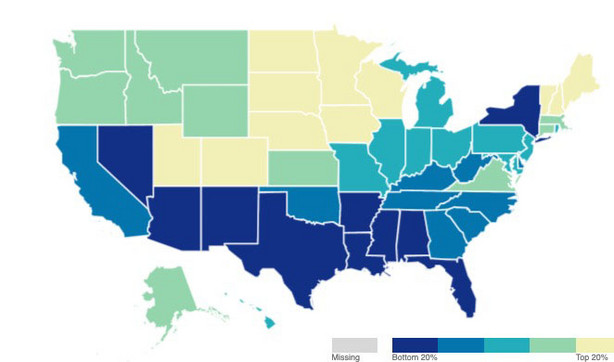 Utah scored particularly high on family and social-related issues. It was rated as the top state in family unity, social support and philanthropic health. It was also rated in the top 10 for family interaction, collective efficacy and community health. All of those things tie into Crandall's research.
Healthy families and communities usually lead to better development in the prefrontal cortex of the human brain, she said. That's a part of the brain that takes longer to develop and matures when a human reaches their mid-to-late 20s.
"That part of the brain is really important — it houses what we call the executive functions. Those help us with decision making and planning, self-control and paying attention. Anything that helps us reach goals is in that thinking, more logical part of the brain," Crandall said. "What's happening in your environment as you grow up, really affects the development of that part of the brain, along with other developmental aspects of life. If there's a lot of family dysfunction, then that can impair brain development — or a lot of stress and strife in the community, and so on."
Even in areas where there are a lot of adversities in a community, healthy family relationships or healthy adult role models can help provide children with better outcomes.
"If we surround a child with enough positive things, then that can buffer the negative effects and lead to some successful outcomes," she added. "We can all be a positive influence and it can have a profound effect. … If we keep hopeful and bring in good things, it can make a world of difference. That's the road to change."
×
Photos