Estimated read time: 5-6 minutes
This archived news story is available only for your personal, non-commercial use. Information in the story may be outdated or superseded by additional information. Reading or replaying the story in its archived form does not constitute a republication of the story.
SALT LAKE CITY — Eric Mika's first glimpse of the Wasatch Mountains when he flew in to Salt Lake International Airport was special.
The former Lone Peak High and BYU star was in town on a business trip, with the Stockton Kings for Friday night's NBA G League contest with the SLC Stars. But Mika found some time to mix pleasure with business, spending Thursday night with his wife, Gabrielle, who is in town on an internship.
They saw his parents in Alpine, spent some time with her parents in Highland, and even planned out a trip to Walmart. That last part doesn't seem important — but after five weeks playing in China, even the Walmart back home feels a little extra special.
"I can't complain about being back in the states, and living in Sacramento is awesome," Mika told KSL.com. "We bus to the games in Stockton, and we've got a great following out there. They love basketball.
"The staff has been awesome, the Kings and also the Stockton Kings. I'm happy to be here; when I came back from China, I was happy to be able to come back here."
On a weekend when many of Mika's former teammates at BYU were in Stockton for a 74-60 win over Pacific, the 6-foot-10, 230-pound big man was back in his home state with the Kings.
Of course, business superseded pleasure on this trip, even in the Kings' 114-110 overtime loss Friday to the Stars at Vivint Arena. Mika had 24 points, 16 rebounds and two blocks in the road setback, again leading the Kings (15-12) in rebounding and proving a resilient inside presence that made him a fan favorite several years ago in Provo.
Fellow BYU alum Kyle Collinsworth had 12 points, six assists and four rebounds for the Stars (20-7), and Justin Wright-Foreman's game-high 30 points helped the Stars stay atop the Western Conference with the win.
Regardless of the result, it was good to be home for the one-time Waterford product.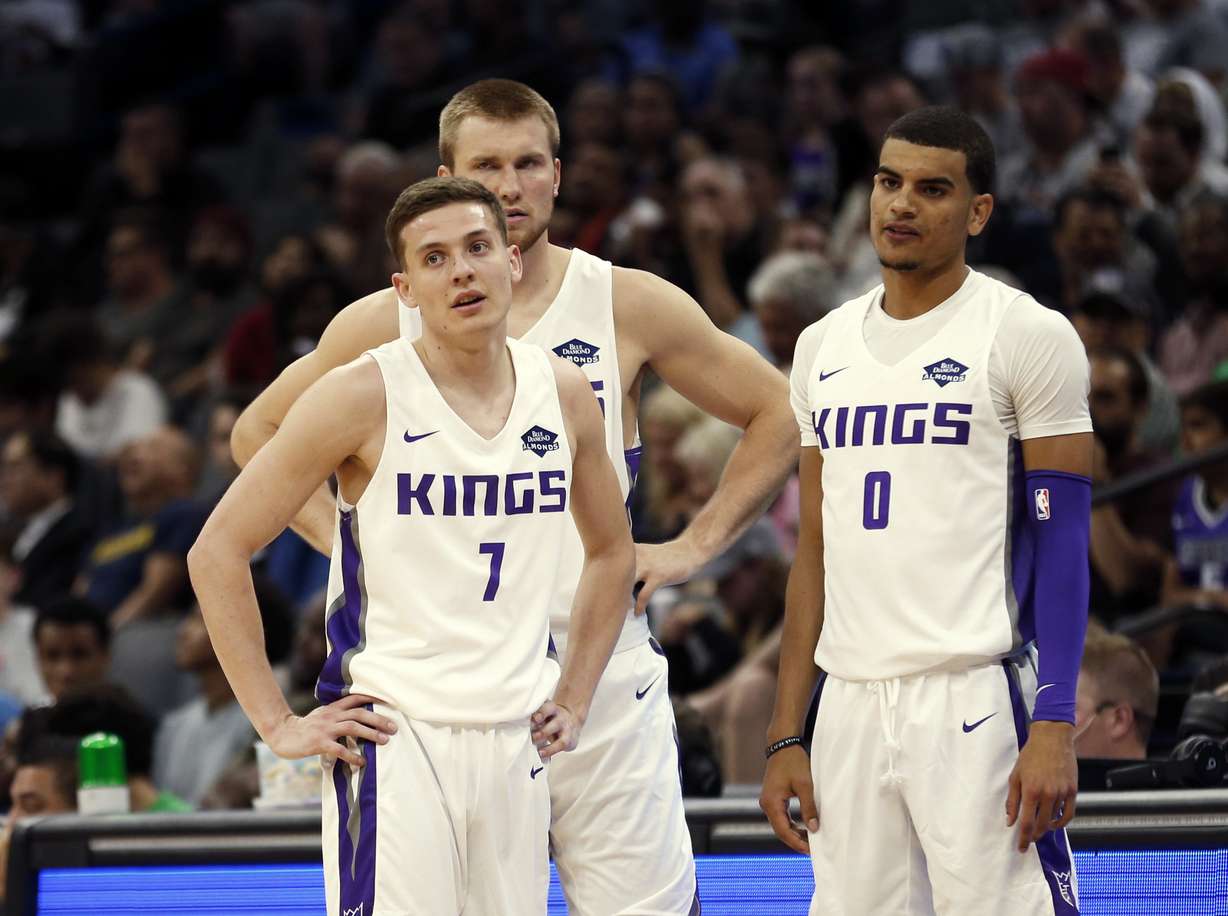 "It's definitely surreal," Mika said. "Of all my friends and family coming, the majority of them haven't seen me play live since I was at BYU. It's been a couple of years; it's not exactly easy to watch games in Europe.
"This is exciting, to see them and to play in front of them — to show what I've done the past couple of years, and what I've developed."
Mika's career has spanned the globe since he left BYU after two seasons of college basketball in 2017. A West Coast Conference all-freshman honoree in 2014, Mika returned following a two-year mission in Rome for The Church of Jesus Christ of Latter-day Saints and averaged a double-double en route to all-WCC first-team honors in 2016-17.
Then, with optimism surrounding what he could do with two more years, he declared for the NBA draft. Mika went undrafted in 2017, joined the Miami Heat's summer league team, and wound up back in Italy to play for Consultinvest Pesaro. He signed with Basket Brescia Leonessa in the first division a year later, moved to Germany with Medi Bayreuth in 2019, and returned home to a contract with the Sacramento Kings on Aug. 20, 2019.
Most recently, the 25-year-old post spent seven games in the Chinese Basketball Association, averaging 19.9 points on 56% shooting, 11.7 rebounds and 1.6 assists for the Xinjiang Guanghui Flying Tigers before returning stateside Jan. 8.
Perhaps Mika could've loved to stay longer, but an ACL injury to one of the Tigers' wing players necessitated a midseason roster overhaul that made an imported post expendable. Fortunately, he returned to an organization and a community he's grown to love since signing an Exhibit 10 contract with the Kings, guaranteeing himself a spot in training camp and a one-year guarantee in Stockton at an NBA minimum salary.
Without the new deal under the NBA's most recent collective bargaining agreement, the Kings likely wouldn't have been able to afford the third-year pro. And he's still on Sacramento's radar; the Stockton group trains in Sacramento while busing to Stockton for games, and two-way pros Kyle Guy and DaQuan Jeffries have been regular call-ups for the NBA's Kings during a 15-29 season.
And while the chance to earn a lucrative contract was worth taking five weeks off his G League career, Mika could be even better.
"First of all, he made the right decision to try China out," Stockton head coach Tyrone Ellis said. "It was a good opportunity for him and his family. But I also believe he took some steps backwards; I think if he would have been with us through the G League Showcase, he would have been a two-way or NBA-type guy by now — even better than he is.
"Professionally, he's awesome. He's an absolute pleasure to coach. He's very professional, he works hard, he's very coachable. And, you know, I'm looking forward to somebody signing him."
Prior to his Chinese excursion, Mika averaged 19.7 points and 16.5 rebounds in six games with the Kings' G League affiliate. He's stepped right back in the rotation, too, leading Stockton with 14.0 rebounds per game in a group of former collegiate stars — Kentucky's Randy Onwuasor, Murray State's Isaiah Canaan and Virginia's Guy, who Mika called "one of the best shooters I've ever played with" and a two-way player who has seen plenty of time with Sacramento.
There's a bit of a shock when players like Guy are called up; no one wants to lose a teammate, at any level. But it's also the ultimate goal of every player in the G League: to find their way back to the Association. Mika is no different.
If Mika keeps up his current pace, his coach believes that won't be too far off.
"He has to be the best rebounder in the league. He has to be the hardest worker in this league," Ellis said. "And now, offensively, we can give him a couple of moves and simple actions that can give you the shots that you want.
"He's awesome. Just awesome."
×
Related stories
Most recent BYU Cougars stories