Estimated read time: 4-5 minutes
This archived news story is available only for your personal, non-commercial use. Information in the story may be outdated or superseded by additional information. Reading or replaying the story in its archived form does not constitute a republication of the story.
SALT LAKE CITY — A Hogle Zoo spokeswoman blasted an international animal protection group after it ranked the zoo No. 8 on its list of "10 worst zoos for elephants" on Thursday.
"I don't even know if they've been to our zoo, frankly. They've never made their presence known, but they leveled some accusations that are completely unfounded and we completely disagree with all of it," Hogle Zoo spokeswoman Erica Hansen said on KSL NewsRadio's "Live Mic with Lee Lonsberry."
Hansen appeared on the radio program Thursday afternoon after officials from In Defense of Animals, an animal protection group based in California, said they placed the Salt Lake City zoo on its list for the first time since the group began in 2004.
The organization says the list is created by looking at "health problems, lack of space, unsuitable enclosures, cold climates, unhealthy elephant behaviors, social issues between elephants, solitary elephants, reckless breeding, premature deaths, brutal management procedures and inappropriate social challenges ranging from incompatibility between elephants to naturally social elephants being kept in crushing solitary confinement" at North American zoos.
In Defense of Animals states that in-person documentation, review of various files, and reviewing images and data go into making its assessment.
Hogle Zoo currently has two African elephants in its possession. Christie was born in 1986 and has resided at Hogle Zoo since 1988. In 2009, she gave birth to Zuri, who has remained at the zoo ever since. In 2015, the zoo had an elephant named Dari that died at the age of 55.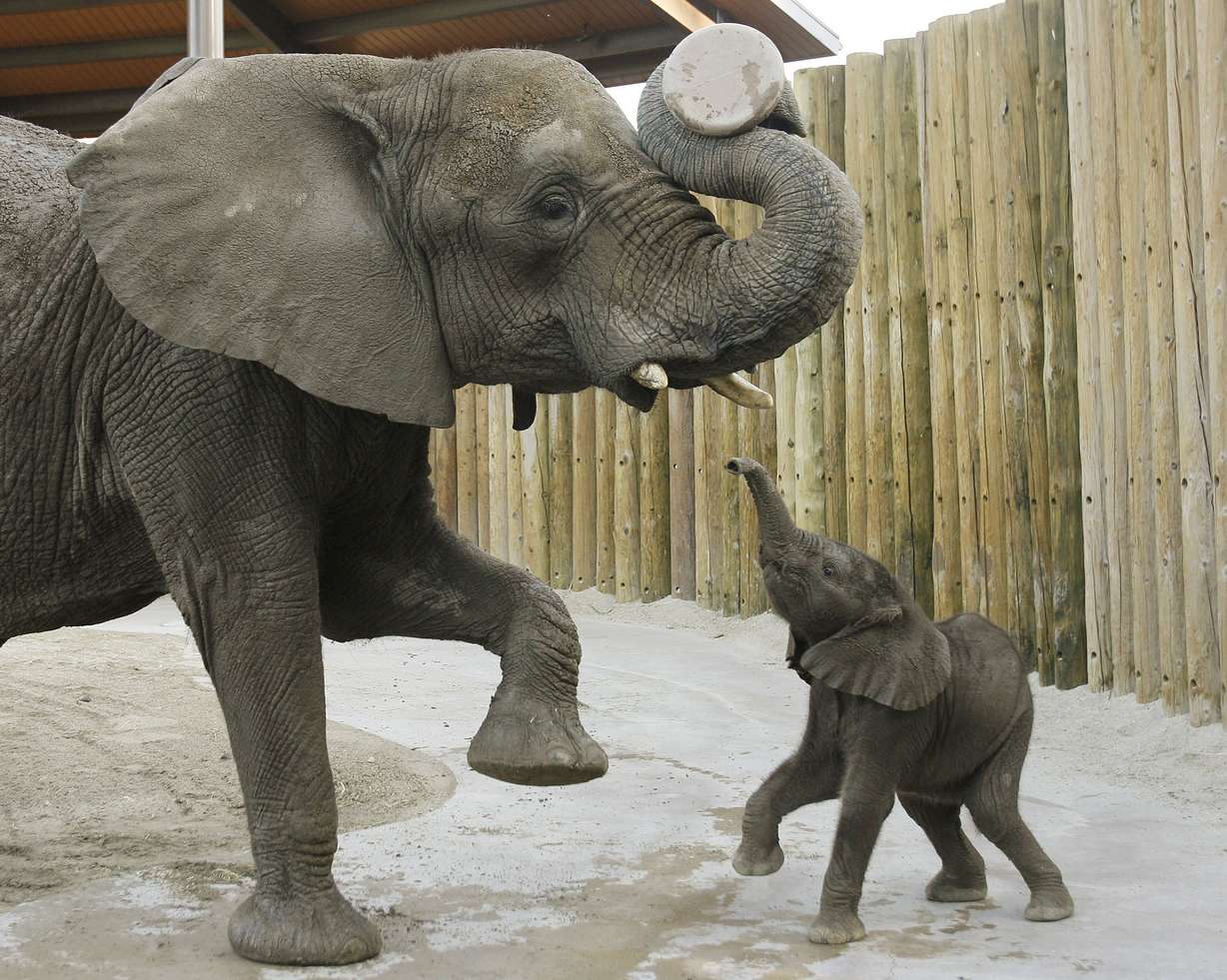 So why did Hogle Zoo make the organization's list?
According to In Defense of Animals, Hogle Zoo doesn't currently have three elephants, which is required by the Association of Zoos and Aquariums.
"For elephants, living without a herd is the definition of loneliness and an empty life. Young Zuri has never had another calf to play with, nor a group of related females to help nurture her and teach her about what it means to be an elephant," the group stated.
The organization also complained that the elephants live at a high elevation and where temperatures are relatively cold five months of the year.
"Holding elephants in small, unnatural groupings is one of the worst cruelties imaginable for this social species. Living without a herd is the definition of loneliness and an empty life. This is what Hogle Zoo forces Christie and her 10-year-old calf Zuri to endure," Fleur Dawes, communication director for In Defense of Animals said in a prepared statement Thursday.
However, Hansen contends Hogle Zoo's elephants are fine and doing well, and the group never met with the zoo about their complaints. She said she would have given them a tour of the enclosure and had them meet with its keepers and veterinary staff.
Hansen added the zoo remains in good standing with the Association of Zoos and Aquariums, and that the zoo is also currently working on getting a third elephant at its exhibit, which she said is a tedious process.
"You can't just go to a pet store and get an elephant," she said. "We work through the Association of Zoos and Aquariums species survival plan to find elephants that are available at accredited zoos to find the right match for our girl, so that is something we are working on."
---
You can't just go to a pet store and get an elephant.
–Hogle Zoo spokeswoman Erica Hansen
---
A timetable for that to be completed is unknown.
Pittsburgh Zoo in Pennsylvania was rated the worst zoo on In Defense of Animals' latest list. Zoo Miami (Miami, Florida), Bronx Zoo (New York City), Oregon Zoo (Portland, Oregon) and Louisville Zoo (Louisville, Kentucky) rounded out the organization's top five. The group also stated it would likely include Hogle Zoo in future lists if nothing is changed.
In the meantime, Hansen said Christie and Zuri are "in great hands" with the Hogle Zoo staff.
"We have a long history with elephants," she said. "They're adored by not just our community, but of course our keepers and veterinary staff."
Contributing: Lee Lonsberry, KSL NewsRadio
×
Photos
Most recent Utah stories