Estimated read time: 4-5 minutes
This archived news story is available only for your personal, non-commercial use. Information in the story may be outdated or superseded by additional information. Reading or replaying the story in its archived form does not constitute a republication of the story.
HONOLULU — Members of a family originally from Utah are trying to put their lives back together after losing all of their belongings in a fire that erupted from a chaotic crime scene.
Their Hawaiian home was one of several that went up in flames after a neighbor allegedly stabbed his landlord, killed two police officers and possibly set fire to his home.
Authorities and neighbors said Jaroslav "Jerry" Hanel had a history of run-ins with police and neighbors and was facing eviction when he stabbed his landlord and killed two officers before the house he and two women were believed to be in, caught fire Sunday afternoon.
Chief Susan Ballard with the Honolulu Police Department said police found a woman who had been stabbed in the leg and Hanel opened fire, killing officers Tiffany Enriquez and Kaulike Kalama.
Police suspected Hanel and two women were inside the house when it caught fire, and Ballard said it could take days to process evidence and recover any remains.
Court records said homeowner Lois Cain had recently sought to evict Hanel. A neighbor told The Associated Press she saw Cain being loaded into an ambulance with knife wounds.
That eruption of violence and fire became national news, as the community mourned two slain police officers. Meanwhile, friends were rallying to support the family, formerly from Utah, who lost everything in the fire.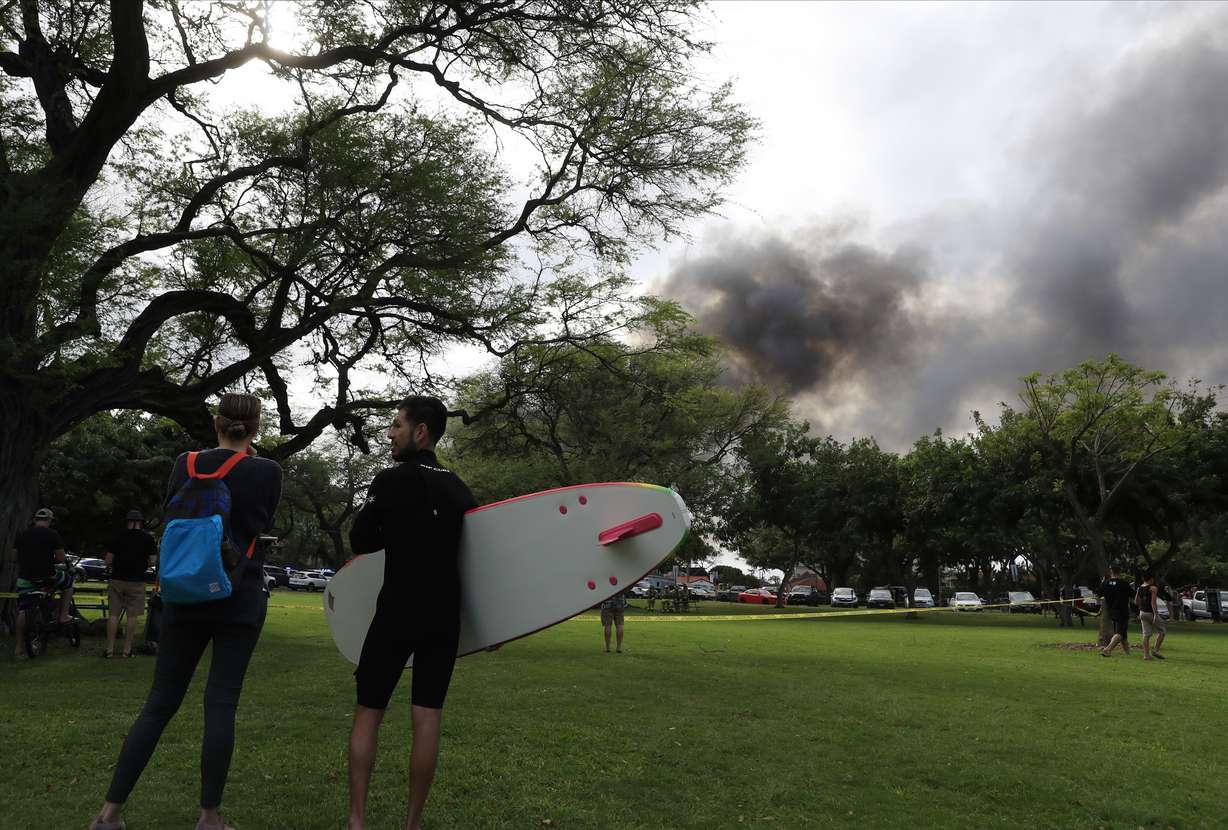 Three years ago, Adam and Rachael Patterson moved to Hawaii from Utah with their five kids. They lived right behind the Hanel's home and Adam Patterson spoke with KSL TV on the phone Monday morning.
"We're alive and kicking," he said. "We're just grateful that we are alive and that we weren't there during the fire."
The Pattersons were at church when the shooting and fire happened. They lost everything they own except the clothes they wore to church. They were alerted to the fire by a text from a friend while they were at church. That person wanted to know if they were OK.
"Hey, there's a fire close by your house," Patterson said, repeating the message of the text. "Are you guys OK?"
Racheal Patterson pulled up surveillance video from their doorbell camera and saw thick, black smoke billowing through their neighborhood. They watched the video as police kicked in their door to make sure the house was cleared.
They only saw their neighbor, who they said started trouble from time to time.
"He seemed like a friendly, older gentleman that would walk his dog," Adam Patterson said of Hanel.
But they said they did not know him very well.
"It's still obviously very shocking," he said. "And very scary that he was living, basically living in our backyard."
Related Story
The Pattersons were renting their home. The greatest loss was their computers and tools and pieces of furniture Adam built as a woodworker, which are irreplaceable. But as they try to figure out their next steps in life, they were glad their family is safe.
Racheal Patterson just started going back to school full time and Adam Patterson is a UPS driver. Their kids range in age from 4 to 13 years old. Rachel Patterson's parents have also been living with them to help take care of the kids. They lost all of their belongings too.
"It's hard to see it go up in flames," Adam Patterson said. "But, it's the same as some of the other stuff that can be replaced. It's just stuff."
Right now, they have a place to live. They were able to find a temporary arrangement at a condo through a friend.
A friend set up a GoFundMe account* to help them get back on their feet. As of late Monday afternoon, people had donated nearly $20,000 for the family.
---
*KSL.com does not assure that the money deposited to the account will be applied for the benefit of the persons named as beneficiaries. If you are considering a deposit to the account, you should consult your own advisors and otherwise proceed at your own risk.
×
Related stories
Most recent Utah stories