Estimated read time: 6-7 minutes
This archived news story is available only for your personal, non-commercial use. Information in the story may be outdated or superseded by additional information. Reading or replaying the story in its archived form does not constitute a republication of the story.
SALT LAKE CITY — Attorney Chris Eckels was in a hurry recently to get back to his office with the lunch he'd just picked up, but took time to stop before leaving the downtown Harmons grocery store to sign a referendum petition to put the state's sweeping new tax reform law on the ballot.
"I think that the Legislature in this state is beholden to the voters, or should be, and they have gotten into a bad habit of not listening to what the voters tell them they want. I think that it's important that voters have the opportunity to speak directly when they disagree with the Legislature's actions," the Salt Lake City resident said.
Eckels said as a new attorney, he's "in that middle class that is going to get squeezed by this," by having to pay higher sales taxes on food, gas and some services while earning too much to benefit from new income tax breaks aimed primarily at families, the poor and the elderly.
"It's not right as a matter of public policy," he said, describing the tax reform package that also reduces the state income tax rate from 4.95% to 4.66% as a decision by lawmakers to give big breaks to wealthy Utahns "when they are in the best position to help fill public coffers and to shift that burden onto people who are struggling."
Jessie Robinson, of West Jordan, who grabbed a hamburger at the store with her husband, Bryce, after signing, said she believes tax reform will end up costing the couple money because they don't have children and earn too much to get the tax credits available.
"I think, yeah, saving money on our income taxes is appealing. But not really in the long run, because I'm going to make up for that and then some in my food purchasing and my gas purchasing," Robinson said. She said putting tax reform on the ballot would give voters more time to understand its impacts on themselves and others.
Related:
Heidi Rosenberg, of Tooele, who works in marketing, said she signed the referendum on her way into the store because she's concerned about the impact of the sales tax increase on food, from the current 1.75% to the full state rate of 4.85%, despite a new grocery credit of up to $125 per person for low- and moderate-income Utahns.
"I think there's no reason to confuse it and make it more convoluted than it needs to be. If anything, I think we should lower the sales tax or even do away with it," she said, adding the grocery credit "just complicates things and makes it more difficult for people to follow."
The volunteers behind the tax reform referendum are counting on the booths they've set up in Harmons and Associated Food stores around the state to put them over the top by the Tuesday deadline to collect nearly 116,000 voter signatures spread out proportionately among at least 15 of Utah's 29 counties.
"We'd be toast without it. I think it's a game-changer," Jeremy Brisko, of Bountiful, said of the opportunity to sign up shoppers. During a break between explaining the referendum to Harmon's customers, he said he didn't like the way tax reform was passed, just over a month before the regular session of the Legislature begins on Jan. 27.
"The bad parts outweigh the good parts in my mind," Brisko said.
As of Friday, the state Elections Office reported more than 39,000 signatures had been verified. Referendum supporters said there are thousands of petition packets still circulating and that enough signatures have been collected to meet the required threshold in at least 14 counties.
The supermarket chains joined the effort to turn back tax reform last weekend, frustrating Gov. Gary Herbert and other GOP backers of the package, who insist some 85% of Utahns will see a tax break in the legislation that reduces taxes overall by $160 million annually, plus some one-time rebates for low- and moderate-income residents.
"I respect the referendum process, whether or not I agree or disagree with their position," Senate President Stuart Adams, R-Layton, said.
But he said he is disappointed in what he termed "misinformation" about tax reform.
"I'm positive if Utahns knew the facts, most would be in support," Adams said, citing the new Social Security income tax credit for those on fixed incomes and grocery tax credit, along with the expanded income tax credit for dependents.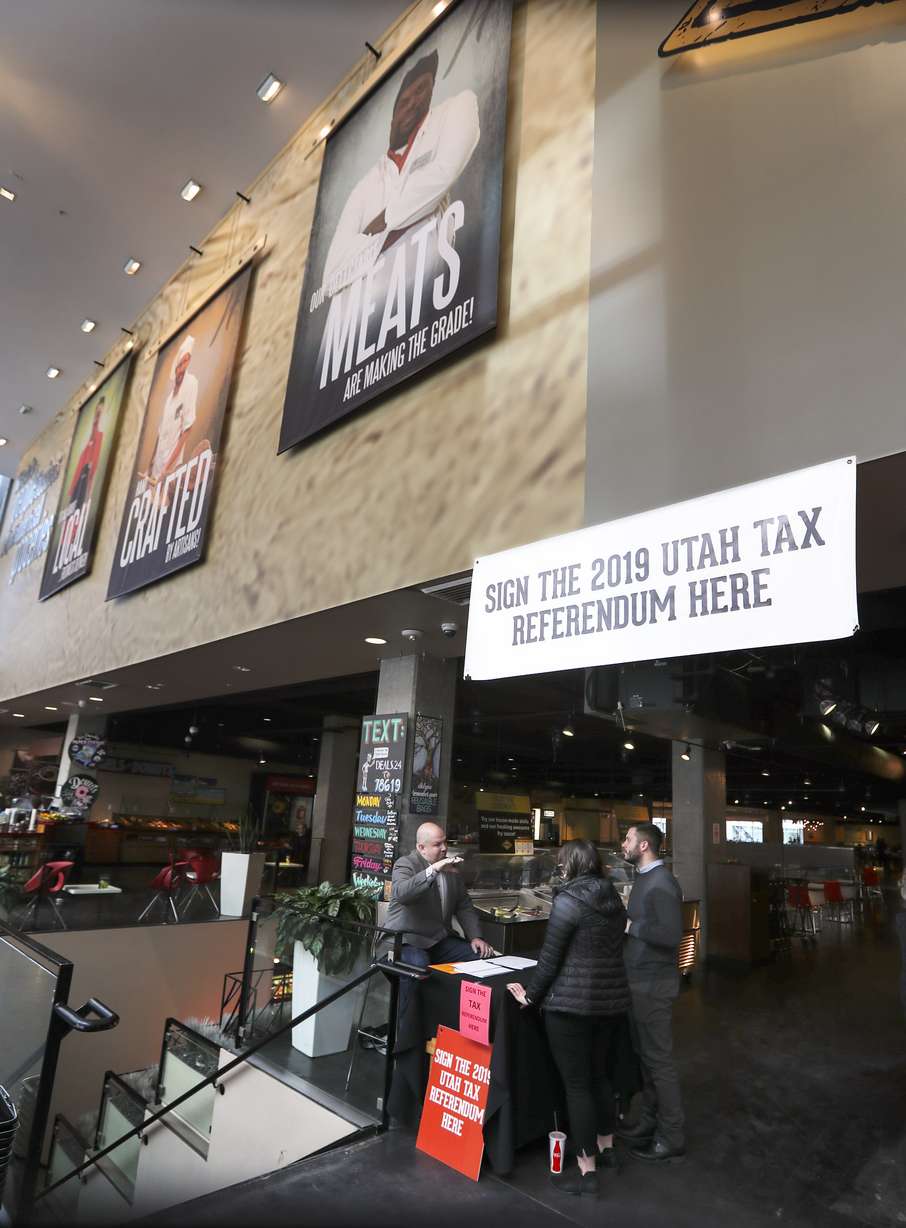 Tax reform, the Senate leader said, also "increases take-home pay for Utahns by significantly lowering the income tax rate. This tax reform helps Utah families."
Some groups have stepped forward to promote tax reform, including the Sutherland Institute, a conservative think tank, which is spending less than $60,000 for radio, social media buys and full-page newspaper ads promising the "Truth About the $160M Tax Cut" to Utahns who may be thinking about signing the referendum.
Rick Larsen, Sutherland's president and CEO, said research and education are central to the institute's mission.
"We have included a media component this week in response to efforts to gather signatures in opposition to tax reform — opposition that we believe is based on incomplete information. We do not question the initiative or good intentions of those opposed; rather we are concerned at the lack of complete data being offered."
Larsen said the institute sees tax reform as an ongoing process and "will continue our analysis of other bills and legislative efforts that impact Utahns, as we have done for 25 years. And we will consistently speak out in support of conservative efforts that support families and reduce taxes."
Despite the circulation of the referendum petition to repeal tax reform, it's business as usual for the Utah State Tax Commission, which has to follow through on the changes, at least for now.
"We're not waiting. We're moving forward," Utah State Tax Commissioner Rebecca Rockwell told KSL.
However, she said the referendum's progress is being closely monitored, and if it looks like enough voter signatures to qualify for the November ballot have been gathered by Tuesday's deadline, "then we will have further discussions and act according to the directions we receive."
Rockwell said the tax commission is finishing up new withholding tables that should be ready to go out to Utah employers by the end of the month. The lower income tax rate means there should be less money withheld from paychecks for state income taxes.
While the sales tax changes in the law don't take effect until April 1, the tax commission is working to notify the industries affected by the end of the month, including grocers and gasoline wholesalers, who'll start paying sales tax on top of the state's existing gas tax, as well as pet boarding providers and other services that now will taxed.
There are also tax credit rebates going out to qualifying low- and moderate-income taxpayers under the law, some as early as next month for those Utahns who claimed dependents on the 2018 income tax returns. In April, what lawmakers called a "pre-bate" for the new grocery tax credit are set to be mailed.
"We want people to have notice," Rockwell said of the changes in the legislation. "We don't want anybody to feel blindsided."
×
Related stories
Most recent Politics stories