Estimated read time: 3-4 minutes
This archived news story is available only for your personal, non-commercial use. Information in the story may be outdated or superseded by additional information. Reading or replaying the story in its archived form does not constitute a republication of the story.
SALT LAKE CITY — The demolition of Temple Square has begun.
The Temple Square South Visitors' Center and parts of the south wall were demolished Friday so construction crews can excavate around the Salt Lake Temple during the four-year renovation period.
The temple closed Dec. 28 and will reopen in 2024.
Not just a symbol of The Church of Jesus Christ of Latter-day Saints, the temple is also a local, cultural and religious icon; it's Utah's most frequented tourist attraction, drawing 3-5 million visitors each year — more than conferences, skiing or the national parks.
The temple is currently being decommissioned as sacred items and emblems are removed. Crews are in the process of extracting trees from the grounds, some of which they will preserve, including the Cedar of Lebanon tree that was brought to Temple Square 70 years ago as a seedling.
"It's a special tree. It's beautiful, beloved by many, so we'll go through great efforts to preserve this tree as we excavate around it," Andy Kirby, director of historic temple renovations, said in a statement. "We will also plant additional trees when we finish the renovation, so there will be more trees on Temple Square than there were when this project began."
Statues on the ground were removed and stored a week ago, including two 18,000-pound statues of church founder Joseph Smith and his brother Hyrum Smith.
"It's exciting to see this actually happening after several years of planning," Brad Bohne, general superintendent for Jacobsen Construction, the company in charge of the construction process, said in a statement. "There's a lot of people that look to the Salt Lake Temple as a beacon of hope and faith, and we're proud to be part of that construction team, realizing this vision."
Crews will soon begin to excavate around the temple so they can access the foundation to install what they are calling a "base isolation system" that will strengthen the temple and allow the historic building to withstand an earthquake of a 7.2 magnitude.
Visitors to Temple Square who normally could have learned more about the historic building in the Temple Square South Visitors' Center can now visit the Conference Center across North Temple. The Conference Center has been outfitted with banners that sport welcoming slogans for the new Temple Square experience, like "Come on in, stay awhile."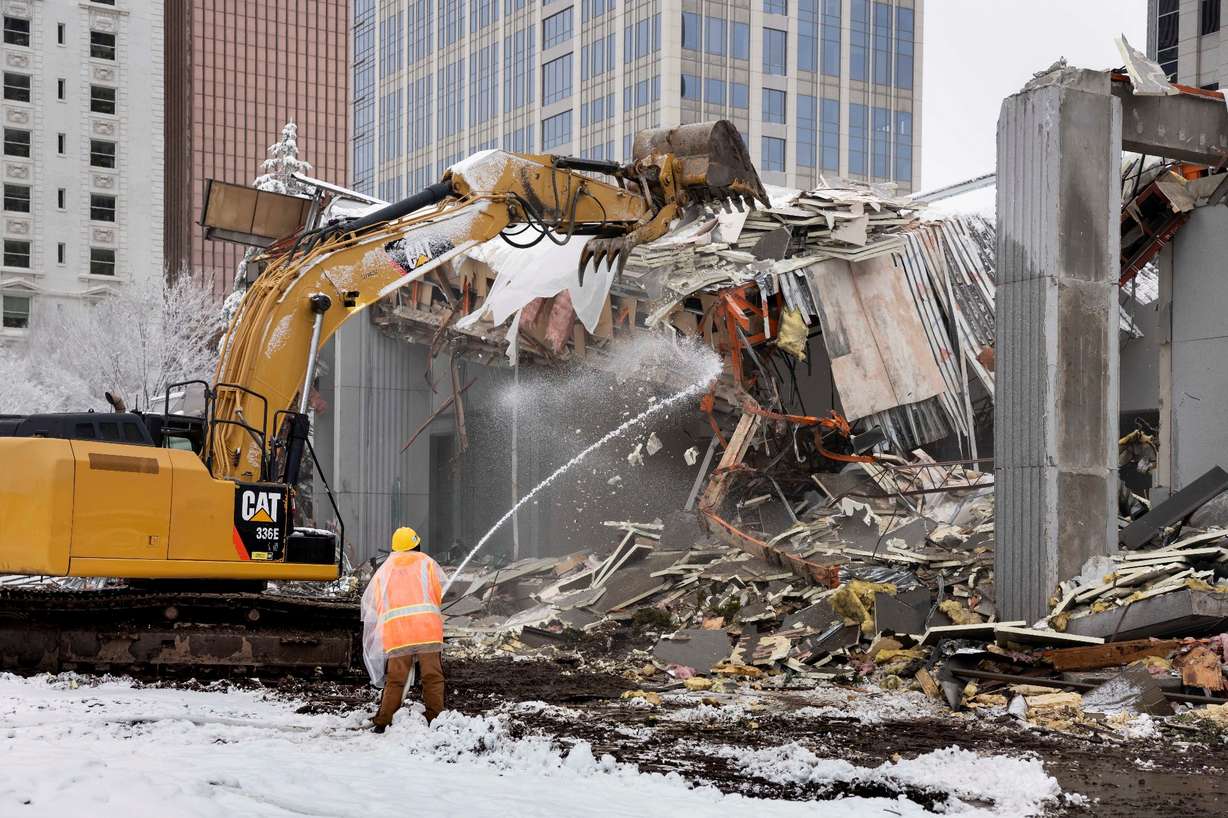 Inside will be a new 8-foot statue of Christ, an "auditorium experience" where visitors can experience what it would be like to attend one of the church's general conferences and listen to the massive organ, as well as 17-minute video called "Why Temples Matter."
The cutaway of the temple that used to live in the soon-to-be-demolished Visitors' Center will now be in the Hall of the Prophets in the Conference Center, along with interactive screens that will offer more information about the temple.
Missionaries and others will give guided and unguided tours of the Conference Center in 40 languages from 9 a.m. to 9 p.m., according to Tanner Kay, product manager of the Temple Square Guest Experience.
The new experience will focus on the temple's history, as well as the ongoing construction. There will also be exhibitions of historic temple artifacts including stones, equipment and art, he added. Visitors will eventually be able to view the construction from the Conference Center balconies and roof.
×
Photos
Related stories
Most recent Religion stories