Estimated read time: 4-5 minutes
This archived news story is available only for your personal, non-commercial use. Information in the story may be outdated or superseded by additional information. Reading or replaying the story in its archived form does not constitute a republication of the story.
PROVO — BYU head coach Mark Pope had so many good things to say about Kolby Lee, his now starting center, after Thursday night's 93-70 win over San Diego.
The 6-foot-8 center had a career-high 21 points to go along with five rebounds, and fans, teammates, family and friends were dabbing him on every limb over such a game.
Pope praised his shot-making. He praised his rebounding. He even praised his "quicks," the new quick-triggered, catch-and-release floater that Lee's been working on with assistant coach Chris Burgess since the dawn of the Pope era. Lee is finally finding enough form to even beat star forward Yoeli Childs in practice.
So to calm down, Pope had to say something. He had to bring it up. Maybe it will upset Lee (probably not), or at least disappoint his parents. But Pope had to say it, if for no other reason (probably the only reason) than to keep his sophomore big man humble.
"He's definitely a work in progress, and his ceiling is so much higher than where he is right now. But he's really trying," the first-year BYU coach said. "Just to keep him humble, I'll say this: his ball-screen defense was a little bit lacking. Make sure to write that tomorrow; keep him humble for me."
There wasn't a whole lot to nitpick from the Cougars (14-5, 3-1 WCC) after BYU's 10th win in the past 12 games to keep ahold of second place in the West Coast Conference. But Pope and his staff will find something, if for no other reason than a massive test lies ahead on Saturday at 8 p.m. MT when the Cougars travel to the Pacific Northwest to face No. 1 Gonzaga (19-1).
"We're playing a whole different beast on Saturday," said BYU guard Connor Harding, who had 11 points on 4-of-6 shooting and locked down Toreros leading scorer Braun Hartfield in the second half earlier in the week. "It's a journey, and we're just falling in love with the grind."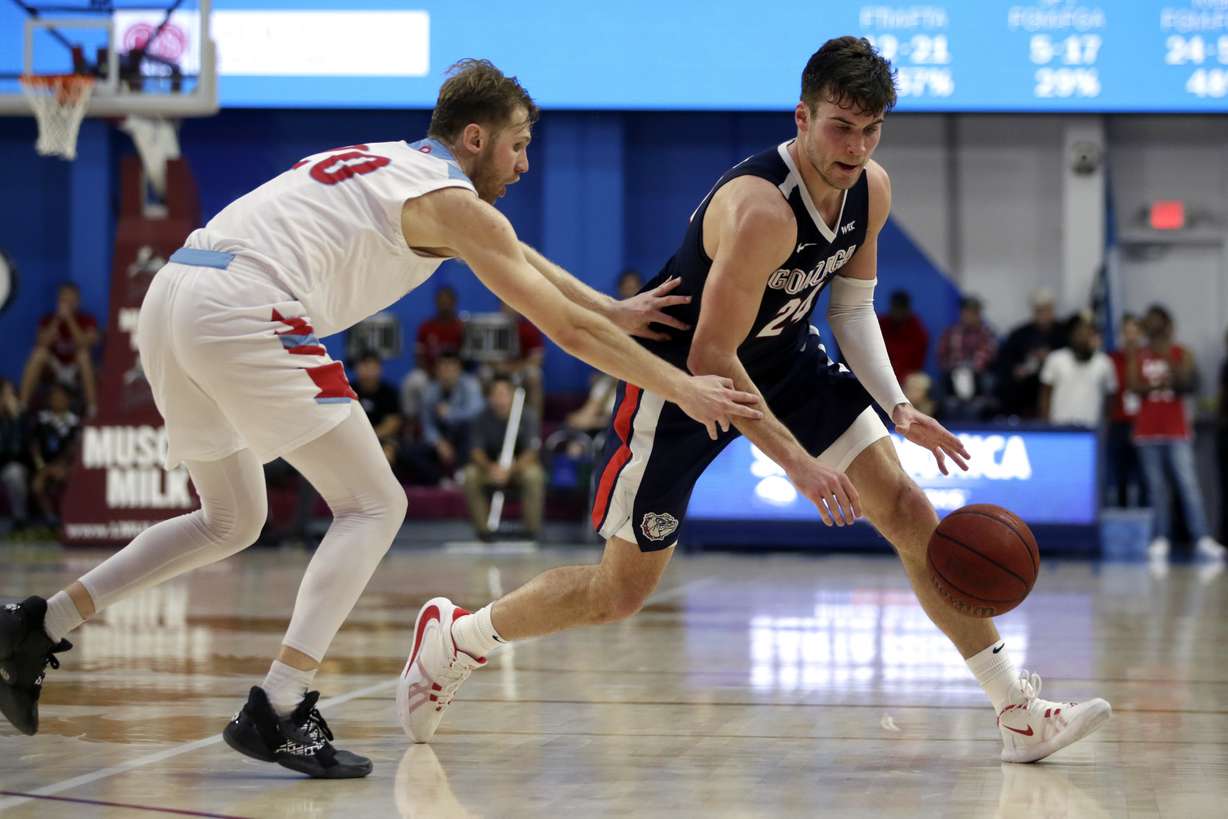 If Thursday's game was a must-win, Saturday's at least feels like a must-compete for BYU. The Bulldogs will be favored on their home court, but the Cougars have been a rare thorn in their side since joining the conference in 2011.
Gonzaga won its 32nd-straight game in league play Thursday night with a 104-54 rout of Santa Clara, tying Pepperdine for the longest streak in West Coast Conference history. The Bulldogs can set a new mark against BYU, then.
Even Lee, fresh off the wide-grinning, starry-eyed career night got immediately serious when talk turned to Killian Tillie, Corey Kispert and a Gonzaga team that has already pulled off wins over the likes of Oregon, Washington, Arizona and North Carolina, plus five straight victories in conference play.
"We'll be ready," Lee said with a steely gaze.
They'll need to be, too — especially that 6-foot-8 sophomore forward coming off a career night. Childs remains on the mend with a dislocated index finger on his main shooting hand, though the senior power forward returned to practice enough to run, skip, jump and do everything short of catching direct passes from his teammates this week.
But the Cougars' injury woes keep piling up. Freshman guard Trevin Knell, who finally played more than five minutes a week ago against Portland for the first time since Dec. 10, was sent to the training room table with a thumb injury suffered Thursday afternoon in shootaround.
"We were in a shooting drill and a ball hit his thumb and busted his thumb," Pope said. "He's out for probably three weeks."
That constricts Pope's bench even more. The former Utah Valley head coach put 11 players into the game Thursday, but only seven played double-digit minutes (including six who scored in double figures on 55% shooting night).
The Cougars are likely to see a similar rotation once they get to the Kennel, too.
"We've battled through injuries this entire season," said Harding, alluding to Childs, Knell, Gavin Baxter and Jesse Wade, to name a few. "There are pretty much six people who have played, but we've played our hearts out. We're just ready to go to battle every single time.
"Whomever is going to step up is going to step up; we're confident in them."
---
How to watch, stream and listen
BYU (14-5, 3-1 WCC) at No. 1 Gonzaga (19-1, 5-0 WCC)
When: Saturday, Jan. 18; 8 p.m. MT
Where: McCarthey Athletic Center; Spokane, Washington
TV: ESPN2 (Dave Flemming, Adrian Branch)
Streaming: WatchESPN
Radio: BYU Radio 89.1 FM, KSL 1160 AM/102.7 FM (Greg Wrubell, Mark Durrant)
×
Related stories
Most recent BYU Cougars stories