This archived news story is available only for your personal, non-commercial use. Information in the story may be outdated or superseded by additional information. Reading or replaying the story in its archived form does not constitute a republication of the story.
PROVO — Thursday night's critical West Coast Conference road tilt at Saint Mary's went about as well as many may have expected for the BYU basketball team.
Except, of course, that the Cougars didn't win in a season where they could've used the NET-bump of beating the top-50 Gaels.
But considering the circumstances — a multigame loss of star power forward Yoeli Childs being chief among them — eking out an 87-84 overtime loss in Moraga isn't a worst-case scenario. Of course, it took a season-high 29 points from TJ Haws just to force the extra period, where BYU (12-5, 1-1 WCC) fell to 0-3 on the year in road overtime games.
There are no moral victories in sports, and this won't be an attempt to explain Thursday night as one of them. The Cougars lost, fair and square, unable to contain the brilliance of Jordan Ford and allowing a breakout performance from Gaels post Dan Fotu. There will be plenty that needs to change, to tweak and to revamp before Saturday's tip against an improving Portland squad coached by former NBA star Terry Porter (7:30 p.m. MST, BYUtv).
Thursday's result was much more important to Saint Mary's than BYU, in the end.
"Player availability is a big issue for the committee, more at the end of the regular season than now," said ESPN bracketologist Joe Lunardi, who projects the league's top three of Gonzaga, Saint Mary's and BYU to all make the field of 68. "But on the court, they're (BYU) missing a huge piece. We've all seen the numbers; BYU is much better with Childs than without.
"But from a bracket perspective, (Child's injury) made this game more important for Saint Mary's. They can't afford to drop a game like this."
Childs' injury suffered Tuesday isn't season-ending — Pope initially said the Cougars expect him to be out for at least 1 to 2 weeks, and an independent medical review conducted by KSL.com of the reported diagnosis confirmed a timeline of at least a week. But with an open dislocation of the index finger on his right hand, the healing process could hasten if the former Bingham High star doesn't require surgery. He was seen with a finger splint on his dominant shooting hand as he watched from UCU Pavilion, and bears no indication that surgery to repair a fracture or ligament damage is in his future.
---
He was pretty devastated when everyone's advice was to take a couple of games (off). But it's what's best for him.
–BYU basketball coach Mark Pope on Yoeli Childs' injury
---
That's an especially pivotal sign in his injury; without such damage, the biggest complicating factor of Childs' recovery is the open wound that accompanied the dislocation. Once that heals, he should be able to slowly return to practice and eventually to full activity.
Childs also has a professional future to consider, and though he may want to be on the court with his team, it's something Pope will keep in mind as he oversees the program's rehabilitation of his star forward.
"He was pretty devastated when everyone's advice was to take a couple of games (off)," Pope told BYU Radio. "But it's what's best for him."
There were ways the OT loss in Moraga didn't hurt the Cougars. BYU stayed even in the NET rankings, despite the loss, at No. 33 nationally; Saint Mary's, meanwhile, jumped up from 42 to 37 with its 14-3 record and 2-1 mark in West Coast Conference play.
And BYU showed that, even though it will be difficult to do, the team is capable of reverting back to the same one that opened the season 6-3 in nine games without Childs due to an NCAA suspension.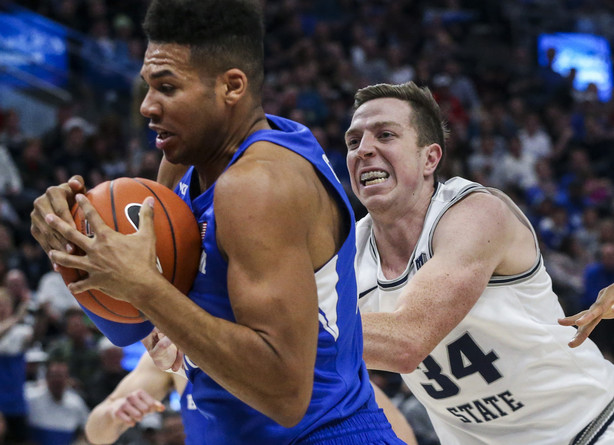 "This team went and beat Houston and Virginia Tech and UCLA (without Childs). We know we can," Pope said. "It was just a major overhaul and adjustment over the last 24 hours.
"There's got to be some mindset change. Yoeli makes such a huge difference for us on the glass and physicality-wise... This is a good group, and they'll be able to make that shift, but it's a pretty major shift."
They've done it before, and they have the belief that they can do it again.
"It's always sad to lose a teammate," BYU's Zac Seljaas told BYU Radio. "But you've just go to fight through. We're always together, and we are supporting each other in and out of games. We have to be there for each other."
This team is capable of fighting — and winning — without its star, because there are other stars that can emerge — just in a different way. Whether it's Haws' effort from Thursday night; steady-handed Jake Toolson, who ranks second on the team with 15.1 points, 4.9 rebounds and 4.1 assists per game; or role players like Alex Barcello, Dalton Nixon, Kolby Lee, Connor Harding or Seljaas.
The Cougars have shown they can navigate life without Childs, at least in the interim in home games against the Pilots or next Thursday's home tip against San Diego.
Then comes the challenge: a Jan. 18 trip to Spokane against No. 1 Gonzaga that starts a three-game road swing that also includes Pacific and San Francisco. The Zags have ruled the WCC with an iron fist, both before and since BYU joined the league in 2012, and while this year's team may not be as dominant as the one that advanced to the national championship two years ago or last year's ridiculously dominant squad, head coach Mark Few has shown he still has plenty of stars to handle business against an improved conference.
The biggest challenge, at least now, for the Cougars is returning on a late-night charter flight from Moraga to Provo, reconditioning — both physically and mentally — on Friday, and being ready for the Pilots less than 48 hours after a gut-punching loss on the road.
Such is life when conference play begins, though.
"It's league play, so everybody is doing the same thing," Pope said. "We'll race home, get some rest, then hit it hard in the rehab room and in the film room, and do some walk-throughs and shooting with defensive mobility (drills).
"Our most important job is rehabilitating our spirit and heart and competitiveness and fight, managing the frustration that comes with a night like tonight. That is the most important thing we will do (Friday) and Saturday. It's what championship teams do."
How to watch, stream and listen
BYU (12-5, 1-1 WCC) vs. Portland (9-8, 1-1 WCC)
TV: BYUtv (Dave McCann, Blaine Fowler, Jarom Jordan)
Streaming: BYUtv.org
Radio: BYU Radio 107.9 FM, KSL 1160 AM/102.7 FM (Greg Wrubell, Mark Durrant)
Series: BYU leads 20-2
×
Related Stories